THIS year's sustained decline in the value of young cattle is likely to continue through to year's end, a panel of meat and livestock market analysts and economists suggest.
A panel of seven analysts has predicted that the Eastern Young Cattle Indicator will fall another two percent – from already dramatically lower levels compared with early this year – by the end of 2023.
A new feature added to Meat & Livestock Australia's annual Industry Projections at the start of this year was a forecast collected from a group of independent analysts, about movements in young cattle and feeder steer prices.
Contributing to the ongoing project are ABARES, Episode 3, NAB Agribusiness, Rabobank, Mercado, RuralBank and AuctionsPlus. MLA said it was not part of its own remit to predict livestock prices, deferring the work to independent stakeholders.
Each of the seven panellists provides their own view on price, with the published figure representing the average of the seven. The panellists were also asked for their upper limit and lower limit estimates.
Their latest forecasts to the end of the 2023 year indicate a stabilisation in prices relative to the volatile market of 2022, although with forecast levels to be below longer-term averages for both the EYCI and feeder steers.
Analysts' projections to 31 December are for the Eastern Young Cattle Indicator to reach 546c/kg (carcase weight equivalent), a further 10c/kg or 2pc decline from where the indicator sits now (556.5c/kg at the time the report was released).
If this forecast eventuates, the EYCI would be 13.5pc or 85c/kg lower than the ten-year average.
Three-month forecast
The six panellists were also asked for a three-month prediction of prices out to the end of September.
For the EYCI, their combined average was 554.6c/kg, little changed from where the indicator currently sits. Their lower and higher limits ranged from 470-592c/kg.
For feeder steers, the group predicted a slight reduction from 306.8c/kg liveweight this week, to 302.9c/kg by the end of September (lower and upper limit range 262-348c).
How did their previous forecasts stack up?
So how did the panel go in their original forecast made back at the start of the year, for young cattle prices at the end of June?
The panel back in January predicted that Australian young cattle and feeder steer values would rise about 6pc from closing 2022 levels by mid-year (click here to view earlier story).
As this graph shows the aggregated group opinion (yellow line) suggests the EYCI would rise to 811c/kg by the end of June, a 47c/kg or six percent rise from where the indicator sat in mid-January (764c/kg.)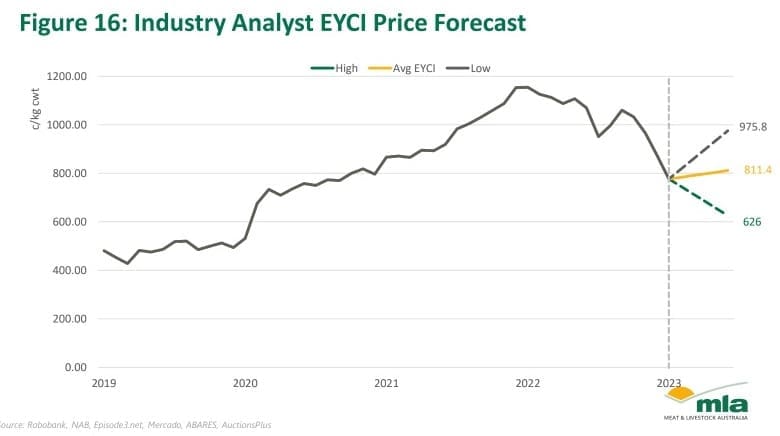 With as little over a week remaining in June, the EYCI today sits at 570.4c/kg – a massive 240c/kg disparity from the group's expectation back in January.
Worth noting, however, the difference between the combined group's upper limit (black line, 975.8c/kg) and lower limit estimate (green line, 626c/kg) was very wide, at almost 350c/kg. This suggests a fair degree of uncertainty in their forecast. The high-low spread in the group's June forecast for the end of the year is much tighter.
Feeder steer trend
The analyst group was also asked at the start of the year to predict feeder steer prices to mid-year and beyond.
As this graph shows, the group consensus anticipated feeder steers to reach almost 420c/kg by the end of June, an uptick of around 25c/kg liveweight on January rates.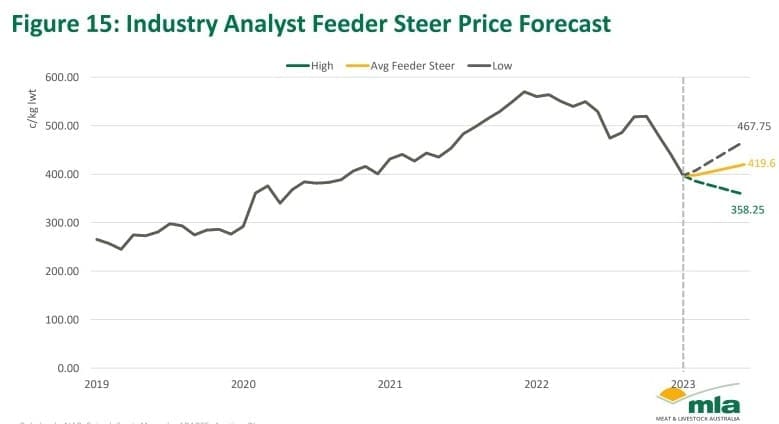 In reality, today's NLRS steer indicator sits at 308.75c/kg liveweight – an 111c/kg deficit on the January forecast.
The difference between the analysts' upper limit prediction (467.75c/kg) and lower limit (358.25c) in January was more than 109c/kg – but still nowhere near being within the range of current pricing.
Asked for a comment about the large disparity between analysts' forecasts compared to where things sit today, MLA analyst Ripley Atkinson said nobody had foreseen the depth and extent of the current young cattle price correction witnessed this year.
"The extent of the movement has surprised a lot of people, right across the supply chain," Mr Atkinson said.
"Models like this can only account for so much, when people are trying to build these scenarios or outlooks. The way the year started, compared with the state-of-play at the end of June have been dramatically different.
"We are now seeing consistently much stronger supply compared with this time last year. And obviously, the part you can never measure is the numbers on-farm building up quite robustly, right across the country.
"That really subdues and softens demand in the market, as we are seeing now for EYCI-eligible cattle and feeders."
Asked whether processing labour shortage issues were yet having any direct bearing on young cattle prices, Mr Atkinson thought not.
"We know processors are now doing their strongest numbers since 2020, and cattle numbers on farm are now quite hiqh. But tying plant labour restrictions to current cattle price dynamic might be a stretch – considering current processor output and numbers on feed."
MLA late last week flagged its intention to carry out a series of producer surveys later this year focussing on herd size and other metrics, to improve the industry's understanding of herd metrics. Click here to view earlier item.
Forward pricing on feeders
A third price forecast graph presented in today's mid-year Projections looked at the Stonex/Argus feeder steer swaps forward price performance out to February next year.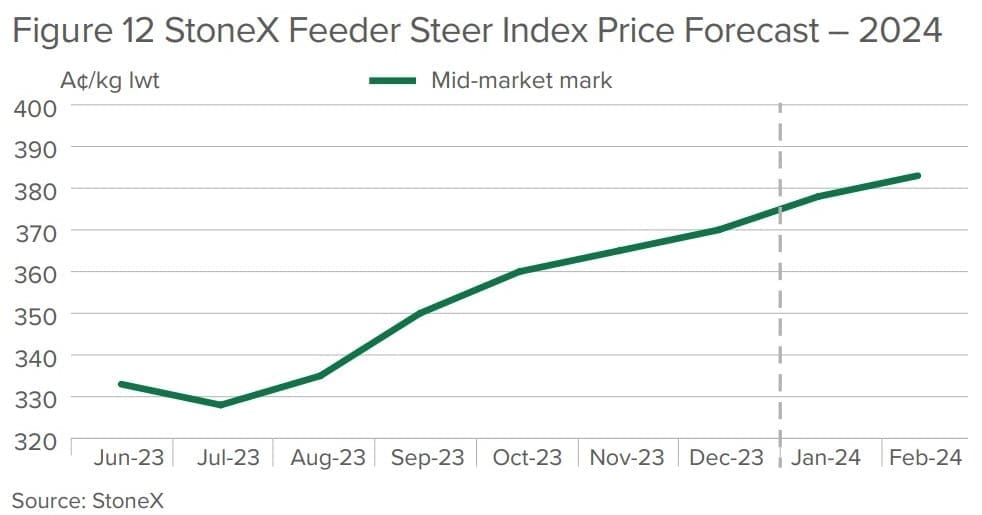 The Argus Feeder Steer (spot) Index and the StoneX forward curve (six-monthly outlook) is expecting an improvement in bids from now until the end of 2023, and continuing into February next year.
Currently, the Argus Feeder Steer is assessing prices at 330c/kg while the StoneX forward swaps curve is forecast to strengthen gradually over coming months as spring approaches, with bids to reach 365c/kg by December, and 385c by next February.
This outlook does reflect an improvement in prices that are transacted under this model towards the end of the year, although its outlook differentiates from industry analysts continual softening in the EYCI and Feeder Steer to 31 December.
The graph shows the mid-point between bids and offers currently in play on the feeder steer swaps market.