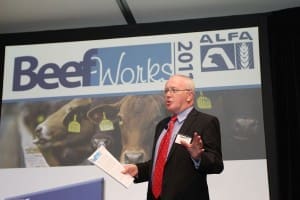 Lot feeders from all Australian states have spent the past two days in Toowoomba in southern Queensland catching up on important information and industry updates at the 2011 Australian Lot Feeders Association's Beefworks conference.
Social licence to operate issues dominated proceedings this year as speakers honed-in on animal welfare and environmental standards and discussed the mounting public scrutiny being applied to agriculture at all levels.
After visiting a feedlot prior to the conference, former environmentalist of the Year Arron Wood spoke of his surprise at the sophisticated level of environmental management he encountered and the attention paid to animal welfare. He urged the industry to actively promote the positive story it has to tell.
Discussion also centred on the likely impact of the Gillard Government's carbon pricing scheme on feedlot operating costs and the opportunities that exist to generate revenue from the recently legislated Carbon Farming Initiative, which comes into effect on December 1.
Lot feeders can expect higher electricity costs from the outset, but whether they will also be able to earn income from the scheme remains subject to debate. While they will have the opportunity to generate saleable carbon credits through carbon sequestration or mitigating emissions, the complicated rules and systems surrounding these activities are likely to limit initial revenue-generating options, the conference was told. However speakers also said that income earning options should increase as more methodologies are approved and broaden the list of activities for which lot feeders and landholders can earn carbon credits.
Beef Central's camera was there to capture the action.