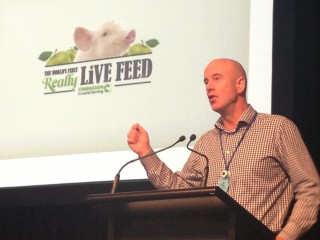 When was the last time you were asked to kick in some spare change or a little more to support a campaign promoting Australian agriculture?
The answer is probably never.
Yet members and supporters of animal rights groups are continually called upon via social media to fund or assist campaigns against animal agriculture.
What is it about the agriculture sector's reluctance to engage its members and supporters to raise funds to help its own cause while allowing its opponents to repeatedly attack from all sides?
An address on social media given to yesterday's Australian Lot Feeders Association Beefworks Conference at Kerwee Feedlot left many in the audience seriously questioning why agriculture doesn't have its own single, national 'fighting fund' for that purpose.
The challenge to do just that was thrown up by Tim Powell, the managing director of well-known agri-communications firm Cox Inall.
Mr Powell outlined how social media has become central to the business model of activist groups, allowing them to raise money, rally the troops and spread their influence to run rings around agriculture.
Social platforms changing how influence is created
Youtube, Twitter, Facebook and Google generate millions upon millions of visits each week and have fundamentally changed the way influence is created.
Mr Powell said social media has given rise to the era of 'Clicktivism', where people sit at home, or in the office, click on a few buttons, donate some money and feel like they have done something worthwhile.
To get campaigns started, and to get people outraged and clicking, activists know shocking videos or photos are needed. Farm raids, abattoir raids, and saleyard raids have provided the source they need to spark outrage.
They then turn to social media to ask consumers to donate to their campaigns, to vote with their trolleys by buying fewer or no animal products, to enlist their friends and family to the cause, to buy merchandise associated with the campaign and to directly lobby retailers or politicians.
Animals Australia's recent Make It Possible campaign against intensive agriculture generated a reported 170,000 pledges of support.
In developing the campaign Animals Australia was able to convince a large city advertising agency to make a very expensive digital animation advertisement to anchor the campaign for free, and then to get donors to buy the space to run the ad on TV and in cinemas.
Another recent example of activists effectively using social media to achieve an outcome was the use of the GetUp! crowd funding model to generate enough support to have the Super Trawler banned from Australian waters last year.
GetUP! is a campaign platform for hire for any cause.
It claims to have 640,000 members and in the past 12 months raised nearly $5 million for a number of left of centre causes, including stopping the Super Trawler.
Mr Powell told the lot feeding conference that it was likely GetUP! would help animal activists to raise money for a campaign against beef feedlots if asked.
'Crowd funding' platform
He suggested that it was time for the rural sector to develop its own 'crowd funding' platform so farmers and the city-based people that support them can contribute to campaigns that promote Australian agriculture.
"I have been advocating for some time that agriculture needs its own version of GetUP!," Mr Powell said.
"We need a platform so that people like me, who live in the city but have a professional and personal interest in agribusiness and farming, have somewhere to show our support and donate some money.
"I have suggested we call it EatUP!  Doesn't matter what we call it, we just need to get something like this off the ground."
All industries required a social license to operate. In practical terms, Mr Powell defines a social licence to operate as "a state of being where the Government doesn't see you as a problem, the supermarket is happy with your production system and any activist attack on you is seen as irrelevant or extremist."
Mr Powell said agriculture had to improve its social media position so it was stronger than those who sought to take its social license away.
"We need to build a social media audience, feed it everyday; it will be our greatest resource in times of crisis," he said.
"There is no point posting a youtube video showing our side of the story to an audience of 2000 when the other side has an audience of 200,000.
"To build an audience we need to create a single national platform; whether it be for intensive animal industries, or all animal industries or all of agriculture."
Promoting positive stories
Nor would the concept require intensive resourcing. Some development funds and about three full time employees would be adequate to curate content, post, moderate and report, he said.
The curator's job would be to go out among farmers and their families, researchers, farm advisors, vets and anyone else who has a positive story to tell about farm animals, farm life and animal welfare, and pull together the best images, youtube stories, facebook pages and blogs to feature on one national platform.
"A lot of this stuff already exists; it just needs an audience.
"At the moment, there is not one single place to go to get a positive impression of Australia's animal industries, and certainly not in a form that is going to hold an audience."
In addition to the content, there was also a need for a campaign fundraising machine.
"We could hire GetUP!, but I think they would politely decline us.
"So lets build our own fundraising model, so people like me, and there are thousands of us, might kick in $100 to help fund a campaign."
It was also essential that the livestock sector practiced what it preached. Any practices that are likely to look cruel or or unnatural on a youtube video would be hard to defend.
"Changing contentious practices won't stop animal rights activists wanting to get rid of feedlots, but it will take away the outrage factor that lubricates their campaigns.
"If we as an industry can develop our social and digital channels, have an active fundraising vehicle, deliver interesting content and show how we love animals, we will be well on the way to developing our own media channel."
Mr Powell suggested that with such resourcing the role could be overseen by an organisation such as the National Farmers Federation, Meat & Livestock Australia or an Australian version of the Centre for Food Integrity,
He urged the industry to set its sights high and aim for a million supporters signing up for EatUP!
Message strikes a chord at BeefWorks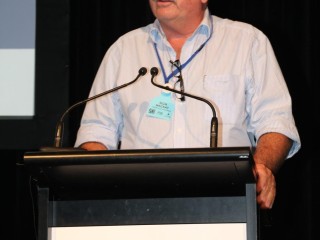 Australian Lot Feeders Association president Don Mackay said Mr Powell's message had struck a chord with the 400 strong audience at the BeefWorks conference.
"Most of the ALFA councilors came charging up (after the speech) and said, we can't just say that was a good idea, we actually have to stand up and do something about it," he said.
"I thought it was spot on, we are all trying, but we need to be more grand in our vision.
"I think if you educate and explain it is amazing how many friends we have in our industry.
"If you walk into Coles and Woolworths, they are all in there buying meat, and that is a positive thing."
Temple: Tell the public what you are doing
International animal behavior expert Temple Grandin agreed that agriculture has to do a better job of telling its story.
"We need to start communicating to the public the good things you are doing.
"We need to show things like the good cattle handling we did today, that is the sort of stuff that needs to be put out on the internet.
"You have got feedyards here that you should be really proud of and you need to be showing it.
"I have been doing this for 40 years and there's been a lot of improvement, but what frustrates me is that the general public doesn't know about it
"Put up videos showing normal good stuff of you are doing and explain how it works."