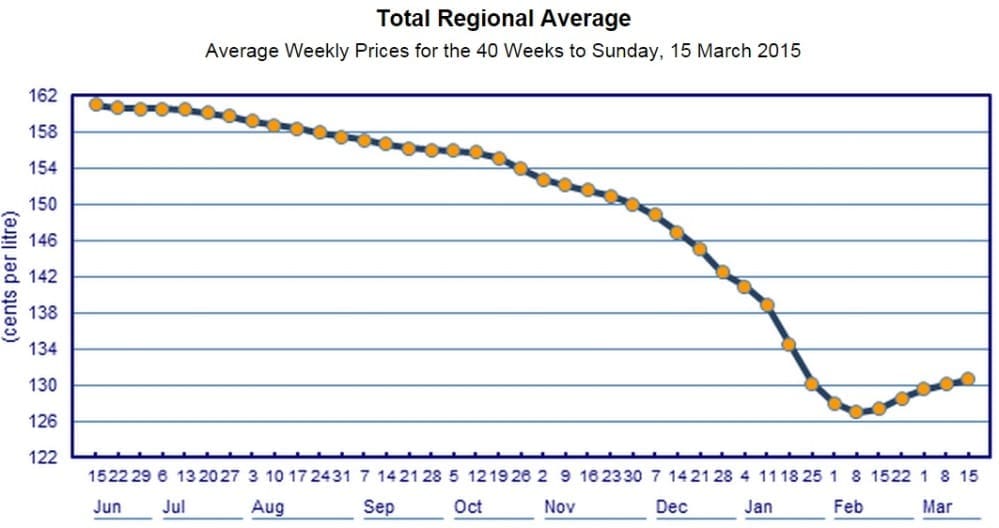 DIESEL fuel prices across regional and rural parts of Australia have turned the corner, edging higher again after sustained declines over the past six months.
The Australian Institute of Petroleum's weekly report suggests prices for diesel in regional areas of Australia averaged 130.6c/litre for the week ended Sunday, 15 March – a modest rise from around 127c/litre a month ago, but still down almost 20c/litre on prices seen as recently as three months ago.
This week's price is almost 30c/litre better than the recent peak in July last year when the average in rural areas of Australia was above 160c/litre.
World oil prices have started to stabilise in February after plummeting towards the end of last year, as rising oil supplies clashed with weak international demand in China and Europe.
What's behind it? A global oversupply of oil, driven by strong production of American shale oil, has pushed oil prices lower over the past six months. OPEC members, which produce 40pc of the world's oil, have responded to this new competition by maintaining their production levels, causing prices to plummet.
In refusing to curb production levels, which would offset global oversupply, OPEC members hope to push prices low enough to put new producers out of business, eliminating the competition.
Lower energy demand from major markets has compounded the issue of oversupply by decreasing demand for oil.
Australia is only about 40 percent self-sufficient in transport fuels, meaning international market trends and currency have a direct impact on local pricing. The Australian cattle industry is heavily reliant on diesel fuel, used for livestock transport, water pumping and power generation.
The latest Australian Institute of Petroleum survey shows that based on current average diesel price for regional/rural areas of Australia, filling a Toyota Landcruiser 200 series (138 litres, main and auxiliary tanks) today would cost more than $43 less than the same fill this time a year ago, and $25.40 less than in late November.
All states and territories lifted a little in price this month, with the biggest rises seen in the Northern Territory, Queensland and Western Australia.
Regional non-metro diesel prices in the latest AIP report for the week ended Sunday included:
Victoria 126.8c/litre (up 3.5c since mid-February)
NSW 130.2c (up 3.1c)
Queensland 131,2c (up 3.6c)
WA 135.3c (up 3.5c)
SA 129.4c (up 2.9c)
TAS 133.1c (up 2.9c), and
NT 140.8c (up 3.8c).
Notes:
AIP's reported prices are calculated as a weighted average of retail diesel fuel for country regions in each state/territory. All values include GST.
Variation in fuel prices can have a considerable impact of cost of production across the Australian beef industry, impacting on livestock transport, cost of shipping in live cattle and boxed beef exports, pumping stock water and providing station electricity in remote locations.
Crude oil, diesel and petrol prices are closely linked, as the price of crude oil accounts for the majority of the cost of producing a litre of petrol or diesel. Crude oil is purchased in US$, meaning that changes in the value of the A$ against the US have a direct impact on the relative price of crude oil in A$ terms.