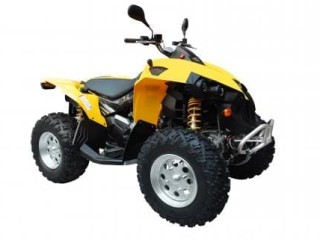 The Australian Competition and Consumer Commission is warning parents and carers to keep children away from quad bikes over the summer holidays.
A recent Medical Journal of Australia study indicated that children do not have the physical and cognitive capacity to operate quad bikes safely. The study found that children under 14 made up a third of hospital emergency departments visits for quad bike-related injuries in Victoria.
Sadly, 18 quad-bike related deaths have been reported in Australia this year. Two of these deaths were children under 14. In 2012, 19 quad bike-related deaths were reported in total with children under 14 accounting for five of those deaths.
"Quad bikes are especially popular during school holidays when they're used recreationally but the ACCC is encouraging parents and carers to choose a safer, alternative outdoor activity," ACCC Deputy Chair Delia Rickard said.
"Uncertainty of terrain and where a child is up to in terms of their development, including their reaction times, increases the risk of accident."
The ACCC is urging parents and carers to follow these three key safety tips to keep children safe:
Never let children ride quad bikes that are meant for adults – it's not worth the risk
Never let children be passengers on quad bikes
Do not ride anywhere near children
QUAD BIKE SAFETY TIPS
Wear safe
Always wear a helmet
Wear protective clothing and gear such as goggles, long sleeves, long pants, boots and gloves/hand protection
Ride safe
Quad bikes are not all-terrain vehicles so they cannot go safely on all types of terrain
Do not carry any passengers on quad bikes that are meant for one person
Ensure children are supervised at all times near any quad bike activity
Don't let children be passengers on quad bikes
Never let children ride quad bikes that are meant for adults – it's not worth the risk
Avoid riding on rough terrain or steep slopes
Never ride under the influence of alcohol/drugs
Ride on familiar tracks and beware of obstacles
Prepare safe
Ensure you are properly trained before you ride a quad bike
Maintain the bike so it is in safe condition
Read the operator manual and observe the manufacturer's safety warnings and recommended use of the vehicle

Further information on quad bike safety is available at www.productsafety.gov.au/quadbikes.