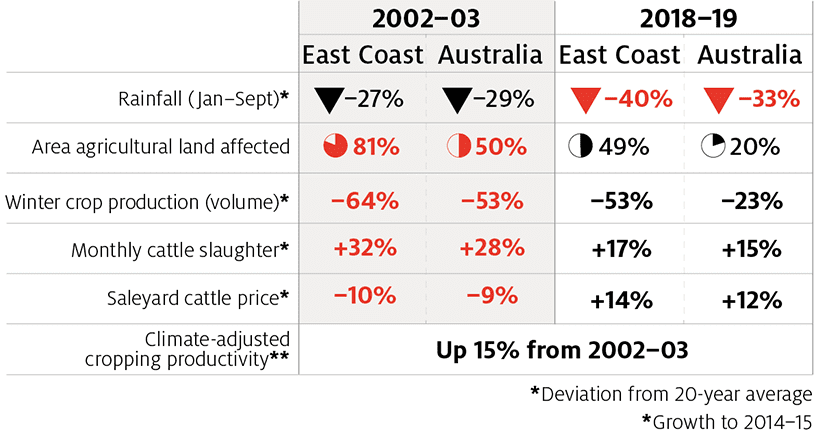 A new ABARES update released today provides a perspective on the drought, including rainfall deficiencies and its effects on crop production, livestock markets and farm incomes across the nation.
It summarises the overview provided to the Australian Government Drought Summit.
ABARES Executive Director, Dr Steve Hatfield-Dodds, said in the cropping region of eastern Australia, rainfall was down by around 40 per cent from the 20-year average.
"We expect 2018–19 winter crop production to be around 15 per cent lower than our September forecast of 33.2 million tonnes, because of lower than expected rainfall in September," Dr Hatfield-Dodds said.
"Crop production in the eastern Australian wheat-sheep zone in 2018–19 is forecast to be down by 53 per cent from the 20-year average from 1998–99 to 2017–18.
"However, the physical impact of drought is being offset to some extent by favourable economic conditions and other circumstances. These include higher livestock prices, improved farm productivity and growth in farm size."
Insights include:
The current drought is severe in some regions but covers a smaller area than previous events
Winter crop production will be much lower in eastern Australia, and below average nationally
Livestock markets are operating within the bounds of historical variation
On-farm stocks of feed and fodder were relatively high going into the drought
Climate effects are currently severe but farm incomes are likely to be less affected than in previous droughts
Drought policy is complicated and there are inevitable trade-offs
Read 'ABARES Insights – Update on the 2018 drought report' at agriculture.gov.au/drought-analysis