High crop production and soaring prices for Australian agricultural produce have resulted in the forecast value of Australian agricultural production  for 2021-22 increasing by $12 billion on the previous year to a record $81 bilion.
Releasing its annual Australian Commodities Outlook forecast this morning, ABARES executive director Jared Greenville said the higher value has been boosted by the harvest of Australia's most valuable winter crop ever, and the highest prices in real terms for Australian agricultural produce in 32 years.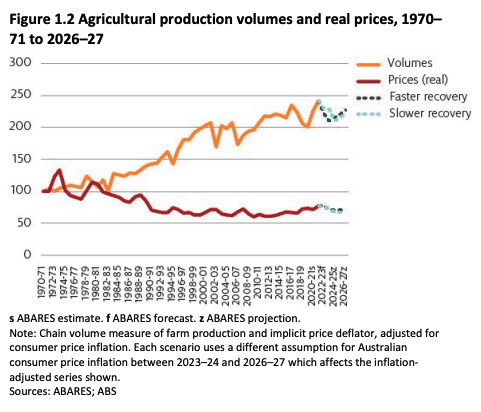 Farm cash income for all broadacre farms is expected to average $278,000 per farm in 2021-22.
This is 34pc higher than the previous year, 56 per cent above the 10 year average of $178,000 per farm.
ABARES anticipates that as international commodity prices ease back from record levels as global production increases, the gross value of ag production will fall by around 5pc to $76 billion next financial year, which would still be the second highest on record.
It notes that costs for inputs such as fuel, fertiliser, chemicals and labour are also rising. At current production and prices ABARES is confident increases in income will far outweigh the additional pressure of higher input costs.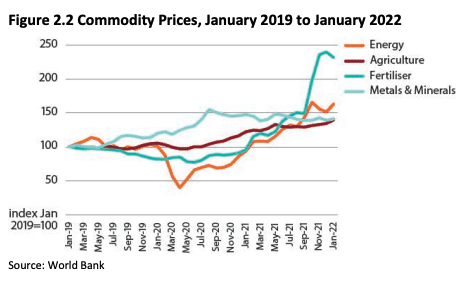 However, over the medium term, as prices ease the pressure from higher input costs will become more significant.
However, it warns that a close eye will have to remain on farm costs as commodity prices come back to normal.
Economic Outlook
The economic outlook is being shaped by considerable uncertainty in the global economy.
The outlook was completed before Russia's invasion of Ukraine which has fuelled even further uncertainty, but notes that economic pressures include ongoing supply chain disruptions, higher input prices and inflation.
The global economy has been on a roller coaster ride in recent year, contracting by 3.5pc in 2020 due to COVID but then growing by an estimated 5.9pc in 2021.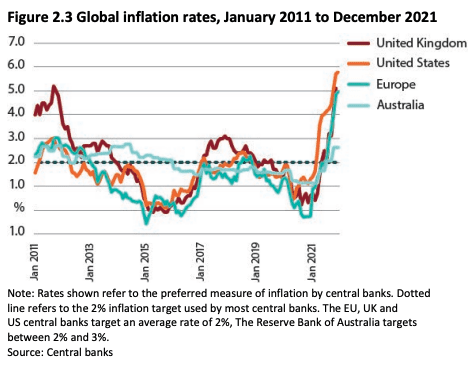 ABARES predicts the rate of global economic growth will slow to 4.4pc in 2022 and 3.8pc in 2023 as stimulus support ends in advanced countries and supply chain bottlenecks from COVID disrupt production.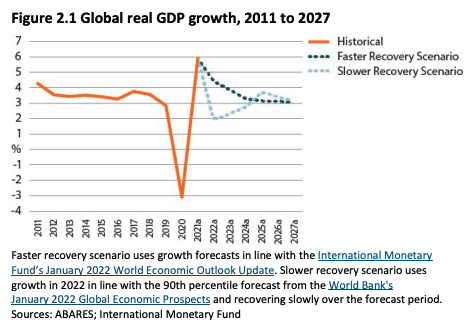 The COVID situation could go two ways, ABARES suggests:
– A faster recovery scenario which sees a gradual global relaxation of COVID restrictions, there are no new variants which require the imposition of restrictions, and dissipating supply chain disruptions and inflationary pressures over the next 18 months. ABARES has based all of its 2022 outlook forecasts on this scenario.
– A slower recovery scenario which assumes global growth is significantly slowed by further COVID outbreaks, inflationary pressures and supply chain disruptions in the short term, and they continued to weigh on that growth until around 2024-25.
The 'slower recovery' scenario would see growth slow markedly to 1.9pc in 2022 before accelerating each year to 3.7pc in 2025.
Australian dollar forecast
Based on an average AUD rate of US73c continuing for the duration of 2021-22, ABARES projects that rate will remain largely unchanged in 2022-23.
This is based on the faster recovery scenario outlined above and downward pressure from falling commodity prices being offset by strengthening economic activity.
For the remainder of the outlook, the Australian dollar is assumed to depreciate slightly, averaging US72 cents for 2023–24 to 2026–27.
More details – see ABARES agricultural outlook page here