THE Australian Agricultural Co will host a charity auction as part of a fundraising event for the Dolly's Dream movement in Brisbane on Thursday.
Dolly's Dream was created by NT couple Kate and Tick Everett following the shattering loss of their 14-year-old daughter, Dolly, to suicide, after ongoing bullying. The charity seeks to change the culture of bullying by addressing the impact of bullying, anxiety, depression and youth suicide, through education and direct support to young people and families.
AA Co's 'Long Lunch' fundraiser on Thursday will feature a collection of eight outstanding charity auction items donated by beef industry stakeholders.
People not attending the lunch can still participate in the charity auction remotely, via a simultaneous online auction via AuctionsPlus. The live auction takes place from 2pm QLD/NSW time (NT/SA 1.30PM, WA Noon) this Thursday, 9 June, but people can start placing bids online from midday today (Tuesday 7 June). Guest auctioneer will be Todd Donaldson, national key account manager with Boehringer Ingelheim.
Eight great auction items are up for grabs, covering outback on-property experiences, great sporting memorabilia and bushcraft items. Readers can click this link to view the charity items up for grabs, or participate in the auction on Thursday afternoon.
Here's a quick rundown of the charity auction items on offer: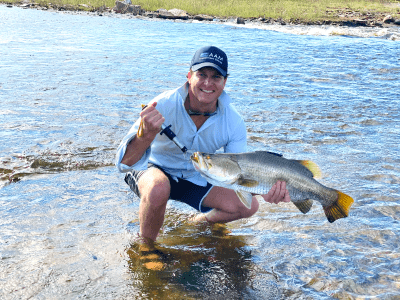 Legune Station Experience for two people, donated by AAM Investment Group
Experience all that Legune Station has to offer including return flights from a capital city to Kununurra (via Darwin), 1 night accommodation in Darwin, 2 nights accommodation in Kununurra, helicopter transfers to and from Legune Station, a day fishing on station including lunch and refreshments and afternoon drinks at Champagne Falls. Click here to read James Nason's recent account of pastoral operations on Legune.
Three-day AA Co Station experience for six people, donated by AA Co
Experience a three-day AA Co Station tour for six people. Flying on AA Co's PC12 aircraft you will take the trip of a lifetime, visiting some of the country's largest and most unique cattle stations in Northern Australia.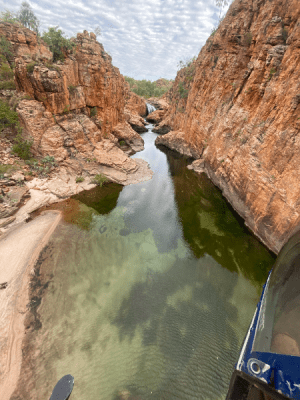 Handmade Kangaroo hide stockwhip, donated by McAuliffe Leather
A 1.8m kangaroo hide stockwhip in blue and saddle tan features a 12-strand thong and 16-strand fancy plaited steel lined handle, hand-made by master plaiter David McAuliffe. The stockwhip features high-end quality craftmanship and is fit for use in the paddock or the boardroom.
Akubra Hat Vouchers, donated by Steve Keir, Managing Director and Owner of Akubra Hats Australia
For over 145 years Akubra's fine felt hats have adorned and protected generations of Australians. This is your chance to own a piece of history. Choose two hats from Akubra's famous designs via their online store.
Framed memorabilia: Signed Wallabies jersey, donated by Harry Wilson and Elders
This framed piece has been signed by every member of the 2021 Wallabies team and with Australia recently winning hosting rights for the 2027 World Cup, it is bound to become a valuable collector's item.
Framed memorabilia: Johnathan Thurston signed Origin headgear, donated by AA Co
A stunning piece paying tribute to a legend of the game and his amazing achievements including 36 consecutive State of Origins. This piece is a must for any sports enthusiast or Queensland Maroons supporter.
Four tickets to an AFL game, donated by National Australia Bank
Two separate bidding lots – each made up of four tickets to any home or away AFL game (pre finals) around the country. Grab your mates and catch your favourite AFL team anywhere around Australia.
AA Co managing director and chief executive Hugh Killen said Tick and Kate Everett and their children were like family to AA Co.
"They worked on several AA Co stations including Montejinni where Tick was station manager," Mr Killen said.
"Our hearts broke when Dolly passed away and we still feel deeply for the Everett family. It's a great cause, and our connection to them gives it special meaning to us."
"Our people have thrown themselves into fundraising for Dolly's Dream, and I couldn't be prouder. We've had charity dog schools, raffles, special merchandise sales, BBQ's, station teams auctioning photos and stallion service fees, events at campdrafts and more."
This main fundraising event would build on that energy and those efforts, Mr Killen said.
"We've got some wonderful sponsors and supporters who are helping us put on this event and providing the prizes, and now people can also bid from home. We will be matching the winning bids along with all AA Co fundraising, so we hope people dig deep for Dolly's Dream and help take a stand against bullying."
AA Co head of pastoral, Michael Johnson said it was amazing to see the passion from AA Co's station people, raising money for Dolly's Dream.
"Tick and Kate worked on Brunette Downs, Eva Downs and Montejinni, but their friendships extended across the company. We're glad we can support them in this way," he said
Each year the Dolly's Dream Foundation convenes "Do it for Dolly Day" a day dedicated to bringing the community together, spreading kindness and uniting in taking a stand against bullying. This year Do it For Dolly Day is on Friday 13 May.
Click here to learn more about the Dollly's Dream foundation and Do it for Dolly Day.