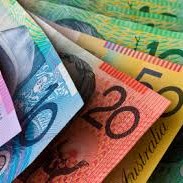 After trading in a fairly tight range between US89-90.5c through most of February, the A$ is again coming under some pressure, and could move lower this month, analysts suggest.
The A$ is losing some of its Reserve Bank-induced upward momentum, National Australia Bank said in commentary this morning.
In easing two-thirds of a cent overnight to the high US88s, the dollar has consolidated the gains seen in the aftermath of the Reserve Bank's early February board meeting statement in which it chose to no longer refer to the currency as 'uncomfortably high', or even just 'high'.
The A$ is currently displaying downside sensitivity to geopolitical stresses, particularly the current conflict between the Ukraine and Russia. That's consistent with its role as a proxy hedge against currency losses. The Ukraine tensions over the weekend are weighing on the A$ and pushing it below the recent range, NAB's currency report this morning said.
The coming fortnight is jam-packed with domestic data that could impact further on currency trends, NAB suggested– events that had potential to knock the A$ further out of its current range relative to the US currency. That includes fourth quarter GDP information.
"The RBA will hopefully have a decent steer on GDP in front of its next policy decision on Tuesday," NAB said.
Though the A$ had moved upwards from around US88c to +/- US90c since the last RBA meeting in early February, that was unlikely to affect the RBA board's decisions this month.
"The RBA had evidently been shaken by the spike in inflation in the final quarter of 2013 and, to the extent is fears past foreign exchange weakness is partly responsible, it is too soon to expect it to start attempting to jawbone the currency back lower," NAB said.
This week also brings the latest trade data and retail sales, both important in relation to falling overall investment demand. That means economic growth is now highly reliant on net exports and household consumption.
Looking ahead to next week there will be very keen interest in both the latest NAB business survey (Tue) and Westpac's consumer confidence index (Wed) and to be followed by Thursday's employment report.
NAB currency strategists this morning had have the A$ at US89c for March; US87c in June; 0.85 in September; and US84c in December, before reaching US83c by this time next year.
Meanwhile in other currency developments:
the US$ fell against every major free-floating currency in February as record snowfall and low temperatures continued to depress economic activity. However there is widespread speculation that the US looks best-placed to lead the world to better growth in 2014. Central to this is the notion that the US could extend its own 2pc annual GDP of the past four years to something closer to 3pc.
In a rare event, China's currency, the Renminbi (Yuan) has depreciated recently, effectively making Australian exports more expensive. Depreciation has been almost unheard of since the Yuan was floated in 2005.