FIFTY-FOUR years buying cattle across far-flung regions of eastern and central Australia has provided a rich tapestry of experiences and friendships for popular Victorian cattle buyer David Ronalds.
While readers may be able to offer other contenders, David must rank among the longest-serving cattle buyers in Australia, having kicked off his career in 1964, in his mid-twenties.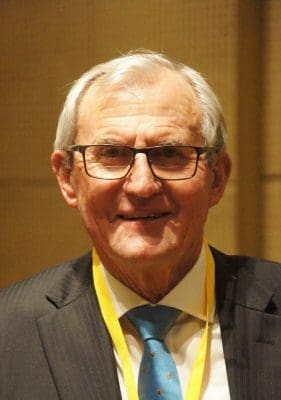 Now in his late-70s, he remains an active buyer for JBS at weekly sales across Victoria's Gippsland region, making his presence felt at Leangatha Wednesday sales, and Packenham on Mondays.
As a measure of the longevity of his career, David is now buying cattle from the grandsons and grand-daughters of the cattle producers he first dealt with in the 1960s and 70s.
Born on a Gippsland dairy farm near Jindivick, outside Warrigal, he quickly tired of milking cows, striking out on his own at age 20 to start work as an offsider for prominent Victorian cattle dealer, Les Marrebel. Les traded cattle in large numbers all across NSW and into Queensland and Victoria.
David started attending cattle sales at Warrigal, gradually picking up the cattle buying craft.
"I like this, I thought at the time," he said. "I watched a lot of the notable cattle buyers in that era, operating for companies like Gilbertsons, Angliss and Smorgons, and started picking up the requisite skills."
"I watched a lot of the notable cattle buyers in that era, operating for companies like Gilbertsons, Angliss and Smorgons, and started picking up the skills"
"Cattle buyers back them were as thick as fleas at every sale," he recalls.
David started trading a few cattle himself around the Gippsland area, buying his own farm as part of the process.
Determined to turn cattle buying into his career, he travelled to Melbourne in 1964, unsuccessfully seeking a start with Angliss and Gilbertsons before scoring a buyer's job with Thomas Borthwick & Sons. Borthwicks operated a number of plants from Queensland to Tasmania at the time, including a Melbourne site at Brooklyn (continuing to this day under JBS ownership) that killed 8100 sheep and 700 cattle a day.
His first job working for Brooklyn livestock manager, Col Stedman (now well into his 90s, and living in Noosa) was to buy bobby calves at Warragul.
"In those days, Brooklyn used to kill about 10,000 bobby calves a week on the sheep chain," David said. "Most of the trade in bobby calves these days has shifted to private sales, over the scales, but back then dedicated bobby calf sales were common."
In practical terms, David has been a one-company man since he started in the cattle buying game. Ownership of his firm may have changed around him, but he has never left the employ of one company to join another.
He worked for Borthwicks until it was merged with other companies to form the Australia Meat Holdings conglomerate around 1988. AMH later changed hands when bought by ConAgra, before current owners, JBS bought the business in 2007.
While he made his name buying across Victoria's Gippsland region, David's work took him across most parts of Australia over the years, buying slaughter and feeder cattle out of the paddock and via the saleyard system.
In the 1970s and 80s, he regular travelled as far as Gepps Cross saleyards in South Australia and frequently bought large runs of cattle out of Central Australia, and occasionally operated in Tasmania. Gepps Cross selling used to take place in a big central ring, with buyers and onlookers in grandstand seating around the outside.
"Metro Meats were the kings in Adelaide at the time, but I used to go across and compete on their own patch," he recalls.
"In those earlier days, I was buying 60,000 to 70,000 head a year, so the numbers rack-up"
He bought all the bullocks for Borthwicks out of the Newmarket sale for almost 20 years, on a good day securing 1000 to 1200 head a day.
When asked by Beef Central how many cattle he might have bought over his career, he suspected that the figure might easily exceed a million head.
"In those earlier days, I was buying 60,000 to 70,000 head a year, so the numbers rack-up," he said.
Versatility was also key, with buyers expected to jump seamlessly from adult slaughter cattle to bobby calves, sheep and lambs – and be aware of current market values, trends and influences across each.
"When I started in 1964, everything was sold in Pounds, Shillings and Pence, per head. The sums got a lot easier when dollars per head came in 1966. Early on, there were no scales, and weights were just dead-reckoning. Then scales came in, and the need to accurately judge weights was less important. But you still had to land them at the plant at so many dollars and cents per kilogram."
Cattle from some areas tended to weigh differently than others, David said. "But you get used to it over time, knowing that cattle from a certain area might weigh better than what you'd expect. Season had a lot to do with it, but cattle off certain areas, like parts of the Gippsland, tended to weigh a little better than others. And well-fertilised properties would produce more weight than others. It all adds up."
For many years David regularly bought big runs of slaughter cattle on buying circuits out of the paddock in the Riverina, from large operators like Twynam, British Tobacco and TA Field. Often he'd stay the night with his suppliers. He remembers buying a thousand bullocks in one line off the back of a horse – the pick of a mob of 2400 – near Hillston during the 1970s.
"I did a lot of miles, regularly buying up to 500 steers at a time – nearly all Herefords in those days – but loved every minute of it," he said.
Over the years he bought all over New South Wales as well as Victoria – up and down the Darling, west to Cobar and Wilcannia, and north as far as Roma in Queensland.
"I've had the best working life, and have thoroughly enjoyed it. If you are lucky enough to like what you do in your work, and do what you love, you are a lucky man."
Asked if he considered himself a better cattle buyer today than what he was 40 or 50 years ago, David said he was probably a 'different' cattle buyer.
"Nowadays, we have to buy so many cattle to suit each different order we have for the week. We can buy bullocks up to five different ways, and that's how they arrive at the plant. In the early days, at Newmarket, for example, we might buy bullocks perhaps two ways. It was a simpler process back then. But back then, you had to accurately estimate a bullock's weight and dressing percentage, because you still had to deliver him to a dressed weight price per kilogram (or pound) back to the works, and allow for freight."
"Buyers are still pretty much the same, as people, but there seemed to be more room for real characters years ago – both among buyers and auctioneers"
So has the culture of cattle buying changed much over the years?
"Buyers are still pretty much the same, as people, but there seemed to be more room for real characters years ago – both among buyers and auctioneers. It was a heavy drinking and heavy smoking culture, especially with 6 o'clock closing in the pubs."
These days David has wound-back his buying operations somewhat, and doesn't travel nearly as much as what he once did. His son, Jason, also a JBS cattle buyer, has stepped into his shoes across parts of the Gippsland, but David still routinely lines up in the buyers' laneway at a few sales each week. There's barely a set of yards anywhere in Victoria or southern NSW where he is not instantly recognised, and welcomed.
"A lot of my cohorts my age are now gone – either retired or passed away – but I still enjoy catching up with colleagues and friends whenever I'm at a Leangatha sale," he said.
"It's like a big game. You're competing against your opposition to try to end up at the end of the day with what you want, in terms of your orders, at the price you're hoping to buy them at."
He said one of the biggest changes he'd seen in the industry over half a century had been in recognising the real value in every beast a lot more.
"Years ago, the main value in a bullock was in his primal cuts (barbecue items like striploin and cube roll, eye fillet and rump.) A lot of other items had limited value, and ended up in the grinder. But today, every body part has a clearly-defined purpose, and a clearly defined market."
"At the JBS Great Southern awards dinner we held recently, we had short-rib, slow cooked, and it was delicious. Look what happens when you treat a certain piece of meat the right way. They used to throw rib-meat to the dog, but we're doing so much more today to value-add the animal."
Judging by the reception he received when introduced to the audience at the recent Great Southern brand program awards event in Melbourne, David remains a popular and much-loved character among cattle producers in his region.
"While buying cattle can be challenging at times, above all, I've really enjoyed the interaction with people," he said.
With no immediate plans to retire, he plans to continue to operate as a buyer "as long as my health allows me to keep going, and as long as they (JBS) will have me."
"Fifty five years as a buyer has a nice ring to it."