THE countdown has begun, with just 365 days to go until Beef Australia 2015, the biggest and most comprehensive cattle industry exposition in the country.
Held every three years in Queensland's beef capital of Rockhampton, the next event will take place from May 4 to 9, 2015.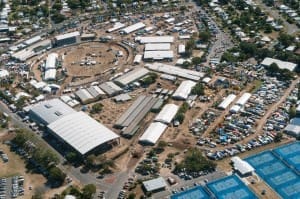 The 2012 event attracted more than 85,000 visitors through the Rockhampton Showgrounds main venue, including more than 600 international guests representing 37 different countries.
The Beef Australia 2015 program is expected to feature more than 4500 cattle, 500 commercial trade sites, an extensive education, seminar and conference program and business meeting facilities, as well as a range of restaurants, bars and retail outlets.
"The event is more than a showcase of Australian cattle – it is about growing the beef industry by creating new export opportunities by engaging the international agribusiness community," said Beef 2015 event chairman Blair Angus.
"Beef 2015 is about improving the productivity of producers through our education program; and it is about building excitement in beef as a product through our consumer awareness activities," Mr Angus, a Central Queensland beef producer and branded beef exporter said.
"The event is a celebration of all facets of the beef industry in Australia and facilitates new trade and export opportunities by exposing the local supply chain to the international industry leaders."
"It's also the industry's chance every three years to eat, play and learn about all things beef and for the general public to enjoy beef in ways they have never experienced before."
Beef Australia chief executive Denis Cox said the development of the program was well underway, with eight producer and industry-led committees in place to drive preparation of different aspects of the event, including the stud and commercial cattle competitions, carcase judging, the education and seminar programs, and the ever-popular regional property tours.
The event's International Committee has been in place for more than a year, with promotional materials already produced in 10 different languages and being distributed to our key export markets, Mr Cox said.
The countdown to Beef Australia 2015 will be celebrated in coming weeks with two industry launch events to be held in Brisbane and Rockhampton.
• More information is available at www.beefaustralia.com.au