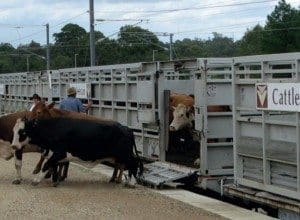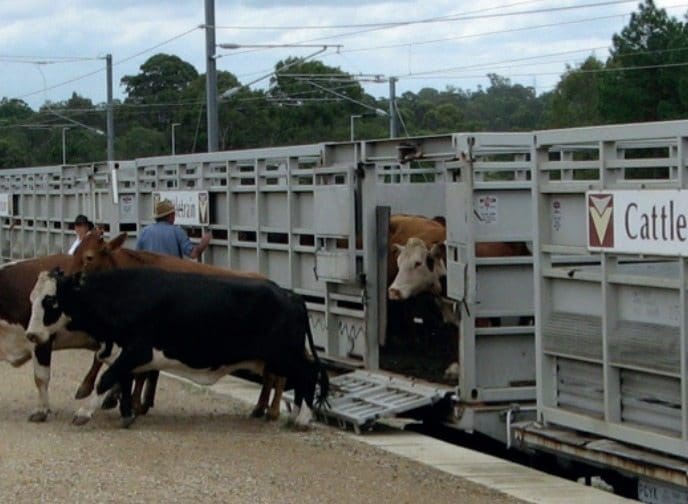 A newly formed council of 10 mayors from Southern Queensland has thrown its support behind Oakey Beef Exports' (OBEX) long running push for Government support to transport more western cattle by rail.
The mayoral group says $2 million in State and/or Federal Government funding to invest in new rail sidings is all that stands in the way of significant increases in demand for southern Queensland cattle and new jobs and economic activity for the region.
However, the Queensland Government appears to be baulking at funding the required improvements, taking the view that the improvements to public rail infrastructure should be funded by private beneficiaries, such as OBEX itself.
OBEX and the representatives of the newly formed Council of Mayors from Darling Downs and South West Queensland are hopeful that the cost can be shared by the State and Federal Governments. OBEX general manager Pat Gleeson and Quilpie Shire mayor Cr Stuart McKenzie will travel to Canberra on Thursday to put a funding proposal to Federal minister for infrastructure and regional development Warren Truss.
OBEX currently processes about 6400 cattle per week and has announced plans for a multi-million dollar plant expansion which will increase throughput to 11,500 per week. The expansion will create hundreds of new jobs for the local region and will add to processor buying competition for cattle throughout southern Queensland.
However, the expansion hinges on the plant's ability to source greater numbers of cattle.
Improving rail access is an obvious solution.
The western rail line from Quilpie to Brisbane, which directly connects the large cattle herds of the channel country and western and southern Queensland to the the State's major export port, runs right past Oakey Beef Exports' door at Oakey on the inner Darling Downs.
However, with no rail siding in place, the plant cannot currently utilise the rail conduit to access cattle or to deliver containers of processed beef down the range to the Port of Brisbane.
OBEX says funding for a new rail siding and cattle unloading facility at Oakey and repairs and improvements along the western rail line is all that is needed to increase competition for cattle producers right along the line, to significantly reduce road transport pressure and maintenance costs and to generate important new jobs and economic activity for the region.
Quilpie mayor Stuart McKenzie said the returns delivered by the investment, not only in job creation but also as a market outlet for western Queensland cattle, would be "enormous".
"The only thing stopping this project proceeding is a couple of million dollars and considering the State spends hundreds of millions a year maintaining the line for ghost trains, it is ridiculous," Cr McKenzie said.
The 'ghost train' reference relates to the existing Queensland Government Livestock Transport Services Contract (LTSC) under which freight carrier Aurizon is funded by Government to provide 27 cattle train services per year on the western Queensland rail line.
Only seven were run last financial year.
Under the same agreement, only two abattoirs are currently contracted to receive cattle from the western rail service, JBS and Teys Australia, which have rail unloading facilities at their abattoirs at Dinmore and Beenleigh in SE Queensland respectively.
The Queensland Government has now agreed to include Oakey Beef Exports in the new LTSC, which starts in January. Cr McKenzie said the region's mayors were very happy with those discussions held with Deputy Premier Jackie Trad.
However, despite being granted contractual consent to receive cattle by rail, with no siding in place, Oakey can still not receive cattle by rail.
"We are now taking it to the feds and asking the state and feds to work out where the funding is coming from," Cr McKenzie said.
Queensland's Department of Transport and Main Roads has told the media it is "willing to ­assist in facilitating rail upgrades'', but believes it is up to the commercial interests to invest in any dedicated rail siding infrastructure for the facility.
Pat Gleeson says it is unreasonable for the State Government to expect the company's owners, Japan-based NH Foods, to fund improvements to public owned infrastructure that it does not own, and that will provide benefits to multiple users.
"The bottom line is, our parent company is prepared to put millions of dollars into the expansion but can't be responsible for infrastructure they do not own," Mr Gleeson said.
Cr McKenzie echoed Mr Gleeson's concerns, saying it is unacceptable for the owners of Oakey Beef Exports to prop up state-owned infrastructure that other companies utilise.
"There are so many elements to this project, it is a lot more than Oakey Beef running a business, it is about outlets for our cattle and about rejuvenating regional Queensland by getting more cattle back on trains," he said.
An independent study of the economic benefits commissioned by OBEX suggests that the required upgrades will create economic benefits including 4,323 additional direct and indirect jobs, $192 million in additional wages in regional Queensland and $1.3 billion in additional output from the region.
The report says that if the Government funds the required upgrades, OBEX will commit to transporting a minimum of 25,000 head per annum on the western rail line per annum by year three, will then expand on this number up to 40,000 head, depending on cattle availability.
The level of cattle movement proposed by OBEX equates to 28 services per annum, which exceeds the total level of services funded by the Queensland government under the existing Livestock Transport Services Contract (LTSC).
The new council of Darling Downs and South West Queensland mayors, formed in Toowoomba on Monday, represents nearly 25pc of Queensland in area alone, taking in the local government areas of Toowoomba, Goondiwindi, Quilpie, Western Downs, Balonne, Bulloo, Southern Downs, Murweh, Maranoa and Paroo.
The councils cover a footprint of the State that includes about a quarter of its cattle herd plus 75pc of its grain and pulse crop production.