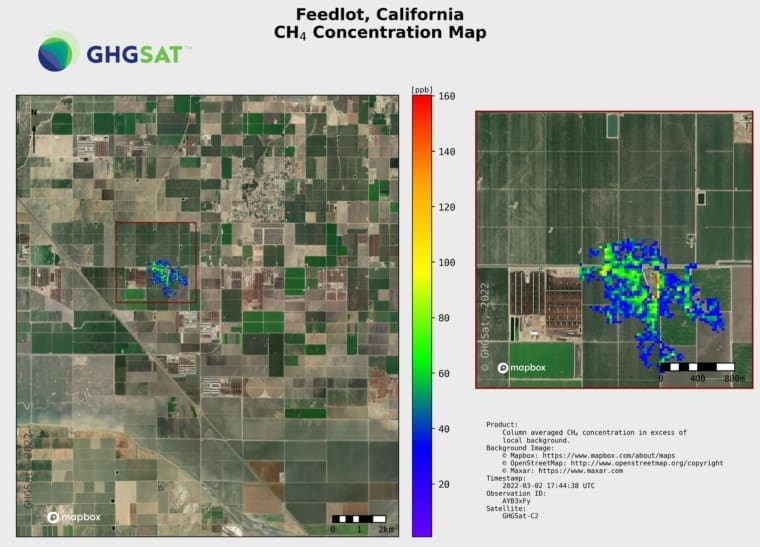 A Canadian company claims to have been able to accurately detect methane emissions from cattle in a US feedlot via satellite, in a development that could have implications for how methane emissions from livestock are measured in future.
GHGSat is a private company which operates three satellites orbiting at an altitude of 500km, designed for the specific purpose of high-resolution gas detection. It says it has been measuring methane emissions from hydropower, oil and gas, landfill and coal mining facilities since 2017. GHGSat says the satellite technology it has pioneered can pinpoint the exact source of even small leaks.
In March GHGSat's satellites detected methane emissions coming from an agricultural area in California's Joaquin Valley.
It says analysis later confirmed the source as being a feedlot six miles (10km) southeast of Bakersfield.
Five emissions were recorded, ranging in size from 361 to 668kg/h.
If sustained for a year, the company said, this would result in 5,116 tonnes of gas being released – enough to power 15,402 homes.
Practical solutions for measuring emissions closer to the ground have been elusive, the company notes: ground-based monitoring is labour intensive, and can only scan small areas. Aircraft-mounted sensors can cover more ground, but also at a high cost.
It says its work has demonstrated that satellites can monitor thousands of sites, every day, at a low cost and so support immediate climate action.
A variety of techniques are currently being trialled to reduce methane emissions from cattle, including adding small quantities of seaweed to their feed.
In California targets have been set aiming to reduce emissions from the State's 1.4 million dairy cows by 40 percent by 2030 compared with 2013 values.
At last year's global climate summit in Glasgow, more than 100 countries pledged to cut methane emissions by 30 percent.
Accurate measurement of emissions is essential to this process, both to correctly understand the level of emissions occurring, and to enable progress toward reduction targets to be accurately tracked.
Could provide a more realistic picture
One global expert has told Beef Central emissions attributed to livestock are exaggerated and satellite technology could help to provide a more realistic picture.
In comments to Beef Central in response to the GHGSat development, Professor Frank Mitloehner from the University of California Davis said the use of satellites will likely be enhanced for all methane emitters.
"I view this issue a step in the right direction, because it will end the guessing game.
"I believe that livestock sources are currently exaggerated."
Prof Mitloehner said he is looking forward to seeing the data that can be provided by satellite measurements systems.
GHGSat currently has three satellites in orbit with three more scheduled to launch this month with Elon Musk's SpaceX.
Finding challenged
Not everyone is convinced the technology is working as claimed, however.
In one tweet a social media user claims the source of the methane emissions in the area GHGSat has attributed to cattle emissions from a feedlot is more likely to be a pond from an orchard, using mapping and pictures from the site to challenge to support their view:
No; methane seen from space isn't cows burping @zoe_sottile. @CNN pls correct your article. Source is in the adjacent fruit tree farm #223 #BakersfieldCA. EPA doesn't report any emissions here. @BillWeirCNN @BBCAmos Can't be blaming cows when @ghgsat shows no emissions from cows. pic.twitter.com/BsTTaEebMa

— baker_dozer (@DozerBaker) May 2, 2022