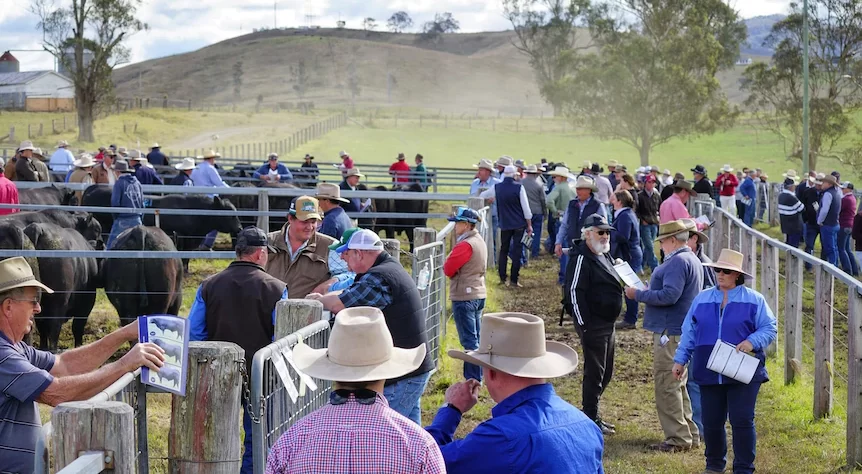 IT'S BEEN another extraordinary year for the beef seedstock industry across Australia, with records for numbers of bulls sold, clearance rates and average price re-set for most popular beef breeds.
This year's results (see tables below for nine popular beef breeds for average price, and numbers sold) come on top of an already strong 2021 year, where average prices hit dramatic new highs.
Final sales for this year took place as recently as Friday, and are included in this detailed report.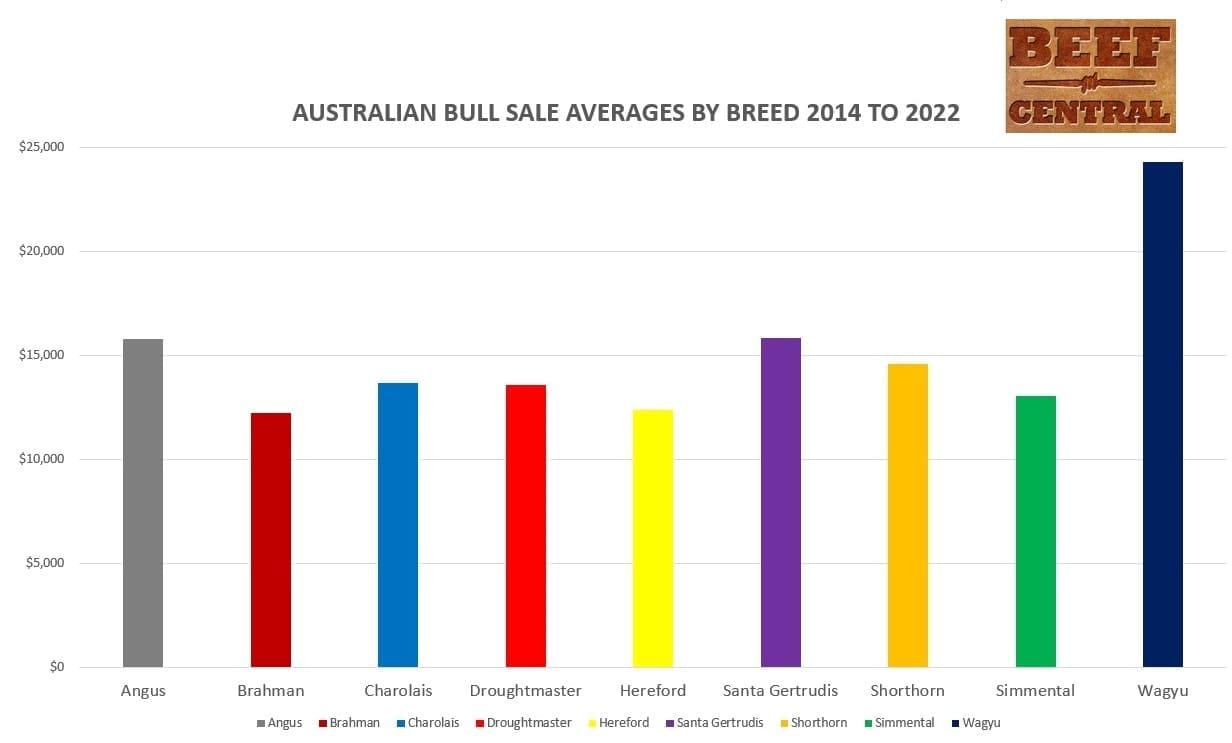 The biggest drivers of the current trend have included two consecutive exceptional seasons in many areas of Australia, and the prospect of another wet summer ahead. Herd rebuilding continues after the 2019-20 drought, and driven by favourable weather, is perhaps 12 months ahead of where many expected it to be by now. That has pushed more heifers into breeding paddocks, and in turn, driven greater demand for herd bulls.
The continued strong international demand for beef has also helped underpin buyer confidence in the bull market this year.
Combined, these factors have motivated bull buyers – both stud and commercial – to invest heavily in securing the best possible genetics, and the numbers they need to do the job.
As can be seen in tables in this report, it's driven clearance rates for virtually all breeds to an exceptionally high level this year, with countless sales selling every bull in the catalogue.
Average price for bulls sold 2022
The eight largest breeds on our 2022 statistical list accounted for 25,107 bulls sold this year, compared with 23,097 for the same breeds last year, a rise of 9pc. As the industry continues to recover from drought, bull breeders have responded by releasing more bulls to market. For example this year saw about 7700 more bulls sold from the same eight breeds than the 2019 drought year.
Data for this report is provided by breed societies from their own records, with the exception of Shorthorn (multiple breed societies) and Wagyu, compiled by Beef Central.
Bull numbers sold at auction 2022

Notes on tables above:
One small late season Angus sale offering not included in this list.
Statistics on sale bulls offered as part of herd dispersals were not included.
Some breeds, especially Brahman and Droughtmaster, include both registered and herd bulls
Brahman auction clearance rate is an estimate only.
A handful of bull sales were online-only, while the overwhelming majority returned to active face-to-face auctions this year, after earlier COVID disruptions.
Wagyu results included for the first time, due to growth in auction numbers.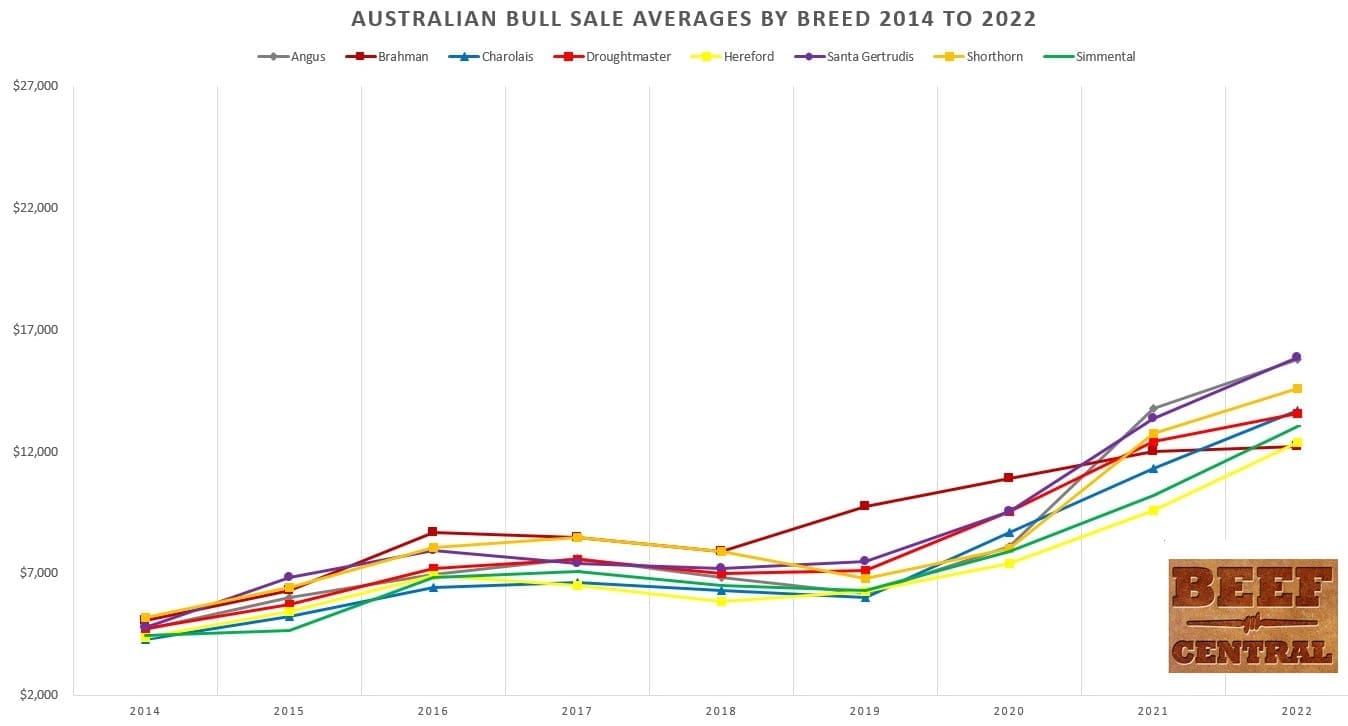 Beef Central has compiled this report each year since 2014. The analysis takes into account nation-wide auction sales (physical or online) for bulls from nine of the largest beef breeds in use across the country. A total of 384 auction sales of bulls in the nine represented breeds were held this year, in all five mainland states, plus Tasmania and the Northern Territory, Beef Central's bull sales summaries  show.
The results do not include dispersal sales, nor private or paddock sales. In some breeds, including Brahman, Droughtmaster and Santa Gertrudis, paddock sales in fact make up a much larger proportion of bulls sales than auction – but they are impossible to report on.
Meat quality
If it is possible to characterise an entire selling season running from February to November, from one end of the continent to the other, and servicing dramatically different market segments, there are a couple of observations we'd make about this year.
The first is a flight to meat quality. There's clear momentum being seen in breeds offering meat quality characteristics.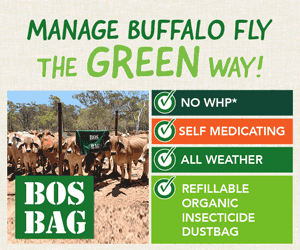 Seasonal conditions may have helped support that. Previous annual bull sale reports have indicated a clear correlation between prevailing seasonal conditions and buyer interest in bulls carrying some adaptation.
Back in 2020, for example (including the back half of the 2019-20 drought, which broke much later in the north than it did in southern zones), Brahmans achieved the highest breed average price of $10,890, followed by other Bos Indicus derived breeds, Droughtmaster and Santa Gertrudis.
This year, both Brahman and Droughtmaster average price rises – while still healthy – are in single digit percentage increases. Conversely, meat quality oriented breeds like Angus and Wagyu have produced larger percentage gains.
Another clear driver of bull prices this year was the willingness of commercial cattlemen to pay exceptional prices for bull replacements, fuelled by record prices for store and slaughter cattle.
There were countless examples of commercial cattlemen averaging $20,000 or more for their bull purchases this year, with several breeds selling bulls to commercial buyers for $45,000 or more. Some of those high-end bulls are destined for nucleus purebred herds designed to generate replacement herd bulls 'in-house.'
Sharp rise in average prices paid
There was a sharp rise in average prices paid for all breeds rose this year, by anywhere from $200 to $2850.
Here's a quick breakdown of the highlights for each major breed this year.
Angus:
A record 207 Angus bull sales were held across Australia during 2022, up 19pc from the drought impacted 2020 season two years ago.
Numbers of bulls sold also reached a record high of 11,811, up 945 or 9pc on last year. Longer term, Angus bulls sold have continued to expand rapidly, rising 72pc or almost 5000 bulls in the decade since 2012.
Average price paid for Angus bull lifted 14.5pc to $15,770 this year.
A number of explanations are offered for the sustained growth in Angus bull breeding. A substantial number of grainfed beef brand programs are Angus-specific, and marbling performance has gained importance as Australia earlier this year saw grainfed beef rise above 50pc of all beef cattle slaughtered (albeit briefly) for the first time. If average carcase weight is taken into account, grainfed may now account for 55-60pc of all Australian beef produced, NSW lotfeeder Andrew Talbot told a field day audience earlier this month.
Brahman
Brahman numbers sold this year were virtually identical to 2021, while average priced climbed another $187 or 2pc to $12,207. While the season included some exceptional sales, the season showed signs of running out of steam a little heading into November, with sale averages declining as the year ended.
Brahman results may have been constrained somewhat by more mixed seasonal conditions across buying areas spread across northern and central Australia (41pc of Queensland is still officially drought declared), and a much more subdued live export market, where volumes to Indonesia and Vietnam have fallen substantially this year.
Wagyu
Wagyu bull sale statistics are included for the first time in 2022, because this year has seen a much larger number of Wagyu bulls sold at auction than ever before. Combining data from the two studstock agencies that handled all Wagyu bull sales this year (GDL and Elders), shows there were 317 Wagyu bulls sold at auction this year, topping breed statistics to average $24,269.  Paddock sales remain the predominant method of selling Wagyu herd bulls, however. GDL and Elders, alone, have sold 2023 Wagyu bulls in the paddock this year, including several for "six figure sums." Other agents have also sold Wagyu herd bulls in the paddock for clients this year.
Other highlights among results this year included Santa Gertrudis which averaged $15,848, an 18.6pc rise on last year, with an 8pc rise in numbers of bulls sold;  Droughtmasters averaging $13,565, up 9pc on last year; Shorthorns averaging $14,592, up 14.5pc; Charolais averaging $13,680, up 20.8pc; Simmental $13,051, up 28pc; and Hereford $12,368, up 28.7pc on last year.
Clearance rates across all breeds surveyed this year were exceptional. Countless sales recorded total clearance of bulls offered. Two breeds stand out – Wagyu, which managed to clear every single bull offered at auction, and Shorthorn, which saw just five bulls passed-in all year, from 808 offered at auction – a clearance rate of 99.4pc. Both results are probably unprecedented, across a year-long bull selling cycle.
Bull breeders wishing to promote their Autumn 2023 bull sales via ads on Beef Central's genetics pages, daily email alert or home page early next year should contact business development manager Matt Hatchard at matt@beefcentral.com or phone on 0437 870 127. Ad spaces are starting to fill up, so we recommend making contact early to avoid disappointment.
Soon after Christmas, work will also start on compiling our full list of 2023 Upcoming Autumn 2023 Bull Sales, appearing as a searchable list in Beef Central's genetics section. We remind studmasters to submit their 2023 autumn sale dates early next year (via this form), if they are not already provided by respective breed societies.
Numerous beef breeds have re-set their record prices for bulls and registered females during 2022. Click this link to access Beef Central's comprehensive list of breed records.