TOMORROW (Saturday) marks the start of the 12-month countdown to Beef Australia 2021, one of the world's largest and most comprehensive beef industry events held in the central Queensland beef capital of Rockhampton every three years.


Despite dozens of industry events being cancelled or postponed in recent months due to COVID-19, Beef Australia 2021 organisers remain optimistic that social distancing and travel circumstances will improve in coming months, to a point where the event can go ahead, at or close to normal.
With rates of COVID infection now showing encouraging declines across Australia, May next year is looking increasingly promising to get the go-ahead.
Beef Australia chairman Bryce Camm told Beef Central this morning that a board meeting had been held this week, and the situation continued to be monitored closely.
"We remain hopeful, at this stage, that conditions will have returned to closer to normal by this time next year," Mr Camm said.
"From an organising point of view, we are progressing under the expectation that the event can go ahead, more or less as it would have if held prior to COVID," he said.
Perhaps the area of biggest 'scenario planning' at this stage was around international visitors to the event. Two years ago, Beef 2018 attracted more than 1200 registered international delegates, from 43 countries across northern and southern Asia, North and South America, Europe, Africa and the Middle East, and the Pacific region.
"The prospect of Australian borders opening by next May is still open to question, and even if they do, access from some countries may be easier than others, depending on the extent of COVID infection in those countries," Mr Camm said.
"Financial and economic circumstances overseas, and the desire for people to undertake international travel after a major health event like this may also come into account."
Mr Camm said Beef 2021 was working closely with groups like AusTrade and the Queensland Government on that front, but admitted it was still 'early days.'
But despite the current uncertainty, the industry obviously needed 'something to look forward to' after the COVID restrictions ease, he said.
"While COVID will inevitably have a financial impact on a lot of businesses connected with the beef industry in some way, Beef Australia is always such a great event to bring the industry together, get a message out, to network, and to promote trade and business," he said.
"More than ever, next May's event is going to be important for that purpose."
Event launches and awareness
Historically, the Beef Expo has held launch events in Brisbane and Rockhampton a year out, to flag the lead-up to the event with stakeholders and partners.
"Obviously that's impossible at the moment, so we have revised the awareness plans for next year," Mr Camm said.
Instead, a social-media based event launch will be staged, starting the week after next (18-22 May), with a different daily focus on industry, trade, next year's program, and the local Rockhampton community.
Face-to-face launch gatherings may still take place sometime later this year, with a media launch planned for next February.
One of the event initiatives already rolled-out has been the Beef 2021 Club, targeted at smaller businesses and community groups around the local Capricorn region, that may be too small to take a sponsorship package, but still want to engage with the event in a meaningful way. That program has already seen uptake from around 130 local businesses.
Funding support
In March, the Queensland Government announced a $1 million funding package for next year's event, adding to $3.9 million in support from the Federal Government announced back in December.
"That represents a considerable funding lift from both levels of government, compared with the event held in 2018," Mr Camm said.
"It's recognition that the event continues to grow every three years, and its a realisation that Beef Australia is now a major Queensland and industry event."
"It's also a clear recognition at state and federal level of the overall importance of the beef industry to the Australian and Queensland economy," he said.
"In terms of the business generated and economic impact on a region, nothing else comes close, with an $85 million impact on the Rockhampton city region alone. It's colossal."
While a year still sounded a long time away, when the Christmas holiday slowdown period was taken into account, organising for next year's event was already drawing a lot closer than may people realised, Mr Camm said.
"Beef 2021 is a world-class event, and it has to have that look and feel, and give all visitors that experience they are anticipating – and that's what we, as organisers, are endeavouring to deliver," he said.
Beef Australia chief executive officer Ian Mill has just clocked up twelve months in his role, and is looking forward to leading the operations team to next year's event.
"Our planning and development for Beef 2021 has continued during times that we acknowledge are challenging for many of our partners. We are privileged to provide a platform for the beef industry to showcase its achievements and developments – I know everyone is looking forward to the opportunity to come together in May next year, it will be something very special," Mr Mill said.
"We have full confidence that the Beef Australia we know and love will take place in May 2021. Our confidence is shared by our major partners, and we will work together to ensure the event we proudly deliver adapts to any future requirements."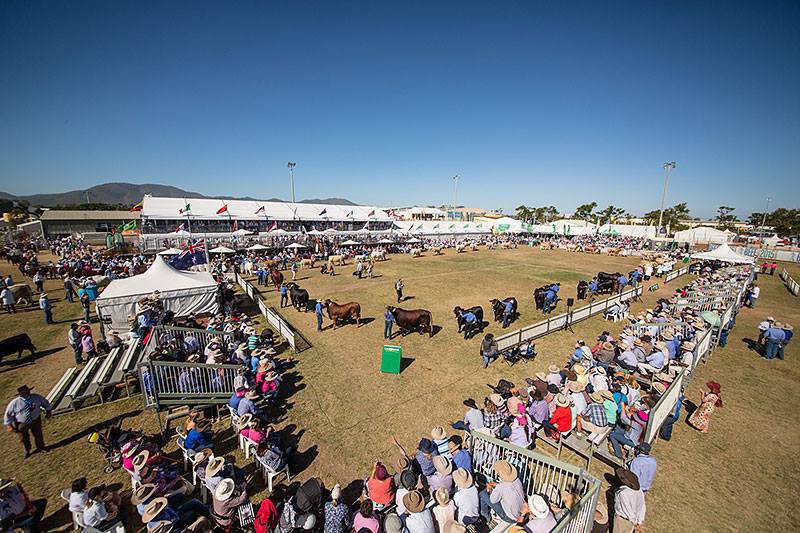 About Beef Australia 2021
Beef Australia happens in Rockhampton from 2-8 May, 2021, as a celebration of all facets of the Australian beef industry.
It will facilitate new trade and export opportunities by exposing the local supply chain to the international industry leaders; feature more than 5000 head of cattle competing in stud and commercial cattle competitions; a trade fair promoting more than 500 businesses; a symposium, seminars and property tours to deliver new research information to producers; and restaurants, celebrity chefs and cooking demonstrations for visitors to appreciate the quality and flavour of Australian beef.
More than 100,000 visitors passed through the Rockhampton Showgrounds site at the 2018 event.
The economic impact of Beef Australia has a ripple effect in the region and across the country, with such a strong focus on International trade and investment deals, numbers will be growing for years to come.