IF Australia is to remain internationally competitive in the global red meat market, it has to do two things: a) continue to produce high-quality, consistent, safe and traceable product, and b) find ways to do this with ever increasing efficiency, given the challenges from low-cost export competitors like Brazil.
No better example of the second part can be seen in the recent completion of Teys Australia's brand new Centralised Distribution Centre at the Port of Brisbane.
Bristling with autonomous computer-controlled vehicles, robotics and world-class inventory management and sortation technology, the facility represents an overall investment (land, buildings and the vast array of equipment and technology it contains) of $100 million.
In value terms, it is easily the biggest infrastructure investment made by Teys in the past ten years.
Built within sight of the port's huge gantry cranes that load containers of Australian beef and other goods onto outbound vessels, the massive facility is a statement about Australian export beef's need to retain a competitive edge.
The new facility aggregates chilled and frozen beef from three of Australia's largest export beef processing plants, all in Queensland:
Teys Beenleigh
Teys Lakes Creek (Rockhampton), and
Teys Biloela (mostly grassfed)
If required, product can also be handled out of Teys' southern Australian plants at Wagga and Naracoorte. Small volumes of southern meat came through the facility during the start-up phase last year.
Product is consolidated at the Port of Brisbane site, and either loaded onto ships for export or onto distribution trucks for domestic Australian market use.
Inter-linked technologies, talking to each other
Far from being just a 'great big coldstore', the Port of Brisbane site incorporates a vast suite of technologies designed to streamline and enhance the meat handling, logistics and export process.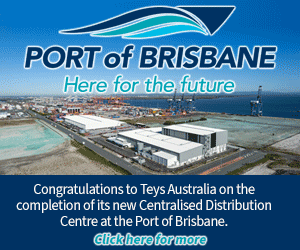 While some of the individual technologies have been used in meat cold storage applications before, this is the first red meat example, worldwide, where they are employed in a seamless chain, designed to maximise their effect. This, in itself, has created a huge IT challenge, in getting different links in the chain to 'talk' and 'engage' with each other.
Some of the main technology suppliers behind the project include Dematic, Blue Yonder and Riantics, as well as other bespoke internal warehouse management systems developed by Teys driving the operations.
What makes the site different?
So what is the new site all about and how does it differ from what happened previously?
In the past, Teys Australia's three large regional Queensland beef plants consolidated their own chilled and frozen beef in cold-storage on each site, and then trucked straight to the port for loading or to a conventional coldstore at nearby Hemment.
Part of the challenge for Teys, as it is for all beef processors, has been that over time, there has been greater and greater differentiation of product, by brand, age,  grass/grain, HGP use, Halal and other attributes, producing literally hundreds of product categories.
That has made inventory a growing nightmare to manage manually, site-by-site, when trying to fill customer orders.
"Our original thought was that we would try to automate this process separately, at each individual processing site," Teys Centralised Distribution Centre project coordinator Shaun Johnston said.
"Some of our older processing sites are heavily space-constrained, so we started to look at alternatives. All export beef produced in Queensland has to pass through the Port of Brisbane anyway, so it made sense to create a hub for all three sites, as well as rationalising domestic distribution.."
What has resulted is a strategically located facility that not only saves an enormous amount of labour, but has also knocked up to a week off the time taken to get the product into export markets, and reduced mistakes in order fulfilment to almost zero.
Despite its enormous size and throughput, the new Brisbane facility is manned by just 20 personnel per shift. When the current stage of development is fully completed next year (including pallet loading automation back at each plant) it will take about 160 staff out of the previous manually managed process. Far from being lost, these staff are being redeployed elsewhere in the business. Teys, like all processors, is desperately short of labour across its business.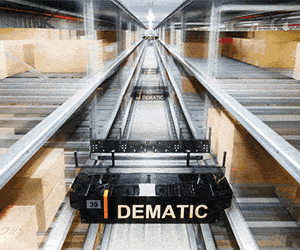 The new facility means reefer containers ready for shipment now travel only a kilometre or less to the loading site alongside the vessel.
To Teys' knowledge, there is not another facility in the world that a) aggregates and consolidates red meat product from multiple large processing sites at this scale, while b) managing the inventory under high degrees of computer control and automation.
The site is capable of handling 48,000 cartons in, and a similar number out every day, operating 22 hours a day. That represents around 70 incoming refrigerated transport vehicle arrivals daily, mostly direct from the plants.
The site itself has the capacity to store 7000 tonnes of chilled and frozen product – about 60pc of which is in frozen form. Some coldrooms can be used for either chilled or frozen storage as required.
"But the big goal here is not to 'store' product – it is to get it into market as quickly and efficiently as possible – to keep it moving through the system," Shaun Johnston said.
"This project was never about increasing capacity to store more cartons of beef – it was all about turning over the product faster with greater accuracy, providing better outcomes for customers , and creating good jobs by removing difficult work for our employees. Going from 14 days inventory to ten days' represents a lot of money."
Despite that, a 'low-volume' product like frozen commodity shin-shank, for example, might accumulate at the site from the three beef plants over several weeks, before enough material is gathered to fill an upcoming order.
Five years in development
The project has been five years in the making, with much of 2018 spent in design, and construction works commencing during late 2019. The building itself was contracted to Toowoomba Builder McNab, and the extensive fit-out started in mid2020.
Last year was a 'learning to walk' year for the facility, after the first small trial shipments happened in January.
Significant IT challenges were involved in getting the entire network to operate seamlessly, but that is now getting 'horribly close,' Teys Australia chairman and acting chief executive Brad Teys said.
"To get a facility like this – with all its complications and intricate layers working flawlessly is a monumental exercise," Mr Teys said.
Facility general manager Liam Maher said within Teys itself, it had been necessary to either enhance or introduced seven new software applications for the project, and they all had to 'talk to each other'.
"The same applied with all the equipment installations – some supplied by Dematic, as well as other third parties – all of that has to engage with each other. The data flow between all those systems has certainly been challenging, but you don't make an omelette without breaking a few eggs," Mr Maher said.
"The person entering the customer meat order data into their computer in the sales office is no longer talking to the forklift driver or the carton sorter – they're now talking to a set of computers and robots."
The system includes built-in warnings and over-rides if a human-error mistake occurs in ordering – such as accidently trying to consign a non-Halal carton to a Halal customer, or HGP-treated beef to China.
"The process uses a  system, where each customer order card is set up with what they can (and can't) access, the robots will build to that, or advise when a mistake is made," Mr Maher said.
Inter-connected technologies world first
A unique feature at the site is that it is the first example in the global red meat industry of bringing together the full suite of new technologies used in product storage, handling and distribution.
Just some of this includes:
Automated palletised meat storage and retrieval. The vast storage can stack pallets up to eight high, all without human intervention, using high-speed robotic cranes. Think a high-reach forklift, without an operator. This technology has been around for some years, but it is the interlinking of this with other features below which is breaking new ground
Automated Guided Vehicles (AGVs): small autonomous computer-instructed vehicles used to transport pallets of beef through the facility. The facility employs a squad of 34 electric AGVs, which automatically return to one of three 13 docking stations when they need recharging. An operating system in the background guides the 'missions' that each AGV goes on – right down to removing waste pallet wrapping materials for recycling, or returning empty pallets.
Automation provider, Dematic's Multi-shuttle automated storage and retrieval handling system for individual cartons of beef. Each Dematic storage is more than 20 metres in height. With more than seven million cartons passing through the facility last year – and a lot more this year – the system operators have never once asked for the whereabouts of a carton and not got an accurate response. It makes stocktake an unbelievably simple process, with no need to spend time in the freezer or chiller.
A custom warehouse management system builds custom-packed orders on pallets, drawing from the inventory held on the database to retrieve specific individual cartons to build pallets ready for shipment – all using robotics. This has eliminated mis-ordering from the process when manual handling was involved. It's not unusual for the system to select cartons of beef carrying the same spec from up to three different processing sites for packing on an export pallet or container.
A unique automated pallet exchange system for inserting pallets when supplying the domestic market
Another of the system's hidden benefits has been taking repetitive, boring manual tasks out of the chain. For example, a new carton turning system built into the design ensures all incoming cartons are aligned in the right direction, to ensure bar codes can be read. Previously, that would have been a staffmember's job – and an unrewarding and boring one, at that, without adding any real value to the process.
How the process works…
As a delivery of beef arrives at the Port of Brisbane facility from a plant, the automated process starts like this (viewing the attached video will help readers get a better feel for what's happening):
Each mixed pallet of incoming beef is transported by one of the autonomous vehicles to a de-palletising area, and unpacked by robots into separate cartons onto a conveyor. Each individual carton is then scanned and identified, and allocated a unique position in the Automated Storage Retrieval System (ASRS) where cartons are stored either chilled or frozen.
Once a customer order is placed, and enough cartons with the right spec are available in storage, the ASRS retrieves individual cartons matching that order from the storage, and directs them to robots to make up the required pallets. From there, the stacked pallet of customer-ready beef goes into a separate automated pallet cold store, ready for shipment. Once the correct number of pallets are available to fill a container order and the container is available, they are retrieved and loaded into the final shipping container, ready for transport to the stevedores next door.
Currently, the final container loading stage is carried out manually, using a small fleet of electric forklifts. But the system is designed in such a way that when technology allows autonomous vehicles to carry out the final container pallet loading stage, that can change. At the moment, that function is 'do-able', but still slower than manual forklift container loading, Mr Johnston said.
"But it's really the features that people don't see that really sets this facility apart," he said.
"Complex orders and customer or market requirements pose many challenges, the systems have been able to provide solutions to most of these challenges so far with a few software enhancements still to be finalised but it is automation and does have it's limits.   . It's become an attraction to  customers. Once upon a time most customers took a simple 12-cut fullset of Australian beef. Nowadays, it's 18 or 20  or more cuts, we couldn't sort those containers despite customers request to do so, now the system does.."
"In those cases, the management software is designing the construction of each pallet and container for greatest efficiency for our team and the customers team. The finished pallet of beef is simply presented to the forklift driver for loading, in the sequence that best suits the order, in terms of date codes, SKUs (scannable barcodes with characters attached to a product used for inventory identification and tracking) and other factors."
Another piece of technology captures and records the dimensions of each individual incoming carton coming down the line. There is some inbuilt inconsistency in dimensions of frozen beef cartons, due to liquids expansion during in the freezing process.
Miraculously, the new Teys system takes each set of carton dimensions into account, and designs a pallet packing strategy that best utilises over or under-sized cartons. The result is a more rigid and stable pallet of beef, less likely to become loose or dislodge during transport, either on the ground or on the ship.
Improved pallet handling
Another spin-off project which is providing considerable efficiencies for the new Teys facility is in the area of empty pallet handling.
Teys has designed and developed a system around a re-usable plastic 'slip sheet', which has negated the need to use the familiar blue Chep wooden pallets for deliveries from the processing plants. Previously, huge numbers of empty pallets had to be regularly sent back to the processing plants for re-use.
"It's been a whole-of-business approach to the changes that the new Centralised Distribution Centre have created," Mr Johnston said. "Everybody along the chain in the company has had to buy-in to the new system, and the response has been tremendous.The business really couldn't be prouder of how the Teys team has put their shoulders to the wheel on this project."
Construction site challenges
The new Teys facility has been built on reclaimed land, as part of the Port of Brisbane dredging expansion into Moreton Bay, at the mouth of the Brisbane River.
This has attracted widespread engineering interest, for several reasons.
The facility is regarded as the first 'high-bay' (heavy load-bearing) warehouse installation on reclaimed sandy soil like this on the Port of Brisbane, providing an example for future heavy load-bearing projects at the port to follow.
The future
So where does a futuristic project like this go in the future?
It's hard not to notice the Port of Brisbane's huge robotic, driverless gantry cranes loading containers onto vessels within a hundred metres of the Teys facility.
"Who knows – one day the Port's cranes might talk with our own systems, and simply pick up containers directly out of the load-out bay at the back of the facility," site general manager Liam Maher said.
Given technology's current breathtaking rate of change, that could happen sooner than we think.
More photos from Beef Central's recent site visit: