MOST lighter steer categories eased in price on AuctionsPlus this week, with clearance rates continuing to soften as vendor expectations aren't being met by the market.
With ongoing desperately dry conditions in many areas cattle numbers continued to rise, with 9196 head listed. Interest remained strong, with 465 stakeholders logging into the sales.
Joined and PTIC female numbers rose to 1300 head, with prices ranging from $920 to $1750, and averaging $1429. Top price went to a line of Angus PTIC cows offered by Minto Pastoral Co Morewell, VIC. Offered in the Autumn Calving Female Feature Sale, these five-year-old cows were PTIC to Angus bulls. The same vendor also offered four other lines in the same sale.
From Penshurst, VIC a line of PTIC EU-accredited Angus heifers 21-22 months made $1600.
Cow and calf units saw 1218 head listed this week, achieving a 65pc clearance. Prices ranged from $625 to $1525 and averaged $1156. Top price went to a line of station-mated Angus cows & calves 40-months of age, with Wagyu-sired calves at foot, from Glenroy, NSW. From Keith, SA, 20 Angus cows with Shorthorn-sired calves at foot sold for $1500.
This week's Weaner & Yearling sale saw 5505 head listed, with prices ranging from $350 to $980 and averaging $678. Top price went to a line of Angus yearling steers, 12-16 months old averaging 340kg out of Padthaway, SA. They found a buyer in Kaniva, VIC.
Another highlight came out of Boggabri, NSW where 30 EU and Organic eligible Angus x Poll Hereford heifers 16-17 months averaging 365kg fetched 251c/kg or $915.
This week saw another successful Tasmanian sale, with the 606 head listed achieving a clearance of 74pc. Interaction with the sale was strong, with 62 users logging-in. Top price of $1640 went to a line of Angus x Friesian PTIC heifers from Winnaleah, North Eastern Tasmania. The heifers were 26-27 months old averaging 542kg and joined to Angus bulls.
In a breakdown of young cattle sold this week, by weight range:
Steers less than 250kg sold from 260c to 340 to average 308c; while heifers sold from 214-316c to average 258c
Steers 250-300kg sold from 264-322c to average 291c; while heifers sold from 213-314c to average 281c
Steers 300-350kg sold from 259-356c to average 291c; while heifers sold from 189-293c to average 253c
Steers 300+ kg sold for 229-323c to average 298c; while heifers sold from 238-287c to average 266c
Among larger lines sold this week:
110 Angus NSM yearling heifers, 12-13 mths averaging 248kg, from Cootamundra NSW made 242c/$600
180 Angus NSM future breeders, EU eligible, 14-17 mths averaging 278 kg, from Bingara NSW made 314c/$875
101 Ang weaned steers, EU, 9-10 mths averaging 284 kg, from, Omeo VIC made $915; while 76 Ang x Hereford Weaned Steers, EU, 9-10 mths, 284kg, made $910
88 Angus backgrounder steers, 12-16 mths averaging 340 kg from Padthaway SA made 289c/$980
From Rolleston, Central QLD, 84 Santa x Brah yearling steers, 12-15 mths averaging 336kg made 259c/$870; while 90 lighter brothers 303kg made 260c/$788; and 72 Brahman x Santa yearling steers, 267 kg made 264c/$705.
Steer Highlights
8 to 9 month old, 289kg, Angus steers from NORTH RICHMOND, NSW sold for 299c/$865
29 to 30 month old, 371kg, Shorthorn steers from BARADINE, NSW sold for 229c/$850
13 to 22 month old, 298kg, Angus/Angus Cross steers from TEXAS, QLD sold for 270c/$805
9 to 10 month old, 284kg, Angus steers from OMEO, VIC sold for 322c/$915
9 to 10 month old, 284kg, Angus/Angus/Hereford steers from OMEO, VIC sold for 320c/$910
12 to 16 month old, 339kg, Angus steers from PADTHAWAY, SA sold for 289c/$980
17 to 18 month old, 463kg, Poll Hereford/Angus steers from SCOTTSDALE, TAS sold for 288c/$1330
9 to 10 month old, 374kg, Angus steers from HELLYER, TAS sold for 324c/$1210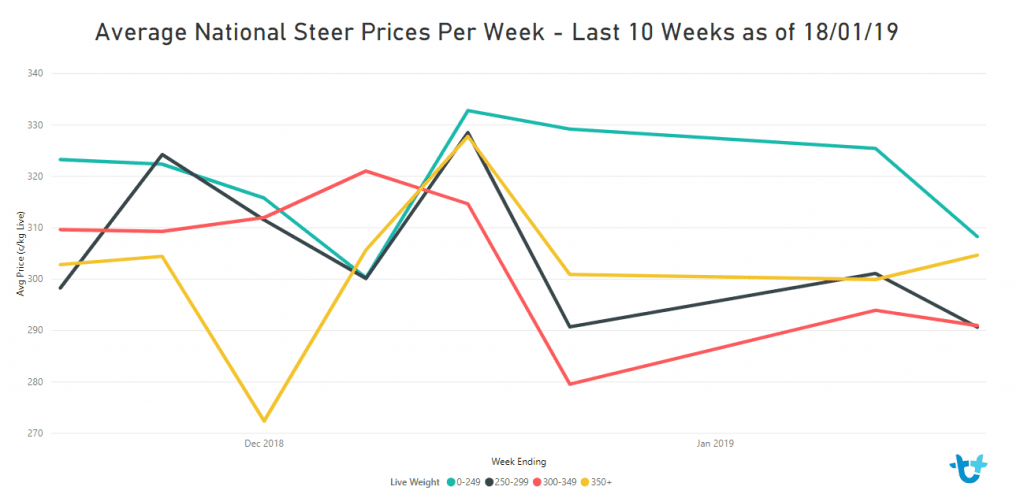 Heifer Highlights
16 to 17 month old, 364kg, Angus/Poll Hereford heifers from BOGGABRI, NSW sold for 251c/$915
16 to 17 month old, 340kg, Angus heifers from BOGGABRI, NSW sold for 262c/$890
14 to 17 month old, 278kg, Angus heifers from BINGARA, NSW sold for 315c/$875
11 to 15 month old, 281kg, Hereford heifers from MITCHELL, QLD sold for 214c/$600
14 to 15 month old, 319kg, Angus heifers from WANGARATTA, VIC sold for 267c/$850
10 to 11 month old, 316kg, Composite heifers from CAVENDISH, VIC sold for 190c/$600
16 to 17 month old, 433kg, Angus heifers from BRIDPORT, TAS sold for 273c/$1180
16 to 17 month old, 369kg, Angus/Friesian heifers from CAVESIDE, TAS sold for 287c/$1060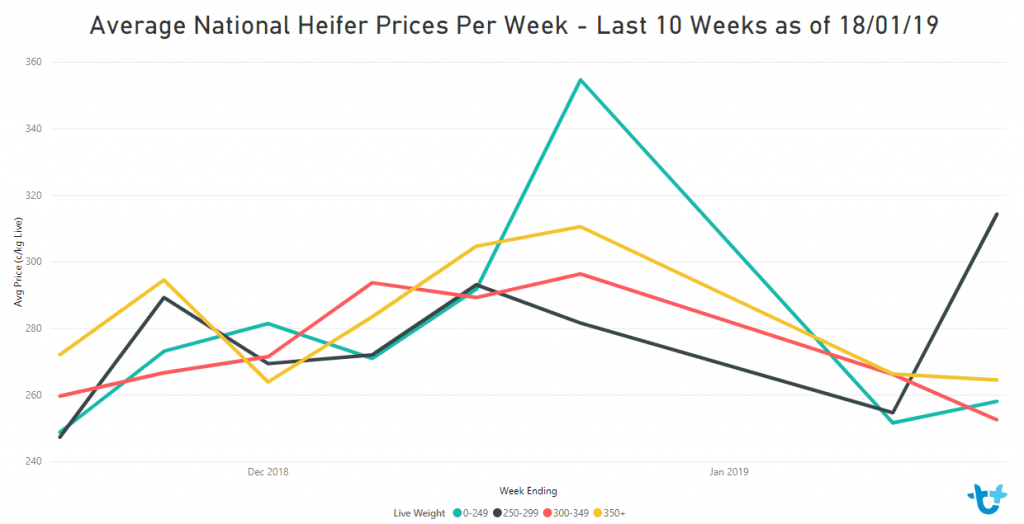 Source: AuctionsPlus