WITH young cattle price momentum continuing into spring, AuctionsPlus saw a dramatic rise in listing numbers this week, lifting more than 8600 head or 60 percent to total 22,828 head.
Weaners and yearlings accounted for more than 17,000 or three quarters of those listings across the two young cattle sales this week, with cattle offered from northern WA all the way to Tasmania.
All young heifer categories, and most weaner and yearling steers, lifted in value again this week.
Clearance rates were strong with 77pc clearance in the first weaner & yearling sale, and 88pc in the second. The Eastern States sale was slightly down with 52pc clearance this week.
Cows and calves ranged from $1760 to $3275 this week to average $2638. Top price went to a line of 4-6-year-old Angus proven breeders, PTIC back to Table Top Angus bulls and with 6-7 month old Angus calves at foot. The cows were listed by S & P Grazing from Talgarno, VIC.
PTIC cows ranged from $1330 to $2630 this week to average $1809. Top price was for a line of 4-7-year-old Poll Hereford proven breeders from Sevenbardot Partnership, Condobolin, NSW. They will travel a short distance to Lake Cargelligo, NSW to calve their Poll Hereford calves.
PTIC heifers ranged from $1320 to $2685 this week to average $1777. Top price was for a line of rising two-year-old Shorthorns from Cumnock, NSW bred by vendors LV & SM Job. The heifers were PTIC to Speckle Park bulls and will be calving in their new home at Bylong, NSW.
Young cattle
Heifers less than 200kg ranged from 362c to 573c this week to average 483c. Top price was for a line of Santa unweaned heifers 4-6 months averaging 162kg from Alice Downs Grazing Co, Blackall, QLD making $930 or 573c. They will be making the 1100km journey south to Dubbo, NSW.
Heifers 200-280kg sold from 382c to 475c this week to average 417c. Top price was for a line of Angus NSM heifers 12-14 months averaging 272kg, from Wallacedale, VIC.
Heifers 280-330kg sold from 352c to 468c this week to average 418c. Top price went to a line of 12-13-month-old Angus heifers averaging 303kg from Bowna, NSW listed by Newman Bio Tech.
Heifers 330-400kg sold from 352c to 461c this week to average 404c. Top line was a well put together offering of 12-13-month-old Angus future breeders vendor bred by Cudgewa Creek Cattle Co from Lucyvale, VIC. Averaging 351kg, they made $1620 or 461c/kg.
Heavy heifers +400kg sold from 339c to 402c to average 376c. Top price was for a line of 15-17-month-old 410kg Shorthorn future breeders from Padthaway, SA, bred by vendors Carlton Nitschke Investments. These girls will be heading east to the NSW/VIC boarder near Albury/Wodonga.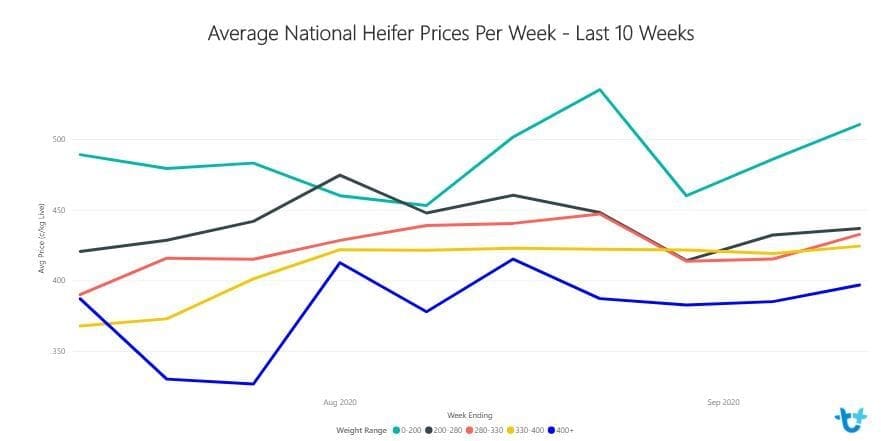 Steers less than 200kg sold from 487c to 557c to average 522c. Top price was achieved by Alice Downs Grazing Co which also achieved top price for heifers under 200kg. These unweaned Santa steers from Blackall, QLD were 4-6 months averaging 169kg making $940 or 557c/kg. The steers are headed with their sisters travelling 1100km south to Dubbo, NSW.
Steers 200-280kg sold from 386c to 535c this week to average 484c. Tops were for a line of Santa and Angus cross steers 215kg from Moonya Pastoral, Roma, QLD. These steers will also be making an 800km journey south to Dubbo, NSW.
Steering 280-330kg sold from 352c to 488c this week to average 442c. Tops were for a line of 11-12-month-old Angus steers from Table Top, NSW, vendor bred from Lindooga Pastoral Co. The steers made $1440 or 488c/kg, averaging 295kg and are heading south into Victoria.
Steers 330-400kg sold from 352c to 456c this week to average 414c. Top price was returned by a line of 11-12-month-old black baldy steers averaging 341kg from Culcairn, NSW listed by vendors Wilksch Partners. These steers will head across the border to Corryong, VIC.
Heavy feeder steers greater than 400kg sold from 368c to 427c to average 405c. Top line was a quality listing of 12-13-month-old Hereford steers averaging 422kg listed by Barry & Faye Hicks from Gundowring, VIC. They made $1805 or 427c, and will be staying within Victoria.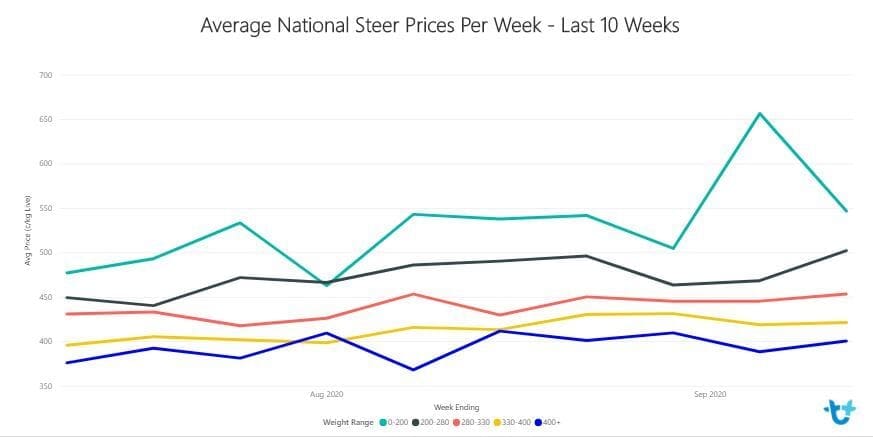 Across the water in Tasmania this week saw a spike in listings to total 578 head on offer. Clearance remained high with 99pc achieved on the island and strong prices across several stock categories. Weaner and yearling steers made up the bulk of the catalogue with 283 head listed, selling from $1000 to $1720, averaging $1303. RW & M Spillane from Beulah offered the top priced line with 13-15-month-old 410kg Poll Hereford backgrounder steers. 225 weaner and yearling heifers were offered selling between $890 and $1570, averaging $1199. A line of 13-14-month-old Angus/Poll Hereford yearling heifers offered by Pisa Estate secured top price, averaging 423kg.
In a breakdown of young cattle sold this week, by weightrange:
Less than 200kg: Steers sold from 487-557c to average 522c, while heifers sold from 362-573c to average 483c
200-280kg: Steers sold from 386-535c to average 484c, while heifers sold from 382-475c to average 417c
280-330kg: Steers sold from 352-488c to average 442c, while heifers sold from 352-468c to average 418c
330-400kg: Steers sold from 352-456c to average 414c, while heifers sold from 352-461c to average 404c
400kg+: Steers sold from 368-427c to average 405c, while heifers sold from 339-402c to average 376c
Weaner heifers top 644c/kg on Farmgate's store and feeder sale
Meanwhile FarmGate Auctions' special online store & feeder sale held on Friday achieved a 100pc clearance and saw strong prices across all categories.
Standout results included 90 Angus weaner steers 7-8 months making 629.78c/kg and 81 Angus heifer weaners 6-8 months fetching 644.84c, both offered by AM & LV Doolan, Coonabarabran.
More than 110 registered bidders drove stiff competition with the purchased stock travelling across NSW and Victoria to Berrima, Wangaratta, Shepparton, Narrabri and Guyra.
Other highlights from the sale included:
Angus steers less than 200kg selling for 629.78c
Angus steers 200-280kg averaging 548.76c
Angus steers 280-330kg averaging 467.25c
Angus heifers less than 200kg drawing prices of 644.84c
Angus heifers 200-280kg averaging 476.4c
FarmGate Auctions has held 23 auctions over the past 11 months and will hold a first anniversary sale on 9 October.
Source: AuctionsPlus, FarmGate Auctions