THE majority of young heifer and steer categories decreased in average price in online trading this week, after a rally the week before.
Listings in Elders and Nutrien's AuctionsPlus weekly cattle sales eased to 13,769 head, with average value over reserve dropping sharply to $52, while clearance rates improved to 44pc, suggesting vendors are adjusting reserves lower.
Listings from Queensland were down 24pc this week, as rain-induced logistical issues restricted access for assessment and transport of stock.
The selective buying that we have seen recently could be better described as 'cherry picking' in the current market. This particularly applies to breeding stock lines where average prices have held up relatively well, however clearance rates are at unusually low levels.
Browsing the auction results closely, there are many lots at reasonable prices that are not getting any attention, whereas a select few lots are hitting quite high prices in the current market. This would suggest that buyers are cherry picking a certain article and not necessarily concerned with the 'value-for-money' options.
The 200-280kg steer category registered a larger offering of 1779 head and averaged 469c/kg this week – down 31c/kg from last week for a 65pc clearance. From Inglewood, Southern Queensland, 56 Angus steers 7-8 months averaging 259kg returned 522c/kg.
Heifers 280-330kg registered a larger listing of 1,114 head and averaged $1,136/head – down $89 from last week for a 42% clearance rate. From Warren, NSW, * 90 Angus heifers aged 9-12 months old and weighing 293kg lwt returned $1,160/head, or 396c/kg lwt.
Steers 330-400kg attracted 1217 entries this week, easing 15c/kg to average 402c.
Among the young heifer lines all three categories covering entries from 200kg to 400kg lost ground. Heifers 200-280kg dropped 523c/kg averaging 392c; 280-330kg dropped 26c to average 366c; and 330-400kg eased 15c to average 385c.
Breeding females
PTIC heifer listings fell to 1934 head and averaged $1746/head this week, falling $218 a head, for a clearance rate of just 8pc. From Narrandera, NSW, 27 Angus PTIC heifers 23-24 months averaging 507kg returned $1890/head, $140 over the reserve.
Among larger lines offered this week, 150 PTIC Brahman cows 6-7 years averaging 514kg, PTIC to Texas Angus bulls, from Bollon, western Queensland made $1250/head.
PTIC cow listings dropped 24pc to 1233 head and averaged $1817 – up $125 on last week for a 60pc clearance. From Bollon, Western Queensland, three even lines of 50 Brahman PTIC cows 6-7 years averaging 514kg returned $1250.
Prices as at 2pm Friday 17 March.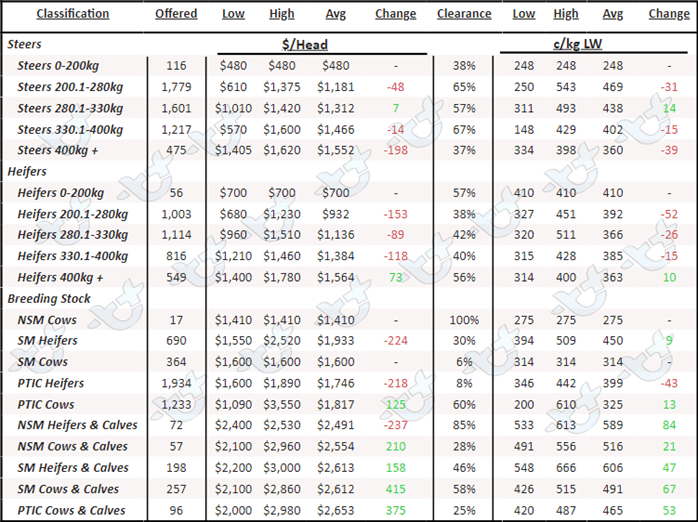 Source: AuctionsPlus