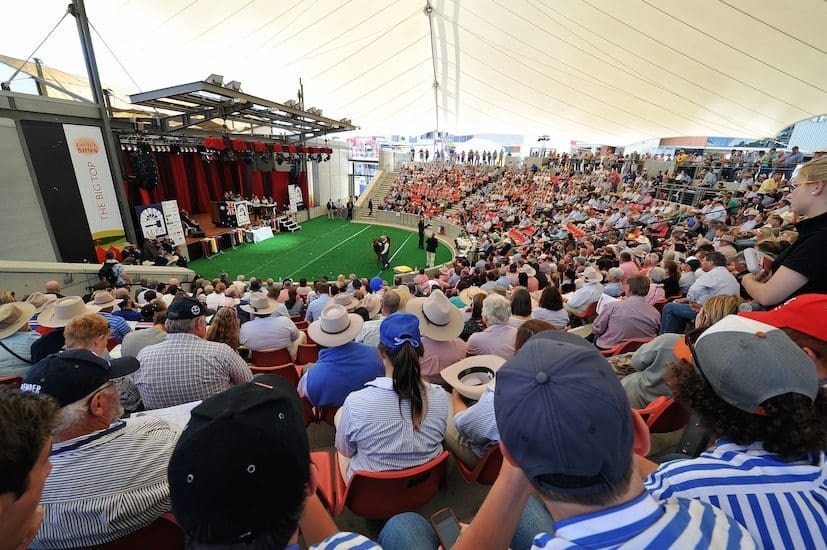 The best young auctioneers from throughout the country are heading to Sydney to compete in the 2016 Australian Livestock & Property Agents Associations (ALPA) NSW and National Young Auctioneers Competitions on March 17.
The 2016 competition will be held at the Big Top Amphitheatre at The Sydney Royal Easter Show, kicking off 12pm.
This year marks 26 years of the ALPA National Competition and 28 years of the ALPA New South Wales State Competition.
ALPA CEO, Andy Madigan, says "the longevity of this competition speaks volumes for the training and experience that ALPA provides to young auctioneers across the country. The passion these boys have for their industry and perfecting a rare talent is shown through their dedication to learning through auctioneers schools and going on to compete at a state and national level."
The beauty of the competition lies in its focus on the future of the industry. All competitors have attended ALPA conducted auctioneers' schools throughout the year to further develop their skills and learn from experienced professionals. These competitions showcase their hard work in perfecting the art of auctioneering in the early stages of their careers and cementing their positions within the industry.
This year two competitions will take place. In the NSW State competition, 10 young men will compete for the John Weekes Memorial Shield and the chance to represent NSW in next years' ALPA National Competition. The 8 National Finalists will compete for the Prosser Cup and the winner will represent Australia in the International Livestock Auctioneers' Competition at the Calgary Stampede, Canada. Reigning champions New South Wales will have to defend their title against some strong competition for the NAB Agribusiness Team Shield which is awarded to the state with the highest combined point score.
Competitors will be judged on their diction, values, voice and manner; they must establish their own presence and unique style to make a memorable performance worthy of a title. A panel of three judges have been chosen based on their industry experience and strong selling backgrounds so that they know exactly how to identify a winning auctioneer, will judge the competitors.
Before the competition, ALPA members will gather with industry members and the competitor's friends and family for the annual ALPA National & NSW Young Auctioneers Competition Dinner. The night is a celebration of young auctioneering talent and is the premier event for the agency industry in Australia. A memorable feature of the night will be the charity auction hosted by last year's National Winner. This year ALPA will be raising funds to support the work of the Black Dog Institute, a world leader in the diagnosis, treatment and prevention of mood disorders such as depression.
From local saleyards across Australia these young men will be competing for the state and national titles. The 2016 ALPA NSW and National Young Auctioneers Competition promises to provide an intense auctioneering showdown.
ALPA 2016 NSW Young Auctioneers Competition
| | | | | | | | |
| --- | --- | --- | --- | --- | --- | --- | --- |
| | | | | | | | |
| | | | | | | | |
| | | | | | | | |
| | | Riverina Livestock Agents | | | | | |
| | | | | | | | |
| | | | | | | | |
| | | | | | | | |
| | | | | | | | |
| | | | | | | | |
| | | | | | | | |
| | | | | | | | |
ALPA 2016 National Young Auctioneers Competition:
| | | | | | | | |
| --- | --- | --- | --- | --- | --- | --- | --- |
| | | | | | | | |
| | | | | | | | |
| | | | | | | | |
| | | | | | | | |
| | | | | | | | |
| | | | | | | | |
| | | Southern Australian Livestock | | | | | |
| | | | | | | | |
| | | | | | | | |
Source: ALPA