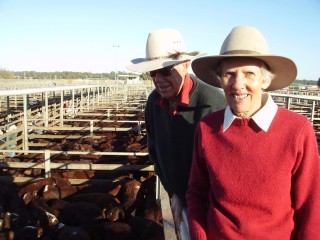 The old adage that quality always sells was reaffirmed at the weekly Roma store cattle sale yesterday when prices for yearling steers jumped by 16c/kg on the previous week's sale.
The sale saw one of the largest store cattle yardings offered at Roma for several months, with numbers rising by 4860 head on last week to total 8200.
Despite the sharp increase in numbers prices climbed as well, with medium yearling steers commanding 16c/kg above last week's rates. Lightweight yearling steers rose by 1c and lightweight yearling heifers rose by 12c.
Driving the increase was the presence of several large lines of local vendor bred cattle, which attracted a larger than normal amount of restocker buyers to the sale.
Elders Roma branch manager James Croft put the sudden jump in prices down to the exceptional quality of the cattle on offer.
"Last week the market was on a decline, but you put a quality line of cattle up and they sell very well," he said.
One of the largest lines offered was a 1234 head draft of Santa/Charolais/Hereford cross steers and heifers consigned by Ian and Janie Murray, Kindee Pastoral Company, Injune.
The Murray's steers sold to 242c/kg and 217c/kg for 375kg to make $815/head.
The Murrays sell their entire annual weaner turnoff at the same weekly Roma cattle sale every July, a strategy that has led to restocker buyers targeting the sale each year. Beef Central profiled the Murray's operation last month.
A large line of Northern Territory cattle were also offered through yesterday's Roma sale, not diverted live export cattle but an annual turnoff of cows from Georgina Pastoral Company.
Medium weight 2 score cows sold to 146c and averaged 116c, down 4c, while medium weight 3 score cows reached 136c and averaged 130c, up 4c/kg. The medium weight 4 score cows made to 140c and averaged 139c, down 1c/kg. Heavy weight 4 score cows sold to 142c and averaged 139c/kg. Cows and calves sold to $1000 and averaged $748/unit.
Feedlot buyers were more reserved with heavyweight yearling steers easing 1c/kg and medium weight yearling heifers falling by 5c/kg.
The National Livestock Reporting Service quoted the following prices for each category:
Vealer heifers sold to 211c and averaged 197c, up 2c/kg. Lightweight yearling steers topped 244c and averaged 221c, up 1c/kg.
Medium weight yearling steers rose 16c/kg to reach 218c and average 207c/kg.
Heavy weight yearling steers sold to 181c and averaged 175c, down 1c/kg.
Lightweight yearling heifers to restocker made to 221c and averaged around 209c, up 12c/kg.
Medium weight yearling heifers to feed earned to 198c and averaged 182c, down 5c/kg.
Heavyweight yearling heifers to feed averaged 184c/kg.
Grown steers to feedlots sold to 165c and averaged 161c, down 4c, while D muscle grown heifers to slaughter averaged 150c/kg.