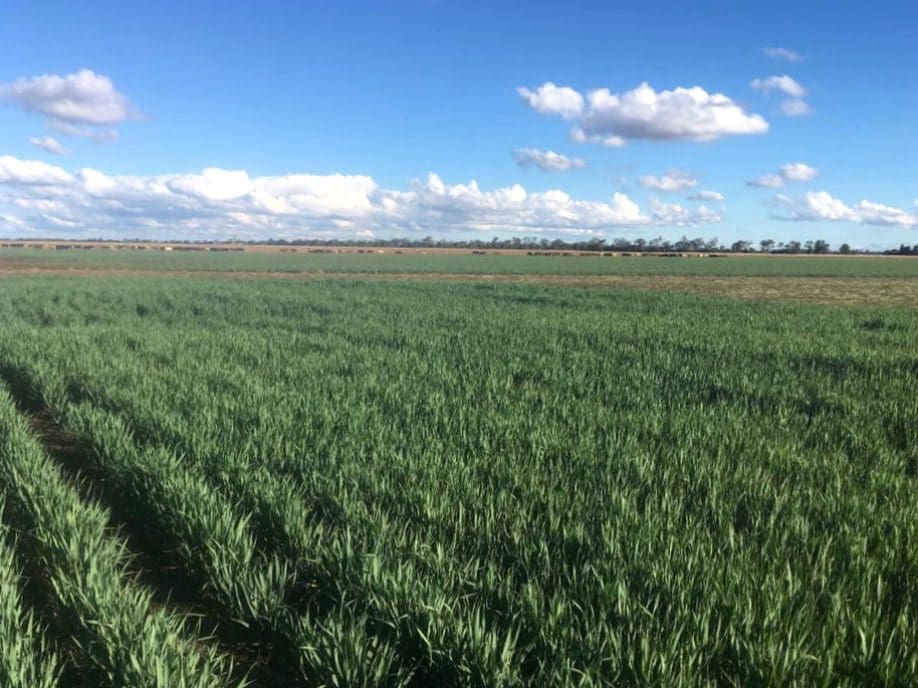 A SMALLER oats crop this winter is diverting more cattle that would normally be grazed on crops into saleyards, while also curtailing the number of buyers chasing cattle to feed on oats.
Many oats crops in Southern Queensland and Northern NSW were planted either before or on Cyclone Debbie rain in early April.
A long dry spell and warmer conditions since planting has seen many crops fail to establish secondary roots. A fair number of earlier planted crops have already been sacrificed and grazed off.
However crops that were able to hang on have benefitted from 20-40mm of rain in July and are now better anchored, with many starting to take cattle for grazing for the first time in the past week or so.
The later than normal start to grazing means producers will likely have a shorter three month window to put weight on cattle this year, depending on when summer heat kicks in, instead of the four-or-five month window they might normally expect with an earlier start to oats grazing.
The situation for many oats crops was looking dire until rain in the past fortnight provided a just-in-time boost for a reasonable number of crops that have managed to hold on.
The overall consensus from producers, agronomists and stock agents Beef Central spoke to this week is that the area under oats is well down this year following the slower start.
Around the Darling Downs and western Downs, there have been issues with lack of root establishment, agronomist Jordan McDonald from Elders, Dalby, said.
"With no secondary roots going cattle were just pulling it straight out of the ground," he said.
"But we are starting to see that those 5mm to 10mm falls are starting to add up, it has freshened the crops up, they are growing again, and they are getting that second feed out of them."
Further west at Roma, agronomist Craig Miller from GoFarm said a fair amount of oats were planted early, but the moisture stress that followed meant many crops went to head quite early, and did not get secondary roots established.
However crops planted later, towards the end of April and early May, were now doing better.
"The rain we had the last two weeks, over five or six falls there was perhaps 25-30mm, has just started to anchor the oats down enough now where people can put them on," Mr Miller said.
"They have been starting to put them on now, the majority shouldn't get pulled out, but there is not a whole lot of feed."
There are still some good crops where rain fell at the right times. One Western Downs producer Beef Central contracted said his oats crop was over a metre high and he is now loading the crop up with cattle.
Inverell the bright spot
The real bright spot of the 2017 oats crop is Inverell.
"Out oats season couldn't be much better," Bob Jamieson from Bob Jamieson Agencies said. "We just haven't missed a beat."
Many crops were planted on a full profile of moisture in February and with good in-crop rain were still set up well for spring.
"Most people are taking full advantage, they got in early at the weaner sales and have trade cattle to take through to the feeder and domestic job a little bit later in the year," Mr Jamieson said.
He estimated the lead of those cattle would start to be turned off in August.
"We have been very, very fortunate. To the west there are some crops at Moree that got off to an average start due to the heat.
"At Inverell there are places that are getting maybe their third feed off the oats already, off some of the newer varieties."
Saleyard trends indicative of smaller oats crop
The smaller size of the oats crop in Southern Queensland is being reflected in cattle movements to saleyards.
"We're seeing a fair few cattle coming in that we normally wouldn't see," Peter Bird from Ray White Eastern Rural at Dalby said.
"That 300-350kg animal that would normally go onto oats and be coming out at 450kg or heavier, we've been seeing quite a number of those coming forward (to the Dalby sale) in the last month.
"I think people have thought we don't really have any oats, that is where we normally park those cattle but we can't this year, and there is no point putting them out on dry grass, so we might as well sell them."
The smaller number of producers with oats crops was also limiting the demand that would normally be seen for oats-type cattle at this time of year.
Mr Bird said a big gap had opened up in the price of quality weaner steers and quality weaner heifers, which was partly due to the lack of demand from buyers with oats.
"A good quality weaner steer probably still making 380c, up to 400c for a light weight, whereas a good quality run of heifers are only making 300c, and maybe topping at 310c.
"So there is a big variance, and I think that is because people don't have the oats to stack them away, and for management purposes they can handle a steer more easily."
Another producer looking to buy cattle to put on oats this week told Beef Central that the higher cost of cattle now compared to three years ago was another factor weighing on purchase decisions.
Three years ago he could buy 350 steers for around $150,000. This year the same number at around $1000/head will cost $350,000. A big difference in the impact on cash flow.