The rollout of Australia's National Broadband Network could be a catalyst for interface cattle marketing, allowing physical saleyards to be linked to additional prospective buyers via the AuctionsPlus online auction platform, saleyards operators were told last week.
Delegates attending the Australian Livestock Markets Association's Saleyards Expo on the Gold Coast heard a presentation from AuctionsPlus general manager Gary Dick on prospects to link the internet with saleyards, to expand bidding audiences in cattle marketing.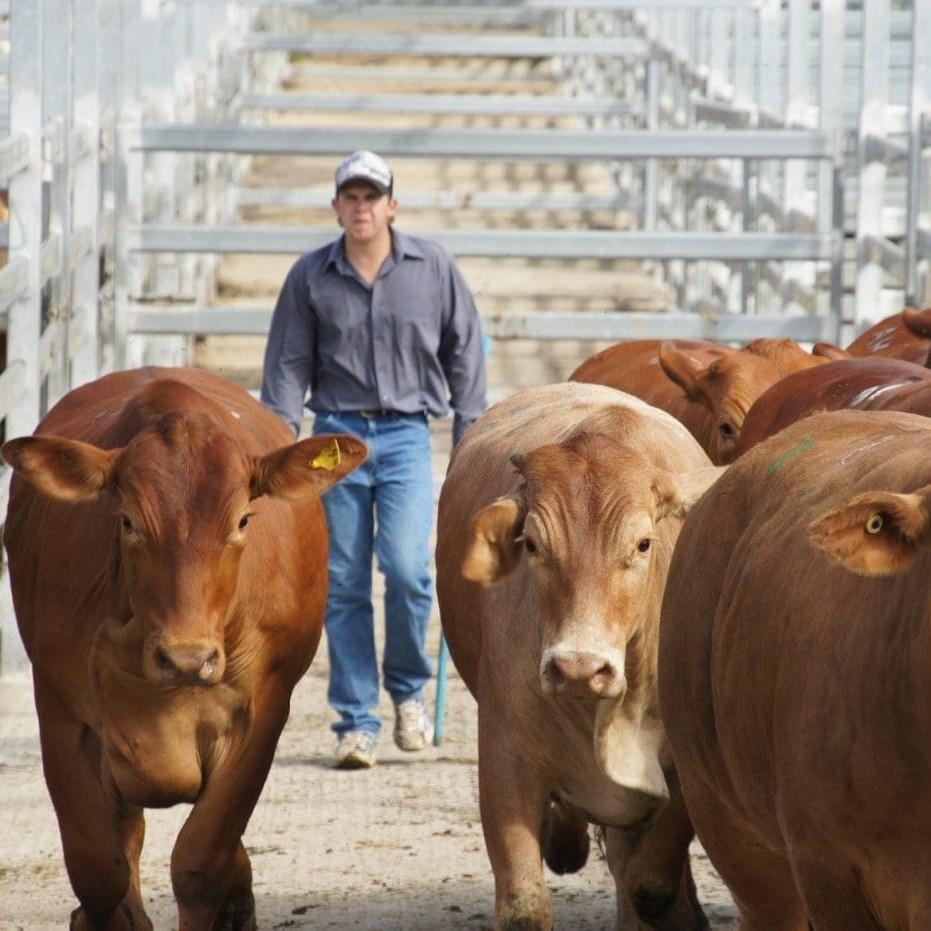 Mr Dick thought large single-vendor, single-agent store sales could be the logical starting point, to help prove the concept.
He said back in the early 2000s, a trial had been held at an Inverell multi-agent, multi-vendor store sale using an Auctions Plus hand-held bidding/recording device, placing bids for remote bidders.
The whole process was logistically very difficult to organise, because a full AuctionsPlus assessment had to be carried out on the entire yarding when the cattle arrived from the afternoon before. Assessment and cataloguing took until 3am, in time for next morning's sale. Remote bidders operated on Auctions Plus descriptions only, with no access to photos or live/recorded video as assessment tools.
With today's technology changes, however, the prospect of interfaced sales was looking a lot stronger, Mr Dick said.
To start with, a number of saleyards operators were developing and refining software systems to produce detailed summary catalogues for saleyards cattle buyers prior to physical sales.
"With NBN getting closer in some form in many areas over the next few years, there may be the opportunity for live streaming of a physical cattle sale over the internet as it unfolds," Mr Dick said.
Viewers would see the pen of cattle about to be sold on screen, just as those at the sale saw them, in real time, as well as hearing the auctioneer, allowing them to keep-up with the sale and post bids remotely via AuctionsPlus. That bid would then be conveyed verbally to the auctioneer, as if it was coming from a bidder in the public gallery at the sale.
That, combined with the development and refinement of software to produce summary catalogues for saleyards cattle buyers prior to the sale could provide a good basis for future interface sales, Mr Dick said.
"It would remove a lot of the need for a full AuctionsPlus cattle assessment, compiled by a qualified assessor, particularly where pre-sale weighing could be added," he said.
"The big obstacle has always been the time required to carry out a full AuctionsPlus assessment on a large multi-vendor store sale yarding. But the combination of live streamed video and pre-auction catalogue would remove a lot of that."
"Initially, it would probably happen at selected sales only – I cannot imagine it would happen routinely at all sales any time soon. Logically, it could happen with single-vendor special sales, like some of the large lines of one-brand weaners that had gone through Roma Saleyards in recent months."
As the internet technology improved, prospects like live video streaming from the saleyard became more real.
"Even moving from 3G to 4G is a dramatic improvement, meaning the likelihood of doing a lot of these things becomes much greater," Mr Dick said.
4G is the fourth generation of mobile phone mobile communication technology standards. It is a faster successor to the third generation (3G) standards. A 4G system provides mobile ultra-broadband Internet access to laptops with USB wireless modems, to smartphones, and to other mobile devices.
"It could add a whole extra wing of buyers to a physical sale at a centre like Inverell Dalby or Gippsland, for example," Mr Dick said.
Trials with live video streaming had already been held, but while it would work fine in a bigger centre like Toowoomba or Dubbo, as soon as the feed was taken out to a more remote location on a farm somewhere with poorer internet service, internet speed became an issue.
"Of course in a live auction situation, any buffering (a lag in transmission of a video stream) could be disastrous – even a 30 second lag," Mr Dick said.
"It would cause enormous confusion – even if the remote bidder was seeing a price in their screen which accurately reflected where the bid was up to, any buffering on the auctioneer's audio would cause great problems."
Currently the only interface cattle sales being conducted involved occasional stud cattle sales, using pre-recorded video or photos, but not live streaming.
Asked whether saleyards operators saw this prospect as a threat to their future, Mr Dick said some were indifferent to it at this stage, while others were actively eyeing off the prospect in their decisions about future site development.
Two large yards operators looking at redevelopment in Queensland and Victoria had recently expressed interest in discussing the future prospects for interface work, and how it might be incorporated into their development plans, Mr Dick said.
He will raise the topic again during a presentation at next week's Victorian Saleyards conference.
"Most people are now waking up the fact that the internet is here, and it is only going to get bigger and more versatile," he said.
"They are starting to see some of the potential advantages in their businesses."
Argentina expects growth in 'on-screen' cattle auctions
In comparisons in other parts of the world, Argentina's Chamber of Cattle Agents and Direct Sale Agents, which represents about 200 of the country's livestock agency businesses, recently took its on-line screen auction system to a more frequent weekly format.
According to the organisers of the initiative, called the Federal Cattle Market, between 500,000 to 700,000 Argentinean cattle are now sold each year via screen auctions organised independently by individual agents or by the collective agency group Rosgan, in association with the Rosario Stock Exchange.
Argentina's on-line auction system has been active for the past four years.