NUMBERS offered on the national online cattle marketing platform surged strongly again this week, reaching a 2017 penultimate high of 11,122 head – up 29 percent or 2500 head on the week prior.
The catalogue size necessitated the weekly eastern states sales to be divided in three.
Cow and calf, and PTIC heifer numbers were both stronger in numbers offered this week, and the size of the catalogues was boosted by the Team Te Mania commercial sale and a large offering of 1435 quality females from multiple vendors by Bob Jamieson Agencies at Inverell.
Stand-out young cattle lots from the Eastern States sales this week included a line of Te Mania blood 10-11 month old Angus heifers from Come By Chance in northern NSW which sold for $1175 or 386c/kg.
Further south, from Cooma in southern NSW, Hazeldean bred Angus heifers 456kg at 17-18 months made $1550 or 340c/kg.
Among steer highlights, two large lines of Powermac blood Droughtmaster backgrounder steers totalling 240 head, 341kg at 9-15 months from Richmond, QLD made $1125 or 337c/kg, while their lighter brothers made $1055 or $375c.
At Hamilton, VIC, a line of 61 Pathfinder blood Angus feeder steers 463kg made $1500 or 327c/kg.
In a breakdown of young cattle sold this week, by weight range:
Steers weighing less than 250kg sold from 360c to 476c/kg, averaging 432c; while heifers in the same weight range sold from 330-439c, averaging 372c/kg
Steers 250-300kg sold from 357-411c to average 383c; while heifers sold from 280-329c to average 311c
Steers 300-350kg sold from 337-385c, averaging 352c; while heifers sold from 293-386c, averaging 320c
Steers over 350kg sold from 308-378c, averaging 334c; while heifers sold from 292-361c, averaging 329c.
Breeding cattle: Big rise in PTIC females
There was an increase of PTIC females listed this week. Young PTIC females made up a significant part of the offering, and prices ranged from $1190 to $2500 to average $1568.
The top price was for a line of Ironbark blood Herefords, rising two year old from Willalooka, SA, joined to Stoney Point Angus bulls, pictured below.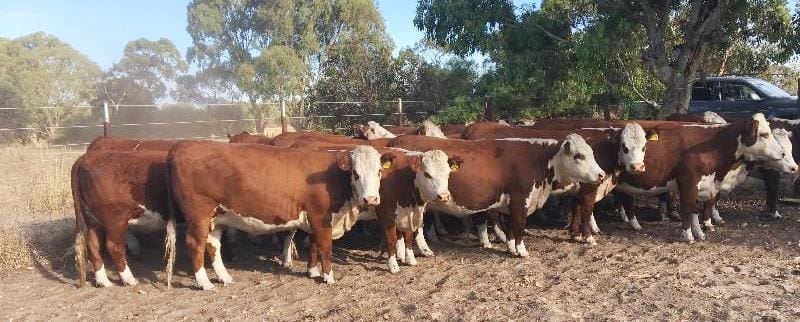 Proven breeders averaged $1497 this week, with a top price of $1780. This top price went to a line of Angus females from Kings Plain, NSW, ready to drop their calves during the winter months. These six year old cows are Karoo & Millah Murrah blood and are joined to Bannaby bulls.
Mixed aged PTIC females averaged $1221, with a top of $1780, for a line of 3-7 year old Shorthorn and Angus cross Shorthorn cows from Bundarra, NSW, joined to Angus and Shorthorn bulls.
Cow and calf numbers also saw an increase this week.
A stand-out price for first-calvers was seen in the Team Te Mania sale, where a line of Te Mania blood Angus cows and calves from Drysdale, VIC, make $2875. These 566kg cows were ACR and Breedplan recorded, with calves at foot averaging 46kg.
Proven breeders made up majority of the cow and calf listings with a price range from $1560 to $3025, averaging $2034. The top went to a line of Banquet and Te Mania blood cow and calf units from Seymour, VIC, offering a three-for-one deal with the cows PTIC back to Angus bulls and 230kg Angus calves on the ground.
Feature lines
Bob Jamieson Agencies from Inverell sold 1450 PTIC British-based females for two clients on Friday, in a standout AuctionsPlus sale.
The magnificent draft of future breeders went as far south as Penola in South Australia, north to Dalby  QLD and east to Casino. The competition was very strong on the lead draft of heifers for NA & ML Jamieson's dispersal with 65 EU choice Angus bred heifers (joined for 42 days to low birth weight Choice Angus bulls averaging 474kg) to realise $2020 on farm. With the property sold the Jamieson's cleared another 570 mostly EU heifers to average $1397 (see short video below).
Norland Past Co of Boonal Station sold 277  Angus x Brangus females PTIC for their second or third calf  to Weebollabolla Shorthorn bulls to average $1551 on farm. Norland Past Co also sold 156 Kindee-bred heifers AId to Weebollabolla Westgate, a Shorthorn bull in the top 1pc for IMF and fat EBVs and top 10pc for birthweight and calving ease. These heifers made to $1300 on farm. All in all, a remarkable sale for what is a falling market.
WA sales
From this week's WA sale, there were 171 head listed with 17 bidders logging-in. Top results included a line of Angus steers from Northcliffe which made 339c/kg or $1125. Heifers from the same vendor made 321c or $1045.
Slaughter cattle received strong bidding activity, with top prices including trade heifers sold for 532c/kg dressed weight, or $1512 a head; and cows for 437c/kg dw or $1524.
Source: AuctionsPlus