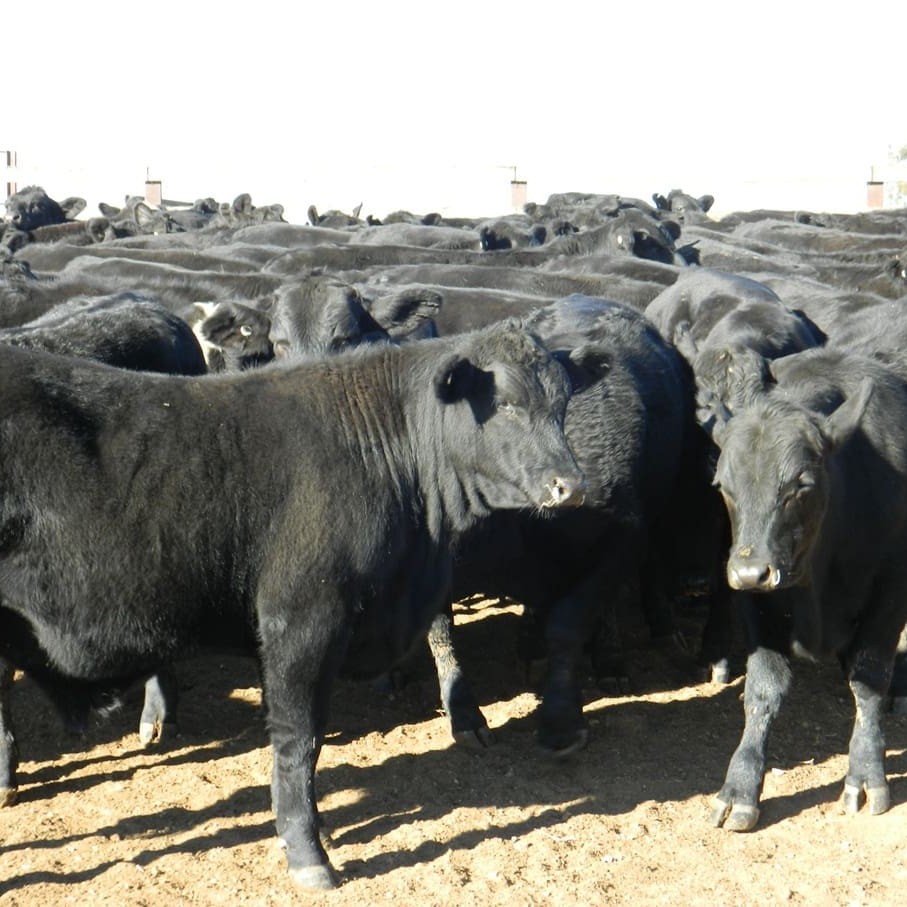 Encouraging rain and fewer numbers on offer have put some starch back into the New England store cattle market, where a big line of choice Angus weaner steers offered on AuctionsPlus on Friday averaged a touch under 180c/kg.
That's up at least 10-15c/kg liveweight on similar cattle sold via the online marketing channel only a week or two earlier, and provides an early hint of a turning point in market recovery.
At a time when producers are still faced with disappointing cattle sale results, a line of 213 Angus x Brangus weaner steers offered account Inverell's Macintyre Station sold almost 20c/kg above their reserve in an outstanding AuctionsPlus result on Friday.
The 9-10-month-old steers, averaging 360kg and weaned for six weeks, returned $617 on-farm, after attracting intense competition across the full hour of the sale. Four domestic feedlot operators provided the bulk of the support.
Click image below to view video of the Macintyre Station weaners sold on Friday.
"Steers like that have been making in the mid-50s to early 60s recently," said marketing agent Bob Jamieson, from Bob Jamieson Agencies, Inverell.
"It was a ridiculously strong result in the current depressed market environment. I keep on telling my clients not to panic – this job will get good again; the cattle aren't out there and we're coming to the traditional shortage period. We just think this sale was the first hint of that trend."
Supporting that attitude, BJA has bought 30,000 cattle for restocker and feeder clients over the past 10-12 weeks.
"That's how strongly incorrect we feel the market sentiment is," Mr Jamieson said.
"While it is currently heavily over-supplied, the market is fundamentally strong, and processors are making very, very large margins on slaughter cattle at present. Supermarket supply chains, also, are being very fair in their livestock pricing. There's really no need to panic, and this job can come good a lot quicker than what a lot of people fear."
BJA started filling those client orders 10-12 weeks ago out of Queensland, including one big line of 4000 weaner heifers from one place. But as conditions got drier back into NSW, and entering traditional weaner sale period, the company has been operating more locally, buying both out of the paddock and via the saleyards system.
"We've been buying quite a few out of the paddock, also, but perhaps paying a little over the odds on the paddock cattle, relative to the saleyards ones, on the current market. We've also bought at nearly every weaner sale from Tenterfield to Casino, south to Gunnedah and local areas," Mr Jamieson said.
Over that period, BJA has selectively bought the better quality steers out of most markets for anything from 155c to 175c. "We started off at the lighter end, but as the better quality cattle got cheaper, we were able to buy the tops of the weaners for the same price, basically, that we could buy the tails," he said.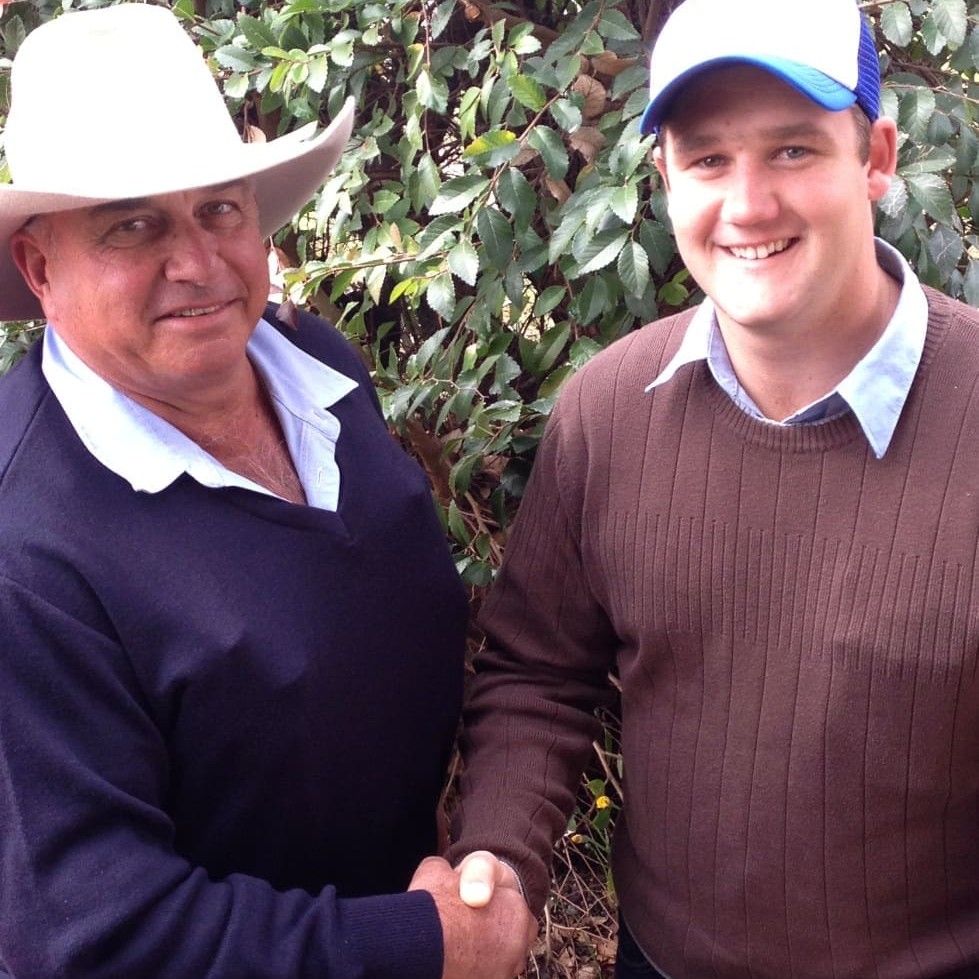 Macintyre Station is a regular user of AuctionsPlus, turning over up to 2000 weaners each year. The enterprise, owned by the Millar Family, is based on 8000ha Macintyre Station near Inverell and an additional 4000ha at Myall Creek Station near Delungra. The mixed farming enterprise includes prime lambs, extensive cereal cropping and 2500 Angus x Brangus breeders.
Macintyre Station's management team of Greg Stevens and Tony Keyte have sold production cattle exclusively on AuctionsPlus through BJA since resigning domestic feedlot contracts they had held for 15 years.
Mr Jamieson said falls of 20-25mm of rain fell widely on Wednesday/Thursday last week from the New England north to Goondiwindi, coming on top of 10-15mm in some places earlier.
The 20mm of rain Macintyre Station received on Thursday would enhance the station's existing excellent oat crops and guarantee the turnoff of the remaining 2000 mix-sex weaners at similar weights on AuctionsPlus between now and December.
He said he expected another strong domestic slaughter order for domestic yearling types would shift into northern NSW and southern Queensland shortly, as traditional supply shortages set-in further south.
AuctionsPlus general manager Gary Dick said last week's rain across some parts of Eastern Australia, together with the reduction in size of yardings, had helped lift demand for available stock on Friday's sale.
"The drop in numbers was due to a bit of rain around, and producers just holding back on their numbers a little," Mr Dick said.
"Friday's result was a bit of a litmus test for the whole area. The last three weeks has seen catalogue numbers progressively dropping," he said.
Sales were cancelled in Central Queensland last week due to lack of numbers, and Roma store sale today is drawing for only around 5000 head, about half recent yardings, suggesting the big surge in numbers may now be slowing.
"Any hint of rain and producers are showing signs of withdrawing from selling," Mr Dick said.
"Led by the outstanding result on the Macintyre station weaners, the whole AuctionsPlus sale on Friday was a fair bit better," he said. "Steers 250kg-300kg sold from 175c to 189c, a big improvement, meeting strong demand from both lotfeeders and restockers."
"One of the scenarios that I always look at is the number of people that actually go and look at the catalogue before the sale. Last week we had 2536 people access that catalogue from Wednesday night to Friday morning. That's high, for only 1700 cattle."
In other parts of the country, there was also a strong weaner market evident on AuctionsPlus in WA last week, with 300kg-350kg steers selling from 194c-197c, similar weight heifers 182c to 191c, and lighter steers up to 208c.
Cows also fared better, with PTIC Droughtmasters out of Moura, Central Queensland selling to $760, and at Moss Vale mixed age Angus cows made $740.