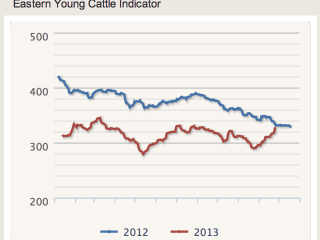 The Eastern Young Cattle Indicator has shot up by almost 15c/kg in the space of a week after rainfall breathed new life into northern restocker competition.
Despite a 72 percent increase in the size of the yarding at Roma on Tuesday to 5300 head, prices jumped significantly as restockers, reinvigorated by recent rainfall, added to strong competition from backgrounders and feedlot buyers.
Light weight yearling steers were 14c/kg dearer on average, while prices for medium weight heifers were 6-24c deader depending on the category.
At the conclusion of Tuesday's markets, the Eastern Young Cattle Indicator (EYCI) had lifted 14.75c for the week to 325.75c/kg cwt.
The indicator rose a further 0.25c yesterday to sit at 326c/kg. It now stands within 5c/kg of year-ago levels, the closest the indicator has come to matching year-on-year levels for the whole of 2013.
Well-known Roma livestock agent Rod Turner from Landmark said recent rain, which included falls of around 25mm south of Roma and 75mm to the north, had been a great ointment for confidence.
While not everyone received rain – and unfortunately some completely missed out altogether – the rain that has fallen and forecasts of more rain ahead has sparked new life back into the store market.
"It was very strong, the job just absolutely fired up here on Tuesday," Mr Turner told Beef Central this morning.
"Cattle that were making 125c and 130c here a fortnight ago were making 180c."
Mr Turner said the main buying interest came from local areas such as Wandoan and Taroom, with a few southern restockers joining the bidding as well.
"A lot of blokes are speculating that it might find it very hard to get store cattle from here on," Mr Turner said.
"The backgrounders and lot feeders are also punching hard to get cattle."
On Tuesday trade steers lifted 3c on the previous week to settle on 181c, while medium steers also rose 3c, averaging 178c/kg lwt. Heavy steers were up 3c on 186, while medium weight cows remained steady averaging 132c/kg lwt. The feeder steer indicator jumped 8c to average 183c/kg lwt.