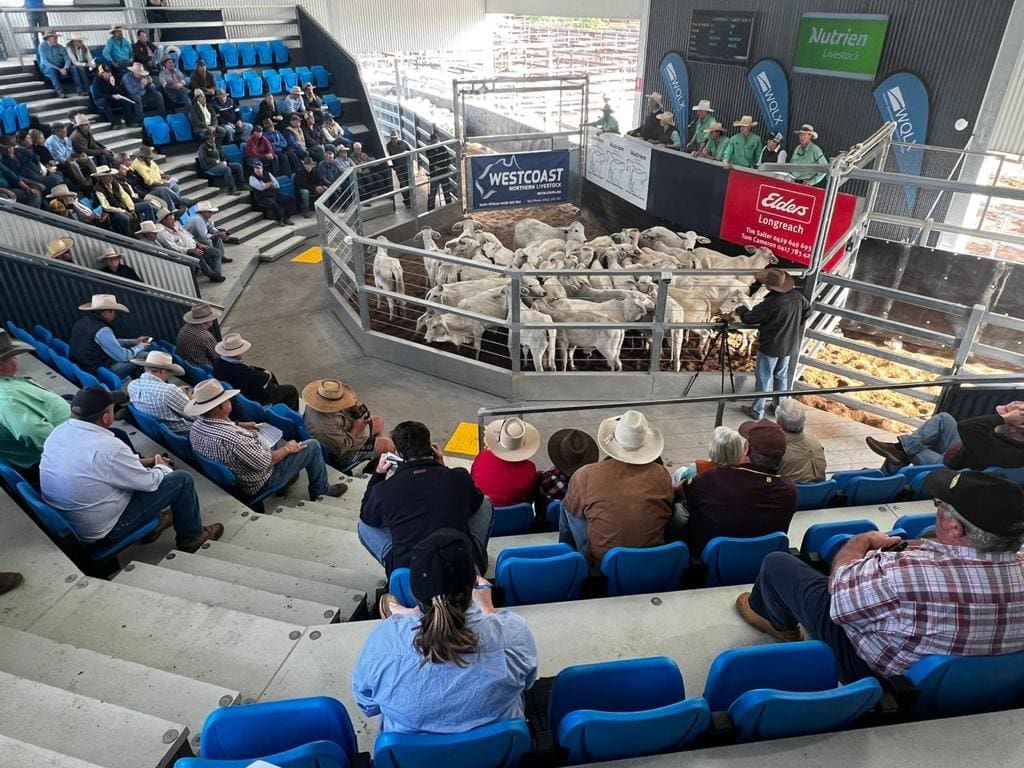 WITH paddocks blanketed in fresh feed, there was no shortage of buyer confidence at the Western Queensland Livestock Exchange (WQLX) during the Nutrien Western Special Store Sale on Friday where steer prices hit 800c/kg.
The auction processed 3000 head of cattle drawn from the Northern Territory and Western Australia and marked the return of frequent sales to WQLX after a nine-year hiatus due to ongoing drought.
Boyd Curran, Nutrien Harcourts Longreach, described the auction as an "outstanding success".
"With the lull in the live export market, producers from the Northern beef industry are seeking competitive selling centres to market their cattle, and chose WQLX to take advantage of the favourbable seasons producers are enjoying in the Longreach region," Mr Curran said.
"The sale marks the first step in returning Longreach to becoming a major selling centre.
"Cattle flowed freely through the newly upgraded facility, and both buyers and vendors alike left the sale very happy. The results were terrific."
The sale was complemented with online selling capabilities, via StockLive, to broaden the buying pool and 314 people logged in to watch the auction's simulcast.
In total, 20 per cent of the sale received online bids from 27 registered remote bidders.
The majority of steers sold between 500c/kg to 800c/kg, with prices per head reaching $1276/head in the 330kg to 400kg category and peaking at $1976/head in the 400kg to 500kg category.
"Competition was fierce for the steers and we had a dominant Western Queensland buyer securing a volume run," Mr Curran said.
"These cattle will head straight back to the paddock, before being finished in a feedlot operation."
For heifers, Mr Curran said prices ranged from 450c/kg to 750c/kg.
Prices per head for heifers climbed to $1529/head in the 400kg to 500kg category.
Mr Curran said demand for finished lines also ran high, with cow prices peaking at $2275/head.
"A real positive out of today's sale was to see the strength of prices for fat cows and store cows," he said.
"There was consistent demand throughout the selling."
The auction also included the sale of 37 buffalos, which auctioneer Terry Ryan spruiked as being proven to progress a campdraft competitor from winning an Encouragement Draft to being an Open winner within two weeks.
"The buffalo were a clear sale highlight with Terry Ryan emphatically stating their value to horse trainers," he said.
Looking ahead, Mr Curran said the success of the Nutrien Western Special Store Sale was a precursor to the upcoming Grand Opening Prime and Store Sale on 15 June.
He said there was no doubt the recent record-breaking rain across Western Queensland had created robust buying confidence, which was fuelling the market.
"The response from the feed in the paddock from the recent rainfall has been remarkable, which allows producers to buy with confidence," Mr Curran said.
"The feed we are growing from this rain, as we have just reached Winter, grows a lot of herbages and grass which is traditionally considered some of the best feed we grow."
Source: WQLX