PRICES struggled on AuctionsPlus this week as the prospect of a dry winter looms in front of many producers.
Cattle numbers continued to drop, with 8420 head offered, 2865 less than last week. NSW made up 50pc of the offering, with the Central West leading the way, while buying regions was dominated by Western and Southern QLD.
Large numbers of joined and PTIC females flooded onto the online market this week, making up 25pc of the offering, but could not be absorbed by buyers. PTIC first calving heifers sold from $950 to $1200, averaging $1084, while grown and mixed age PTIC females sold from $880 to $1280, averaging $1098. Highlights included 3-4 year old Angus cows from Goondiwindi, QLD selling to a local buyer for $1080; three year old Poll Hereford cows from Albert, NSW selling for $1210;  and three year old Angus cows from Holbrook, NSW selling for $1280.
A limited offering of cows with calves at foot saw prices range from $815 to $1800, with an average of $1289. The top priced line was a mob of three year old unjoined Angus cows from Bordertown, SA.
Light steers under 280kg, sold from 170-310c and averaged 264c, as the quality lighter end of the offering saw buyer interest. Nine to sixteen month old yearling Droughtmaster steers from Jericho, QLD saw spirited selling for $855/300c, while 8-9 month old weaned Angus steers from Coolah, NSW sold to $790/310c.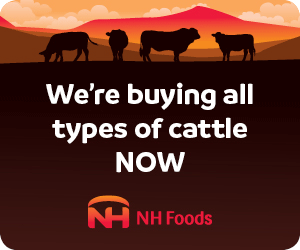 Steers weighing 280-350kg ranged from 253-331c, and averaged 280c. The top priced line weighing 292kg, were 9-10 month old Angus steers from Bookham, NSW. 8-9 month 304kg Charolais composite steers from Bylong, NSW sold for $885/291c.
An offering of about 760 backgrounder and weaner steers and heifers from AA Co's Barkly properties and relocated to Surat, QLD, (see last week's report), re-offered this week after failing to attract a bid last week. All eight mobs sold this week, with 298kg Barkly composite steers making 257c/kg or $775. Lighter steer lines in the offering made from 252-263c/kg, while weaned heifer lines made 261c.
Feeder cattle continued to draw strong bidding activity, with 356kg Angus steers from Khancoban, NSW returning $1030/289c to a VIC buyer; while 424kg Angus steers from Bordertown SA sold for $1230/290c.
Light heifers under 280kg this week sold from 142c to 280c, averaging 214c. Eight to ten month old 237kg Angus heifers from Meadow Creek, VIC sold for $600/253c and will be making the trip across the Bass Strait to a buyer in South Riana, TAS. 7 to 9 month old Organic and EU accredited Hereford heifers from Surat, QLD sold for $565/262c; 9-10 month old Angus heifers from Ebor, NSW sold for $770/280c, and 280kg to 350kg heifers sold from 162c to 277c, averaging 238c.
National Steers
Under 250kg sold from 170c to 307c to average 262c
250-300kg sold from 223c to 331c to average 271c
300-350kg sold from 257c to 292c to average 282c
350+kg sold from 278c to 290c to average 287c
National Heifers
Under 250kg sold from 142c to 262c to average 208c
250-300kg sold from 162c to 280c to average 240c
300-350kg sold from 231c to 269c to average 247c
350+kg sold from 220c to 229c to average 225c
Steer Highlights
9 to 10 month old, 291.7kg, Angus steers from BOOKHAM, NSW sold for 331c/$965
8 to 9 month old, 255.2kg, Angus steers from COOLAH, NSW sold for 310c/$790
12 to 14 month old, 356.1kg, Angus steers from KHANCOBAN, NSW sold for 290c/$1030
8 to 10 month old, 338.6kg, Charolais/Angus steers from TOOMA, NSW sold for 288c/$975
8 to 10 month old, 247.1kg, Angus steers from MEANDARRA, QLD sold for 293c/$722
13 to 18 month old, 255.8kg, Barkly Composite steers from SURAT, QLD sold for 264c/$675
18 to 28 month old, 298.8kg, Barkly Composite steers from SURAT, QLD sold for 253c/$755
7 to 9 month old, 294.8kg, Angus steers from NARRAWONG, VIC sold for 307c/$905
7 to 9 month old, 276.8kg, Angus steers from TOWONG UPPER, VIC sold for 299c/$825
12 to 14 month old, 359.4kg, Poll Hereford/Hereford steers from WOODHOUSE, VIC sold for 279c/$1000
12 to 14 month old, 424.7kg, Angus steers from BORDERTOWN, SA sold for 290c/$1230
9 to 16 month old, 284.8kg, Droughtmaster steers from JERICHO, TAS sold for 301c/$855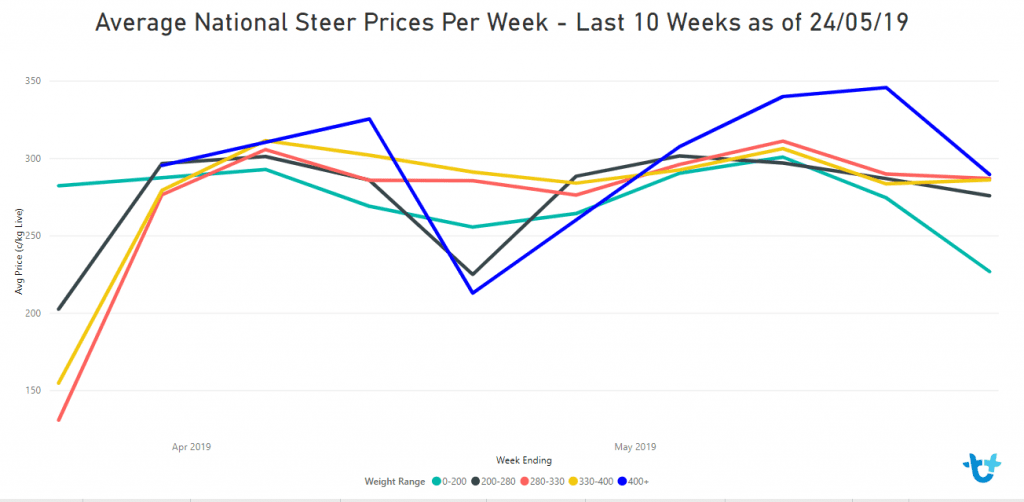 Heifer Highlights
9 to 10 month old, 275kg, Angus heifers from EBOR, NSW sold for 280c/$770
8 to 10 month old, 308.3kg, Angus heifers from BLAYNEY, NSW sold for 270c/$830
8 to 10 month old, 320.8kg, Charolais/Angus heifers from TOOMA, NSW sold for 242c/$775
7 to 9 month old, 215.9kg, Hereford heifers from SURAT, QLD sold for 262c/$565
12 to 14 month old, 273.3kg, Angus heifers from MORVEN, QLD sold for 207c/$565
13 to 14 month old, 282.9kg, Murray Grey heifers from JIMBOUR, QLD sold for 162c/$457
8 to 10 month old, 237.5kg, Angus heifers from MEADOW CREEK, VIC sold for 253c/$600
20 to 22 month old, 397.2kg, Hereford/Friesian heifers from COLAC, VIC sold for 23c0/$910
14 to 15 month old, 281.6kg, Angus heifers from KEITH, SA sold for 277c/$780
14 to 15 month old, 316.7kg, Braford heifers from STEWART RANGE, SA sold for 231c/$730
19 to 20 month old, 372.3kg, Braford heifers from STEWART RANGE, SA sold for 221c/$820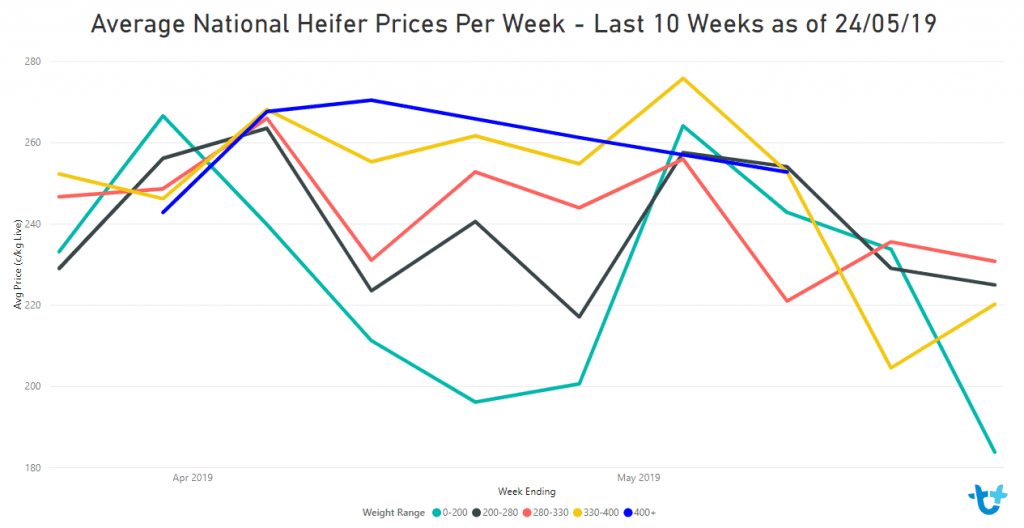 Source: AuctionsPlus