NUMBERS offered on Elders' and Nutrien's online platform AuctionsPlus fell 12 percent last week to 18,628 head. While comparatively lower on previous weeks, it's still a high listing volume for this late in the year, as producers continue to test a market which has taken its foot off the accelerator.
With a 52pc clearance rate, light heifers showed some resilience, while the steer portion of the market continued to weaken, with the average value over reserve at $89/head – compared to the highs of $243/head only five weeks earlier.
While the recent decline in the cattle market has corresponded with a run of dry conditions, it's far more indicative of a market with motivated sellers and very watchful buyers.
To put the flow of cattle into some perspective, the past five weeks of Friday online commercial sales has offered a total of 109,733 head – greater than the entire 2021-22 financial year offering at Wagga (107,274 head) or CTLX (102,770 head).
An EYCI hovering around 870c/kg and early season reports of weaner sales 15-20pc below expectations signal the path ahead into summer – producers with plenty of feed, but also significantly lowered willingness to payout for light cattle with already more mouths in the paddocks.
Light steers last week averaged lower across four of the five categories, with only 200-280kg steers resisting the softer trend, averaging 51c/kg, at 627c/kg. A highlight from the Tasmanian sale included 20 Angus steers 8-9 months averaging 267kg from Powranna, which returned $1940/head.
The largest steer category for the week was 280-330kg steers, with 2055 head offered. Prices averaged 70c/kg lower on the previous week, at 531c/kg – with a very subdued 39pc clearance. From Southbrook, Queensland, a line of Angus steers 11-13-months averaging 294kg returned $1850 and will travel interstate to a buyer in Victoria.
Steers 330-400kg slipped 10c/kg last week, to average 509c, with the 1827 head reaching a 53pc clearance. From Prospect, Central Queensland, 112 Santa backgrounder steers 12-15 months averaging 359kg returned $1890. Another highlight was 40 15-16-month-old Angus steers 354kg from Tumut, NSW which returned $2080.
The heavy feeder steer clearance rate hit 65pc for the week, with the 1424 head offered averaging 472c/kg, down 5c on the previous week. A run of 225 Angus feeder steers 421-443kg at 13-15 months from Waverly, NSW, split across three lines returned $2100/head.
Some light heifer prices managed to kick higher this week, with the 200-280kg and 280-330kg offerings averaging 59c and 28c/kg dearer, respectively. For the 200-280kg portion, the 1637 head offered sold to a 59pc clearance, compared to last week's 62pc for 1285 head. A line of 66 Angus heifers 273kg from Delungra, NSW, returned $1810 and will travel to Texas, Queensland. Heifers 280-330kg heifers averaged 611c, with a line of 107 Angus 8-10 months averaging 288kg from Condamine, Queensland, returning 642c/kg or $1850.
Heifers 330-400kg averaged 55c/kg lower this week, at 491c, with a line of 32 12-15-month old Angus heifers averaging 342kg from Tara, Queensland returning $2100.
Breeding cattle
It was a slightly dearer breeder market this week, with the 2852 PTIC heifers averaging $2784 – up $65 on last week. While clearance levels remained at 50pc, plenty of post-auction activity is expected again if recent weeks are any indication. From Wallabadah, NSW, three lines totalling 150 head of Angus PTIC heifers 19-26 months averaging 451kg, returned $2800.
From Hahndorf, SA 21-22-month-old PTIC heifers 531kg returned $3,400/head and will travel to a buyer in Senior, SA.
A steady offering of 1117 PTIC cows struggled to find buyers, registering a 34pc clearance, with the average for the week lifting $16, to $2762.
From Thornton, Victoria, a line of five-year-old Angus PTIC cows 604kg, joined to a Angus bulls returned $3175 and will travel to Woodstock, NSW.
A line of 30-34-month-old PTIC Santa x Hereford cows 606kg from Texas, QLD, returned $2160 and will travel to Walcha, NSW.
From Moura, Central Queensland 22 NSM Santa cows with 23 calves returned $3020/unit. The cows aged 3-7 years averaged 520kg.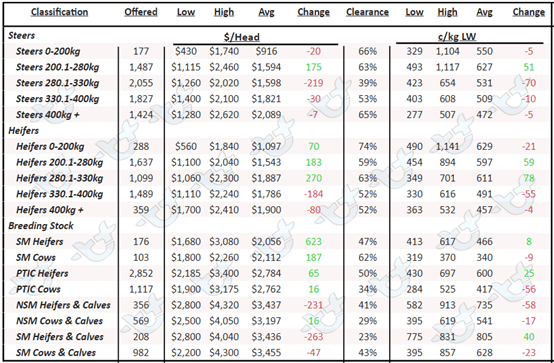 Prices as at 2pm Friday, 9 December.
Source: AuctionsPlus