THE continuing drought conditions again exerted an effect on this week's AuctionsPlus market, where total cattle numbers dropped to 6644 head, a 27 percent decline on the previous week.
Most steer categories eased 10-20c/kg in value, while heifer prices were mixed.
Joined and PTIC female numbers fell for a total listing of 943 head. Highlights included a line of 4-8 year old 526kg Brahman cows, PTIC to Angus bulls, from Barcaldine, western QLD which sold for $1050 to a local buyer.
From Ballandean, QLD a line of 69 Shorthorn heifers 30-33 months averaging 417kg and PTIC to Shorthorn bulls, sold for $850. Two lines of Angus and Angus cross cows from Kentucky, NSW sold for $1100 to a buyer in Mudgee, NSW. The 3.5 to 4.5 year old cows averaged 428kg and the younger 2.5 year old cows 376kg. Both lines were joined to Angus bulls.
Cow and calf numbers totalled 427 head with a 72pc clearance and an average price of $1272. Top price of $1680 went to a line of Reiland blood Angus cows, from Coolamon, NSW and are on their way to Walgett, NSW. These cows were aged 3-5 years averaging 582kg and have been re-joined to Angus bulls.
From Lyndhurst, NSW a line of 30 month old Angus cows 418kg, with Wagyu-sired calves at foot and re-joined to Angus bulls, sold for $1410 to a buyer from Mudgee, NSW.
A line of Angus and Angus cross cows from Allora, QLD – five years of age averaging 507kg, with Angus calves at foot – sold for $1520 to a buyer from Warwick, QLD.
The Weaner and Yearling sale saw a 4872 head offered with a 42pc post auction clearance. Heifers averaged $647 and sold to a top of $1025 for a line of Charolais cross heifers, 9-10 months averaging 378kg from Woodhouse, VIC. This same vendor offered the top line of steers sold this week, making $1255. These steers were 9-10 months old averaging 408kg. The average steer price was $798.
The Tasmanian cattle sale offered 40 heifers over two lines. A mixed breed line of 16-17 month old heifers from Moriarty, sold for $1150, while a line of Angus x Friesian heifers, 16-17 months, from Caveside sold for $1060.
In Western Australia, a line of Angus and Angus cross mixed sex yearlings, 16-18 months averaging 280kg estimated dressed weight, from Manjimup sold for 500c/kg dressed weight or $1400. From the same vendor a line of mixed breed cows, aged 5-12 years averaging 348kg dressed sold for 375kc/kg or $1306.
In a breakdown of young cattle sold this week, by weightrange:
Steers less than 250kg sold from 232c to 352c to average 307c; while heifers sold from 199-269c to average 235c
Steers 250-300kg sold for 260c; while heifers sold from 186-268c to average 233c
Steers 300-350kg sold from 270-295c to average 279c; while heifers sold from 264-274c to average 269c
Steers +300kg sold for 255-307c to average 285c; while heifers sold from 270-287c to average 276c
Steer highlights
15 to 17 month old, 391kg, Hereford steers from GLENCOE, NSW sold for 278c/$1085
12 to 15 month old, 325kg, Angus steers from BELLTREES, NSW sold for 296c/$960
5 to 6 month old, 188kg, Angus steers from BOGGABRI, NSW sold for 353c/$665
14 to 17 month old, 301kg, Composite steers from ROMA, QLD sold for 270c/$815
9 to 10 month old, 408kg, Charolais x Angus steers from WOODHOUSE, VIC sold for 308c/$1255
9 to 10 month old, 366kg, Angus steers from WOODHOUSE, VIC sold for 300c/$1100
17 to 18 month old, 355kg, Composite steers from NARACOORTE, SA sold for 255c/$905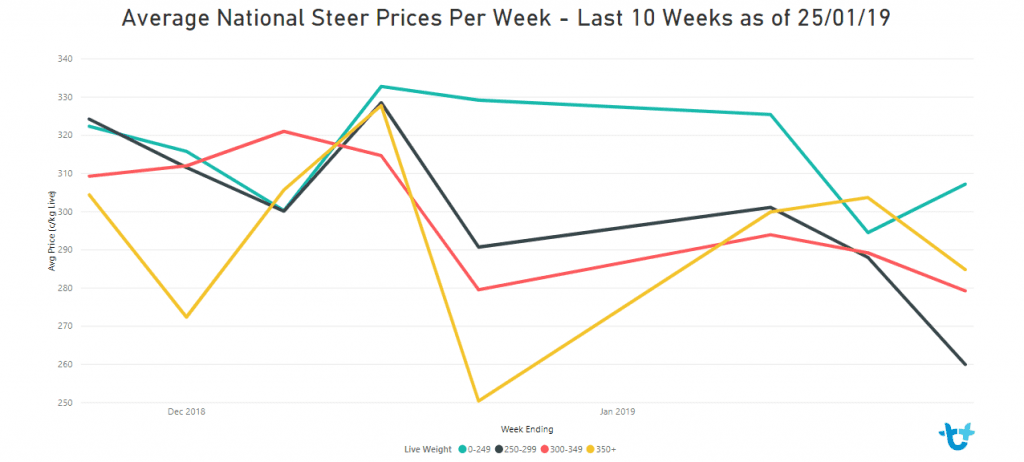 Heifer highlights
12 to 15 month old, 305kg, Angus heifers from BELLTREES, NSW sold for 274c/$835
12 to 15 month old, 275kg, Angus heifers from BINGARA, NSW sold for 269c/$740
10 to 15 month old, 264kg, Simbrah heifers from TARA, QLD sold for 222c/$585
12 to 14 month old, 268kg, Senepol/Bonsmara heifers from SPRINGSURE, QLD sold for 213c/$570
9 to 10 month old, 377kg, Charolais x Angus heifers from WOODHOUSE, VIC sold for 272c/$1025
9 to 10 month old, 336kg, Charolais x Angus heifers from WOODHOUSE, VIC sold for 271c/$910
17 to 18 month old, 339kg, Composite heifers from NARACOORTE, SA sold for 264c/$895
16 to 17 month old, 369kg, Angus x Friesian heifers from CAVESIDE, TAS sold for 287c/$1060
16 to 17 month old, 425kg, Angus heifers from MORIARTY, TAS sold for 271c/$1150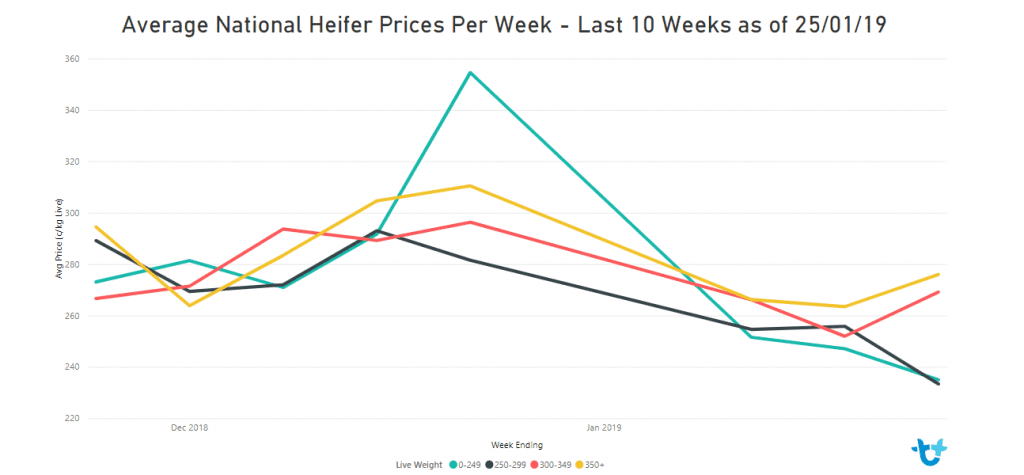 Source: AuctionsPlus