YOUNG steer and heifer prices trended sharply higher on AuctionsPlus this week – up 20-25c/kg in some categories – as catalogue numbers held firm, totalling 8109 head.
Weaners and yearlings made up the majority of listings with 5207 head, bolstered by 2870 head out of NSW. Almost 600 unique bidders logged in throughout the sales, driving clearance to 69pc of the total listed.
Prices were up across the board with the exception of PTIC cows. Weaned heifer prices were up 46c, weaned steers up 34c, yearling heifers up 35c and yearling steers up 17c.
Joined and PTIC female numbers dropped sharply on the previous week, to 325 head. Joined heifers sold from $865 to $1770 and averaged $1358. The top price went to a line of PTIC Angus heifers 27-28 months old averaging 609kg, joined to Hereford bulls, from Deloraine, TAS.
Joined cows included a line of station mated Shorthorns 3-4 years averaging 591kg from Dunedoo, NSW, which are on their way to Mulla Creek, NSW.
Cows and heifers with calves at foot sold well this week, with 66pc of the 847 head listed finding buyers. Prices ranged from $1170 to $1920 and averaged $1438. The top price went to a line of Angus heifers 25-27 months averaging 449kg with calves from Goulburn, NSW. The same vendor sold a line of Angus cows 3-4 years averaging 535kg, with calves for $1750. Angus/Friesian cows 3-4 years averaging 447kg with calves from Cudgewa, VIC were sold to a buyer at Scottsdale, TAS.
The weaner & yearling sale produced a 72pc clearance across the 5207 head offered.
A line of 74 Angus/Hereford yearling steers 14-15 months averaging 419kg, from Heywood, VIC sold for $1300 or 310c, going to a buyer in Penola, SA. A second pen of 66 slightly lighter Angus steers 414kg from the same vendor made $1290.
Out of Penola, SA a line of Angus x Hereford weaned steers 9-10 months averaging 399kg sold for $1290 or 323c to a local buyer.
This week produced the biggest AuctionsPlus Tassie Cattle Sale for the year with 542 head listed across 46 lots. 115 bidders logged in, driving clearance up to 98pc. Highlights included PTIC Angus heifers 15-16 months averaging 470kg out of Bridport going for $1570.
Among larger lines of young cattle sold this week:
96 Droughtmaster yearling steers, 12-18 mths averaging 311kg from Mitchell QLD sold for 299c/$930
90 Hereford x Red Brangus feeder steers, 11-15 mths averaging 354kg from Tamb0 QLD sold for 307c/$1085
115 Angus backgrounder heifers, 12-15 mths averaging 227kg from Walcha NSW sold for 275c/$625; while a similar line of 110 heifers 259 kg, made 276c/$715
82 Angus unweaned steers 7-8 mths averaging 244kgs from Temora NSW sold for $790
100 Angus weaned steers 6-9 mths averaging 194kg from Breadalbane NSW made $690
In a breakdown of young cattle sold this week, by weight range:
Steers less than 250kg sold from 294c to 390c to average 342c; while heifers sold from 232-379c to average 292c
Steers 250-300kg sold from 277-388c to average 329c; while heifers sold from 253-387c to average 302c
Steers 300-350kg sold from 203-381c to average 319c; while heifers sold from 259-355c to average 301c
Steers 350+kg sold from 307-366c to average 332c; while heifers sold from 258-343c to average 306c
Steer Highlights
4 to 5 month old, 160kg, Angus steers from COOTAMUNDRA, NSW sold for 369c/$590
14 to 16 month old, 349kg, Angus steers from ADJUNGBILLY, NSW sold for 322c/$1125
14 to 17 month old, 332kg, Angus steers from PARKES, NSW sold for 331c/$1100
12 to 14 month old, 325kg, Droughtmaster/Shorthorn/Santa/Red Poll x steers from SURAT, QLD sold for 304c/$990
18 to 24 month old, 311kg, Angus/Hereford steers from CECIL PLAINS, QLD sold for 302c/$940
12 to 14 month old, 325kg, Droughtmaster x Shorthorn steers from SURAT, QLD sold for 304c/$990
14 to 15 month old, 371kg, Angus steers from HEYWOOD, VIC sold for 315c/$1170
14 to 15 month old, 418kg, Angus/Angus/Hereford steers from HEYWOOD, VIC sold for 311c/$1300
9 to 10 month old, 357kg, Angus/Hereford steers from PENOLA, SA sold for 340c/$1215
9 to 10 month old, 399kg, Angus/Hereford steers from PENOLA, SA sold for 324c/$1290
3 to 3 month old, 105kg, Angus/Friesian steers from BRIDPORT, TAS sold for 391c/$410
8 to 9 month old, 267kg, Angus x steers from NORTH SCOTTSDALE, TAS sold for 389c/$1040
11 to 15 month old, 353kg, Hereford/Red Brangus steers from TAMBO, WA sold for 308c/$1085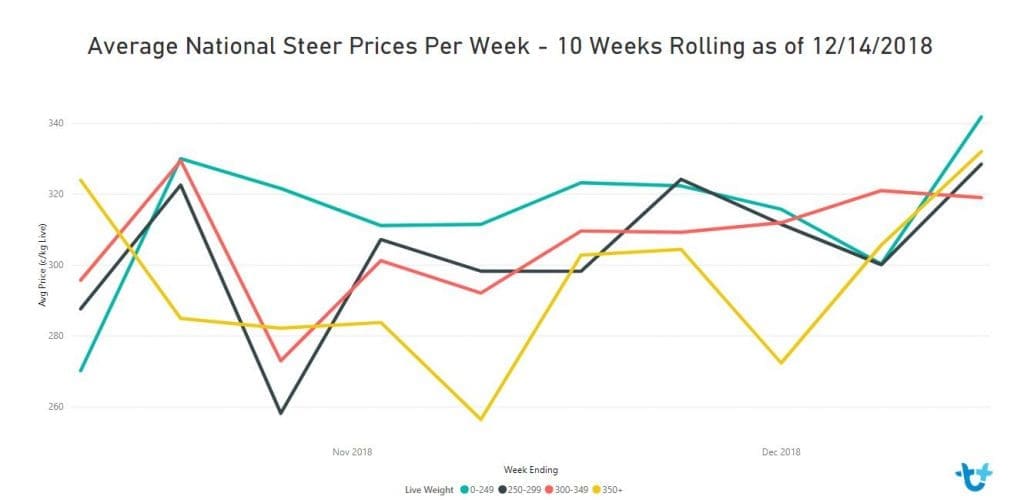 Heifer Highlights
4 to 6 month old, 167kg, Angus heifers from NYNGAN, NSW sold for 369c/$615
14 to 16 month old, 334kg, Angus heifers from BLACKVILLE, NSW sold for 298c/$995
13 to 15 month old, 364kg, Angus heifers from JUGIONG, NSW sold for 272c/$990
6 to 14 month old, 243kg, Santa heifers from HUGHENDEN, QLD sold for 270c/$655
4 to 6 month old, 166kg, Angus heifers from NYNGAN, NSW sold for 369c/$615
14 to 16 month old, 334kg, Angus heifers from BLACKVILLE, NSW sold for 298c/$995
13 to 15 month old, 364kg, Angus heifers from JUGIONG, NSW sold for 272c/$990
6 to 14 month old, 243kg, Santa heifers from HUGHENDEN, QLD sold for 270c/$655