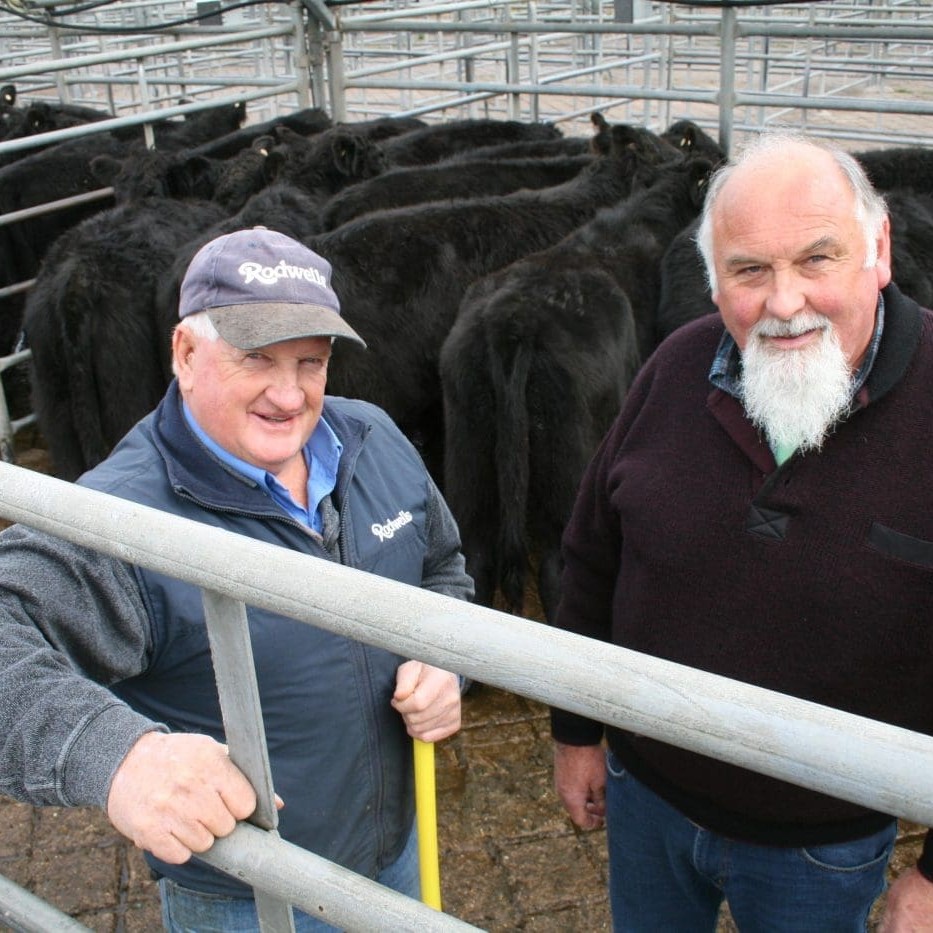 Any short-term pain is likely to translate into longer-term gains for much of Victoria's Gippsland, with recent heavy rain and flooding keeping the region on track for a bumper spring.
Flooding earlier this month in parts of East Gippsland caused some headaches for beef cattle producers, with fences damaged and low-lying paddocks either stripped of existing feed or still too wet for grazing.
Despite the immediate concerns, there is increased optimism about the run towards spring, thanks to the healthy bank of soil moisture.
Sale district beef producer John Chown endured the third flood on his property this year earlier in the month, but like many graziers in the area, had the luxury of moving cattle to higher ground and away from the surging water.
In the lead-up to the flood, Mr Chown received 53mm at his property, although gauges at properties elsewhere in the Avon River catchment area recorded up to 150mm.
"Any sort of flood is severe enough, but if we didn't have any higher country, we'd have had all sort of problems," Mr Chown said.
"We lost all of our winter feed in our low lying paddocks and it's made the country just too wet to put stock on at the moment. Plus it washed a lot of the feed away – the water just ripped it away."
Mr Chown, who runs 120 Angus breeders, said considerable damage had also been down to his fences.
The flood also brought forward the clearance of Mr Chown's 2011-drop calves, with 78 mixed sex weaners sold at Sale's monthly store cattle sale on Friday.
"We were scheduled to sell some of the weaners at the sale, but we weren't planning on selling so many. If it wasn't for the flood, we would have held on to some of them for a bit longer," he said.
Mr Chown's 39 steers sold for $552-$620 a head, with 39 heifers making $415-$575. The consignment was easily the biggest from a single vendor in a heavily reduced yarding at Sale, with advertised numbers of 600 head slashed in half due to the wet weather.
Rodwells Sale agent Don McMillian said numbers at the store market were hit by the wet conditions. "We ended up with a smaller yarding because of the flooding. A lot of trucks couldn't get in to load cattle for the sale," he said.
"The market was better than expected – it held up very well.
"Thanks to the lack of numbers, there was plenty of buying power there and I'd say we could have had another 200-300 cattle there on Friday on the strength of the local demand."
Mr McMillan, who has been at Sale for 46 years, said the local season was shaping up as being the best in years.
"We've had enormous problems in the district with too much rain of late, but overall the season has been as good as any I've seen in 25-30 years. The ground is saturated and we're set-up for one of our best springs in a long time," Mr McMillan said.
South Gippsland has also had a very wet season and, and such, buyers from Leongatha and other nearby finishing districts have been restricted in the number of cattle they have sourced from Sale and further east.
"Our main weaner sales are always in February and March and we're selling the later drops and tail-ends of the main run now," Mr McMillan said.
"A lot of Gippsland vendors sold cattle in April and May and since then prices have dropped off fairly quickly, so most made the right decision."
Further west, prime cattle yardings at Pakenham have been larger than normal for this time of year. Local Rodwells agent Anthony Delaney said that throughput had been steady at Pakenham, although a dip in numbers was in sight.
Large numbers of young cattle from throughout Gippsland are sold at Pakenham, along with other types from across the greater Melbourne region.
"We're normally quieter at this time of year, but the yardings have been pretty consistent," Mr Delaney said.
"But looking at our own business at least, it looks like these bigger numbers might only last another three weeks or so."
At Monday's trade sale, 2197 cattle were offered, comprising a relatively even balance of trade and export types. Mr Delaney said that as the colder weather set in, a greater portion of cattle had been presenting in plainer condition.
"It's harder to get your cattle up to scratch at this time of year. Well and truly finished trade cattle are going to make over 200c/kg (liveweight)," he said.
"The tops of the cattle at Pakenham have been presenting very well and killing very well, but you don't have to get too far off the tops and there's stock are being discounted by about 20c/kg.
"Going on recent slaughter results, those secondary types just aren't peforming as well, hence the price gap between well-finished cattle and the rest. It is as big a margin as we've seen for quite some time."
At Monday's sale, MLA's National Livestock Reporting Service quoted vealer steers as averaging 192c/kg, topping at 230c/kg. Yearling steers averaged close to 200c/kg, trading to 222c/kg, while grown steers ranged from 170-195c/kg.
Mr Delaney said Gippsland's wet weather had not yet had a big impact on numbers at Pakenham.
"The most impact we'll see from the wet weather will be in the quality of finished cattle coming in from South Gippsland," he said.
Beef Central welcomes Tom Dawkins to the website's writing team, greatly strengthening our presence in Southern Australia. Tom is a gifted and highly regarded journalist with a strong beef industry knowledge, based near Naracoorte. He will be contributing regular content to Beef Central on market supply and demand dynamics, and other topical issues out of the region.