UNDERLYING strength in the broader cattle market is being blamed for tighter premiums for 'specialised' lines including EU, MSA and Angus cattle being seen recently.
The trend is being seen in both feeder cattle and slaughter cattle in some areas.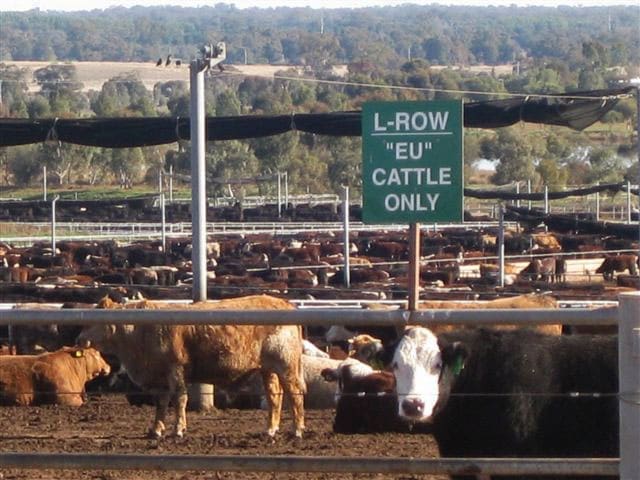 Premiums for EU and Angus feeder cattle are currently only 5-10c in some feedlot grids, whereas a 20-25c/kg premium (worth up to $100 on a typical feeder) has been seen frequently in earlier times.
"Lack of cattle supply means the ability to discount the inferior cattle is not as great," one market participant said. "You just can't get the premium for the beef you need in international markets in this sort of market to justify paying bigger premiums on Angus or EU feeders," he said.
The effect is also being seen in slaughter markets.
One large multi-site processor with operations in Queensland and southern states currently has grid offers for EU grassfed slaughter steer at 550c/kg carcase weight – just 10c above its conventional 0-4 tooth heavy steer. The same company's premiums for EU grassfed have at times stretched out to as much as 60-70c/kg carcase weight, and have averaged more like 40-50c/kg in the last couple of years.
Currency movements in Europe, particularly the A$ against the UK Pound, have created extra headwinds for Australian grassfed beef pricing into the EU market, one source said.
Another factor may be that more EU-eligible cattle are moving into EU grainfed programs, rather than remaining on grass. One processor said there had been a general recognition in the EU of the quality distinction between Australian grainfed and grassfed, now being reflected in buyer demand.
Illustrating this, Australia's grassfed beef exports to the EU were down 34pc last year as the herd decline set in, while grainfed exports throughout 2016 were back only 1pc year-on-year. Demand for Australian grainfed product has been relatively stable ever since market access was gained to the EU grainfed quota in 2010.
MLA chief analyst Ben Thomas told Beef Central that what typically happens when there is a real shortage of cattle like there is at the moment, is that premiums for specialised lines like EU diminish, because supply chains just can't get enough of the cattle they require.
"Cattle generally, are already expensive, making it that much harder to pay a premium for specialised lines," he said.
Last financial year (2015-16) the EU premium in Queensland on finished grassfed cattle was 44c/kg carcase weight, or a 9pc premium over conventional cattle. The year before, with abundant cattle supply due to drought, the EU premium in Queensland averaged 104c/kg.
"Back in 2014-15, producers were making a dollar a kilogram more on EU than conventional grassfed cattle, on a carcase weight basis – equivalent to a 27pc premium," Mr Thomas said.
A similar pattern was being seen in the MSA cattle market.
"In years where there are a heap of cattle around, MSA premiums tend to be higher, because it allows processors to be a little more selective. But when there aren't many cattle about, we often see that premium diminishing," Mr Thomas said.
"It could be argued that the effect is as much about the price of 'everyday' cattle rising, as it is about any dilution of premiums paid for specialised lines"
He said it could be argued that the effect was as much about the price of 'everyday' cattle rising, as it was about any dilution of premiums paid for specialised lines.
Many feeder cattle markets had also followed suit, with some buyer grids showing much tighter premiums for EU and Angus feeders, than a year ago.
The National Livestock Reporting Service's weekly eastern states feeder report, within the shortfed category, this week has the Angus premium over the crossbred category quoted at 9c/kg liveweight. Back in August of 2016, that figure was still 23c/kg.
It's not hard to find northern NSW/southern Queensland feeder cattle purchase grids with an Angus premium of just 5c/kg currently. An example is Bindaree Beef in northern NSW, which this week is offering 350c/kg liveweight on Angus x Angus feeder steer +350kg 0-2 teeth, versus 345c for crossbreds (less than 39pc indicus). Some other feedlot grids still show a 10c premium for feeders for Angus programs.
One explanation of the narrowing in the premium presently for Angus feeders, especially in more northern areas, is the cost of gain issue in feedlots. As Beef Central's regular trading budgets have illustrated, current low ration prices mean it is more cost-effective for some lotfeeders to buy lighter cattle to place on feed for longer periods, than it is to buy feeders at traditional, higher entry weights.
Under these circumstances crossbreds, which are likely to handle a longer feeding program (in some cases out to 150 days) better than a straight British animal, are less likely to produce excess fat, one market participant said.
This in itself may be diluting larger Angus premiums at present, as well as meat customers 'trading down' into somewhat cheaper options.
MSA programs also impacted
Premiums for cattle directed into MSA programs have also been affected.
The downwards trend in MSA premiums since eastern Australian cattle supply started to greatly tighten last year can be seen in this graph, plotting price differentials for MSA young cattle over non graded. While the price premiums during the good times tend to be highest in Queensland, equally, the falls north of the border have tended to be greater.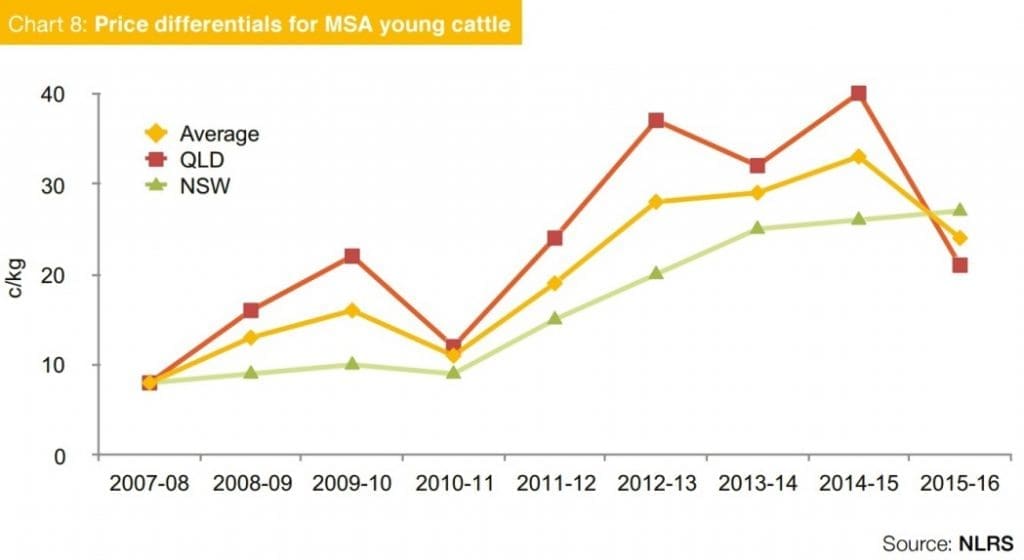 MLA reported that last financial year's average MSA premium across Australia was worth 24c/kg, potentially adding an additional $66/head on average for young non-feedlot cattle, and $45 per head on grainfed trade cattle. That was potentially adding an extra $153 million delivered back to the farmgate, MLA's report said. Premiums were greatest in NSW, averaging 27c, while Queensland averaged 21c.
One Queensland processor this week was offering 565c/kg for MSA grassfed slaughter steer, 10c/kg above generic grassfed 0-2 tooth steer of similar weight.
This financial year's MSA premium figure is likely to be considerably lower, one market participant said – possibly halved, to as low as 12-15c, across the year.
"It's certainly towards the bottom end of the cycle, in terms of premiums for specialised lines of slaughter cattle and feeders right now," MLA's Ben Thomas said.