THE sideways path of the national cattle market continued last week, with the three consecutive short weeks failing to put a boost into online buyers' willingness, or indeed, a 'cooling effect' in vendors' expectations.
AuctionsPlus commercial cattle numbers only reached 9575 head last week, impacted by the shorter selling week finishing on Thursday.
As is also the case through the December and January holiday periods, a run of reduced trading weeks in autumn can create some short-term market volatility that is not truly reflective of the market sentiment.
Adding to this week's movements is a seasonal outlook that is starting to take on greater weight with every week that passes. Recent falls through central and parts of northern NSW were largely welcomed by producers, with the focus on winter cropping programs also taking attention away from livestock markets.
The main movement this week through reduced online commercial offerings was for PTIC heifers, slipping 11pc in price, to average $2713/head.
Interestingly, while the average price was the lowest for several weeks, the clearance rate was also the highest for several weeks, at 83pc – signalling that vendors eased reserve levels from previous week, anxious to lock-in income heading into the second half of autumn.
Out of Wandoan, Southern Queensland, 34 PTIC Santa heifers 527kg at 20-30 months, joined to Santa bulls, sold for $2960. Topping the southern markets were 35 PTIC Angus heifers 545kg at 20-21 months, out of Coolac, NSW. Joined to Angus bulls, the heifers sold for $3620.
With numbers well back on previous weeks, last week's online young steer market was patchy, with 200-280kg steers averaging $24 higher on the previous week at $1792 (although 22c/kg lower at 703c/kg, when measured in c/kg terms), with a 72pc clearance for the 1731 head offered.
Among them were 106 Angus weaned steers 270kg at 7-8 months out of Casterton, Victoria, sold to $2170. Last week's 280-330kg steer offering averaged $23 lower on last week (but 1c/kg higher in c/kg terms), at $1949/651c/kg, with a 77pc clearance for the 1071 head offered.
For the heavier lines, the market was lower on a c/kg basis, albeit with clearance rates well back on previous weeks for much reduced offerings. The 330-400kg steers averaged 9c/kg lower at 593c, while +400kg lines averaged 33c/kg lower at 517c.
Young heifer prices largely matched the steer lines, with the reduced numbers impacting clearance rates and average prices. The largest category for the week, at 721 head, 200-280kg heifers declined $208 or 73c/kg on the previous week, to average 640c – with only a 58pc clearance recorded.
Included  were a line of 100 Charolais and Charolais x Droughtmaster weaned heifers 198kg at 5-7 months out of Richmond, North Queensland, which sold for $1400.
Breeding cattle
An offering 0f 1900 PTIC heifers this week saw average prices fall 91c/kg or 348c/kg, to average 585c/kg or $2713. An offering 0f 1400 PTIC cows lifted 9c/kg or $52/head to 504c/kg or $2951.
Two lines of Ultrablack/Brangus PTIC heifers totalling 204 head, averaging 408kg at 14-30 months out of Alpha, Central Queensland made 602c/kg ort $2460, while a further 162 Charolais cross and Droughtmaster cross heifers from the same vendor, 413kg and 400kg, made 485c and 550c/kg respectively.
In the southern markets, 34 Hereford NSM future breeders 389kg at 13-15 months out of Glenrowan West, Victoria, sold for $2150, while from Minlaton, SA, 16 Red Poll weaned heifers 308kg at 10-12 months sold for $1700.
Out of Roma, Southern Queensland, 18 station-mated Charbray cows 2-12 years averaging 585kg, with CAF sold to $4110/pair.
Prices as at 2pm, Thursday 14 April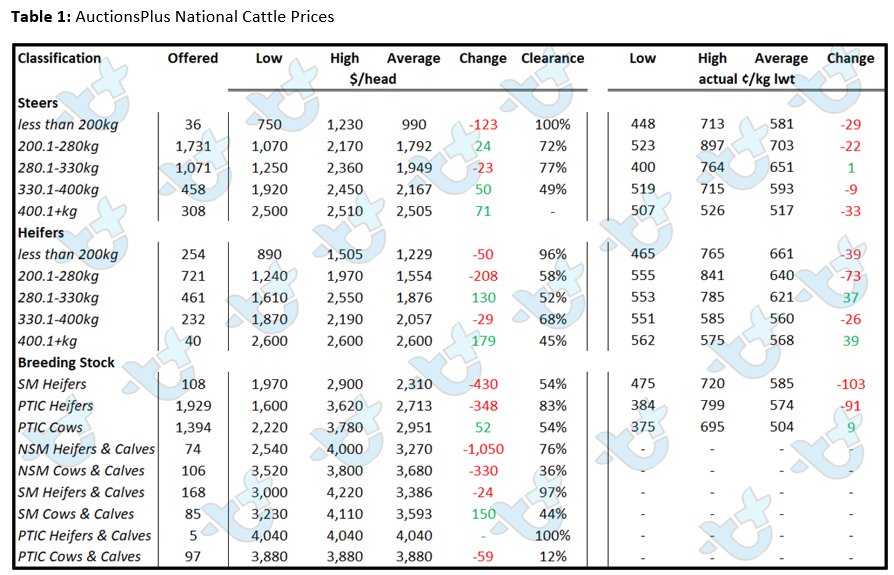 Source: AuctionsPlus