HEIFER prices lifted substantially across all weight categories on AuctionsPlus this week, while young steers also showed gains, albeit more modest.
Cattle listings were much the same as the week before, at 8052 head. Some regions experienced some much-needed rain over the past week, resulted in an overall clearance of 61pc, with post-sale negotiations looking to lift this higher.
The Weaner and Yearling sale accounted for the majority of this week's listings with 5427 head offered, returning a 63 percent clearance post-auction.
PTIC and joined females were in low demand this week, indicating lack of confidence in the season looking forward. The top price of $1420 was paid for a line of EU-eligible Angus PTIC heifers 24-26 months averaging 506kg, EU accredited and PTIC to Angus bulls, from Heywood, VIC. The same vendor also offered a second line of older Angus PTIC cows that sold for $1380.
From Byawatha, VIC, a line of 19 PTIC Angus cows, 3-4 years averaging 587kg sold for $1400. These cows will travel to Wodonga, VIC.
Cow and calf numbers continued to drop this week, falling 791 head to total 696 head offered, with a 54pc clearance achieved post auction. First-calvers averaged $1340 and sold to a top of $1400, for a line of Angus cows 22-24 months averaging 427kg, with young Shorthorn-sired calves at foot,   offered from Milawa, VIC.
Proven breeders sold for $1650 for a line of Angus cows 36–38 months averaging 532kg, with Angus calves at foot, from Bowna, NSW. These cows will travel to Deniliquin, NSW.
National steer prices continued to rise in all weight categories, with steers less than 250kg experiencing the highest increase up 39c to average 326c. National heifer prices increased in all weights except 300–350kg which eased by 5c to average 271c. The most significant steer price increase was also achieved by the sub-250kg weight range, up by 25c to average 277c.
A line of 59 Shorthorn weaned steers 10-11 months averaging 206kg from Manilla, NSW sold for 359c/$740, while their 52 heifer sisters 191kg made $525/head.
From Walcha, northern NSW, a line of Angus feeder steers 15-16 months averaging 407kg made $1315/head.
WA listed 287 head on AuctionsPlus this week and recorded a 100pc clearance. A line of 26 Angus cross mixed sex yearlings returned 519c/kg dressed weighing 520kg. Another highlight saw Angus/Friesian cross trade steers returned 440c/kg dressed for two different lines.
In a breakdown of young cattle sold this week, by weight range:
Steers less than 250kg sold from 306c to 359c to average 326c; while heifers sold from 230-310c to average 277c
Steers 250-300kg sold from 291-371c to average 327c; while heifers sold from 243-319c to average 279c
Steers 300-350kg sold from 299-328c to average 317c; while heifers sold from 242-295c to average 271c
Steers +350kg sold from 220-324c to average 275c; while heifers sold from 245-356c to average 279c.
Steer Highlights
10 to 11 month old, 206.4kg, Shorthorn steers from MANILLA, NSW sold for 359c/$740
12 to 14 month old, 387.6kg, Angus steers from COOTAMUNDRA, NSW sold for 325c/$1256
10 to 12 month old, 263kg, Angus Cross steers from ROMA, QLD sold for 335c/$880
10 to 14 month old, 267.5kg, Droughtmaster/Charolais steers from ROMA, QLD sold for 320c/$855
7 to 8 month old, 291.6kg, Angus/Shorthorn steers from MOUNT COMPASS, SA sold for 323c/$940
6 to 8 month old, 296.3kg, Gelbvieh/Simm/Hereford steers from BAGDAD, TAS sold for 372c/$1100
8 to 9 month old, 285.4kg, Angus steers from SHEFFIELD, TAS sold for 368c/$1050
18 to 20 month old, 668.2kg, Angus steers from PEMBERTON, WA sold for 238c/$1588
17 to 19 month old, 510.8kg, Angus/Friesian steers from BALINGUP, WA sold for 232c/$1184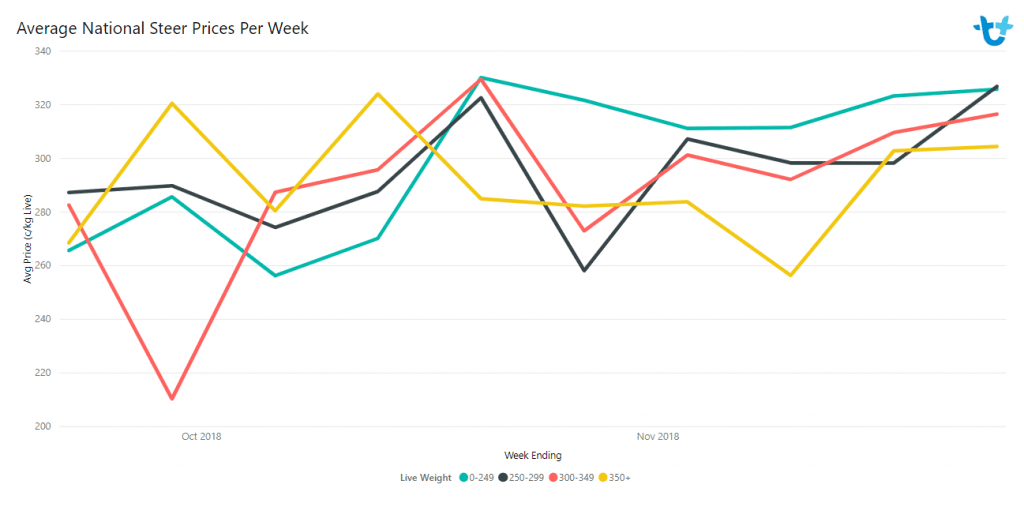 Heifer Highlights
16 to 18 month old, 393.8kg, Speckle Park/Angus heifers from CUDAL, NSW sold for 356c/$1400
10 to 12 month old, 235.8kg, Angus heifers from OBERON, NSW sold for 310c/$730
12 to 14 month old, 270.6kg, Angus heifers from WINTON, QLD sold for 296c/$800
14 to 15 month old, 329.3kg, Angus heifers from TARA, QLD sold for 295c/$970
14 to 15 month old, 302.4kg, Hereford heifers from ENSAY, VIC sold for 272c/$820
14 to 16 month old, 346.6kg, Angus heifers from SUNBURY, VIC sold for 260c/$900
6 to 8 month old, 269.4kg, Gelbvieh/Simm/Hereford heifers from BAGDAD, TAS sold for 320c/$860
8 to 9 month old, 247.6kg, Angus heifers from SHEFFIELD, TAS sold for 307c/$760