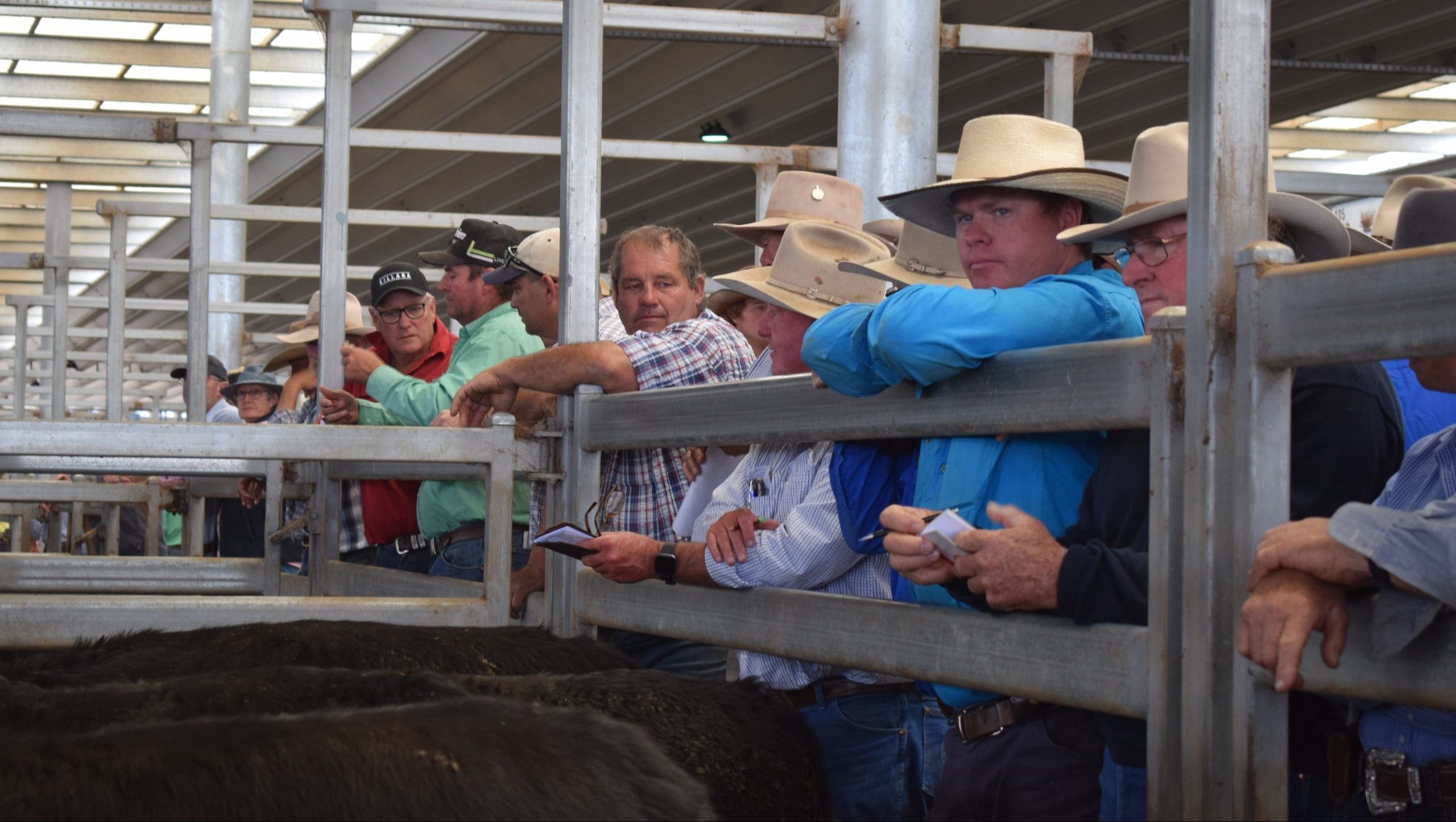 IT SEEMS Australia's largest country music festival has brought the Northern New South Wales cattle out of the woodwork, with a record-breaking 7,000 head yarded at the Tamworth Saleyards today.
The overall numbers for the Virbac Weaner Sale were down on the scheduled yarding of 8,800 – but broke record for the yards regardless. The sale was the last of three weaner sales at the facility, with the first two yarding 3,000 and 5,000.
Cattle were drawn from the New England down the Liverpool Plains and a large percentage sold for more than $2,000.
Purtle Plevey agencies director Patrick Purtle said while numbers of cattle were building in the area after the 2019, several factors were at play.
"There's been a bit of rain and holidays, which have interrupted our Monday sales and put some of those cattle into the fortnightly store sale," Mr Purtle said.
"This is also so our biggest weaner sale of the year, which we have put a lot of effort into marketing over the years and a lot of people target this sale annually."
There's cattle everywhere at this week's Virbac weaner sale in Tamworth.

In fact, there's a record-breaking 7000 head @beefcentral @ALPA_Agents pic.twitter.com/gO7iB6ne1W

— Eric Barker (@EricBarker92) April 22, 2022

This year's weaner sales were the biggest in several years, with large runs of cattle coming from dry areas in Queensland in 2020-21. Mr Purtle said he expected herd numbers to keep building this year, but slowly.
"It's building, but I don't think it is building as fast as some people think it is," he said.
"There's still a lot of heifers being sold because of the strong market for them, although people are still keeping some at home, they're still happy to sell. I think we will keep seeing the top end heifers stay in the paddock and the others end up in the feedlot."
Liverpool Plains producers win weaner challenge
As part of the annual Virbac Sale, a guest judge picks the best pen of heifers and steers for a series of cash and prizes.
This year's winners were George and Ali Duddy from Hudson Farming near Willow Tree on the Liverpool Plains. The pair run a small breeder herd as a side business to their mixed cropping property.
Mr Duddy said after consecutive bumper seasons on the property, conditions were perfect for the sale.
"We normally wean a lot earlier than we did this year, but there was nothing lost from keeping them on their mother a bit longer," he said.
"The last few years we haven't had to think too much about our cattle because of the season. In the drought we were heavily supplementing and feeding cotton seed."
Mr Duddy said line of Angus cattle in the sale had been in the family for a long time.
"My Dad and my uncle had a place in western NSW which had about 4,000 head in its heyday and they sold it a couple of years ago," he said.
"So we went to the Gunnedah Saleyards and bought the remaining 80 head and their progeny were in today's sale."