The Queensland restocker yearling steer indicator compiled by the National Livestock Reporting Service has jumped out of the blocks in 2017, with prices continually rising since markets reopened.
While the average price paid by processors and feeders has also risen, restockers are evidently the buying force driving the market, with the Qld indicator above 400¢/kg liveweight for the first time since October last year, when it hit a record 418¢/kg.
For the other categories, feeders have also lifted, yet not nearly to the same extent, with the Queensland feeder yearling steer indicator at 367¢/kg, while those to processors are at 343¢/kg.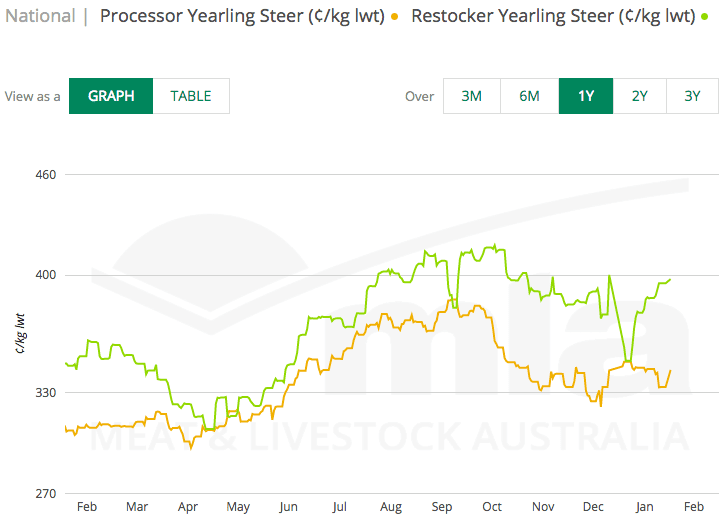 Out of interest, Beef Central built the graph published above using MLA's new market reporting and analysis facility, launched yesterday. The graph plots the processor-bought yearling steer category against restocker-bought yearlings (green plot line)  over the past 12 months (Australia wide, not just Qld) – clearly showing a very large gap at present. If our graph had been extended backwards, however, it would have shown much closer alignment a year or two ago, MLA's Ben Thomas said.
Traditionally, the average price paid by the three buying groups (processor, restocker, feeder) has been very close. But demonstrating the current strength of restocking intent – despite a hot and dry summer, and below average three month rainfall outlook – the average price paid by restockers in Queensland is currently almost at a record premium to the other two buyer-groups.
It's highly likely that the restocker, processor and feeder yearling steer indicators will eventually realign, noting the longstanding relationship, Mr Thomas said.
"With this in mind, restockers should act with caution at current price levels."