BOTH PTIC heifers and cows surged strongly in price in an 11,800 head AuctionsPlus offering this week.
Demand remained strong with an 85pc clearance rate overall.
PTIC heifers lifted $293 on average to $2066, while PTIC cows rose $41 to average $1868.
Cattle from the North West Slopes and Plains of NSW and Southern QLD accounted for the largest portions of listings for the week with 1900 and 1500 head respectively. Demand came from the Central West again this week with 1500 head travelling to the region.
There was an increased offering of cows with calves at foot this week with more than 1200 head on offer, selling from $1500 to $3510 to average $2660, up $30 on last week.
From Dubbo, NSW Charlton Bros offered a line of Angus x Poll Hereford NSM cows with CAF which recorded the category's $3510 top price. The three-year-old Banquet blood cows averaging 619kg had 3-8-week-old CAF.
PTIC cows sold from $1200 to $2900 this week, averaging $1868. A line of mixed age Red Angus PTIC cows achieved top price, offered by GJ & SL Rogers from Ballarat, VIC. These Te Mania blood cows averaging 728kg were PTIC to Te Mania bulls and will travel to Holbrook, NSW.
A smaller offering of 500 PTIC heifers saw prices increase by $293, selling between $1720 and $2620, averaging $2066. Demand also increased as the category achieved an 83pc clearance. JA & RA Sides from Deniliquin, NSW offered top priced lot with 24 Brangus PTIC heifers 24-26-month-old averaging 513kg, PTIC to Angus bulls.
Young cattle
There was a decreased offering of steers this week with 3705 head on offer, 836 head less than last week. Despite the reduction, demand remained strong, achieving a 93pc clearance.
Light steers less than 200kg sold from 483c to 667c, averaging 502c, easing 79c on last week. J G Riveroak at Bemboka, NSW, offered the top priced lot with Angus and Angus cross steers 6-7 months, averaging 162kg.
Steers 200-280kg sold from 391c to 612c this week, averaging 513c, up 41c on last week. From Timor, NSW, Timor Cattle Co offered a line of 10-13-month-old mixed breed steers averaging 215kg, topping the category.
Steers 280-330kg sold from 253c to 517c, averaging 469c, up 2c. Top priced lot was offered by La-Lee from Yahl, SA, with 11-12-month-old Te Mania and Stoney Point blood steers averaging 314kg, heading across the border to Victorian buyers.
Feeder steers 330-400kg sold from 382c to 482c this week, averaging 437c, rising 7c. Quamby Plains from Hagley, TAS offered a line of 11-12-month-old Poll Hereford steers averaging 361kg which topped the category, and will remain on the island.
Heavy steers more than 400kg sold from 355c to 424c this week, averaging 400c, easing 2c on last week. A line of 10-12-month-old Shorthorn steers offered by TW & EH Harrington from Fosterville, VIC, topped the category, averaging 427kg.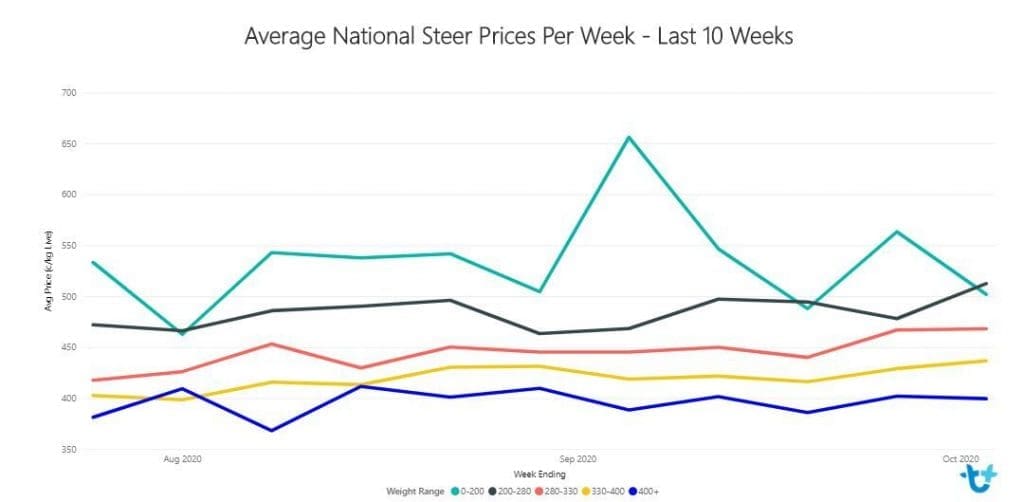 Weaner and yearling heifers saw a slight increase in listings this week with 4700 head on offer, 57 more than last. Young heifers were in high demand with a 93pc clearance achieved for the category.
Light heifers less than 200kg sold from 448c to 596c, averaging 514c, correcting 2c on last week. Warrego Ag Services from Yarroweyah, VIC, offered top priced lot with a line of 4-6-month-old Speckle Park x Friesian heifers averaging 161kg.
Heifers 200-280kg sold from 376c to 591c, averaging 453c, up 8c. A line of 11-13-month-old Wagyu heifers averaging 232kg topped the category, offered by Dept. Regional NSW from Camden, NSW.
Heifers 280-330kg sold between 369c and 644c, to average 449c, on par with last weeks' average. GJ & SL Rogers from Ballarat, VIC, who topped the PTIC cow section this week, also offered the highest priced lot for this category, with a line of 12-13-month-old Red Angus heifers averaging 320kg.
Feeder heifers 330-400kg sold from 346c to 501c this week, averaging 437c, up 3c on last week. From Camperdown, VIC, Meningoort Pty Ltd topped prices with a line of 12-13-month-old Angus heifers 361kg which will travel to Bathurst, NSW.
Heavy heifers averaging more than 400kg eased 2c, selling from 398c to 408c, to average 402c. Maxjem from Benalla, VIC offered the top-priced lot with a line of 17-18-month-old Hereford x Simmental heifers averaging 453kg, with Woonallee bloodlines.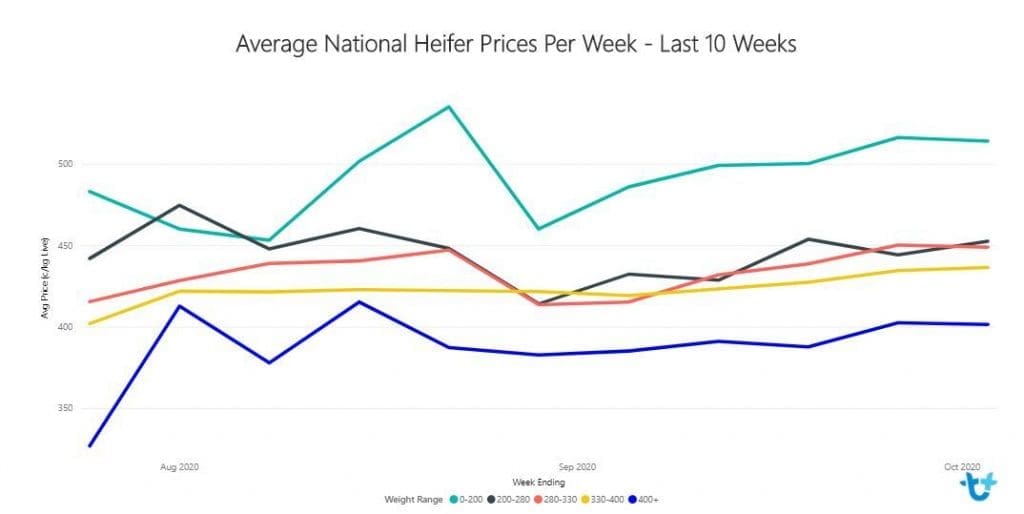 Looking across the Bass Strait to Tasmania, a competitive sale resulted in a 99pc clearance among the 572 head offered. Weaner and yearling heifers sold from $860 to $1790 and averaged $1329. Offered by WR Baxter & Son, Greenside at Pipers River, a line of 12-13-month-old Angus NSM future breeder heifers secured top price. These 375kg heifers had Landfall Angus blood and will remain on the island.
191 weaner and yearling steers were offered, achieving a 100pc clearance for the category, selling between $720 and $1750, averaging $1357. Top price went to a line of Angus and Angus cross trade steers 13-14-months averaging 497kg offered by JM & D Targett at Springfield.
In a breakdown of young cattle sold this week, by weightrange:
Less than 200kg: Steers sold from 483- 667c to average 502c, while heifers sold from 448-596c to average 514c
200-280kg: Steers sold from 391-612c to average 513c, while heifers sold from 376-591c to average 453c
280-330kg: Steers sold from 359-517c to average 469c, while heifers sold from 369-644c to average 449c
330-400kg: Steers sold from 382-482c to average 437c, while heifers sold from 346-501c to average 437c
400kg+: Steers sold from 355-424c to average 400c, while heifers sold from 398-408c to average 402c
Source: AuctionsPlus