PTIC cows and heifers saw prices heat up this week on AuctionsPlus, with average prices increasing by $258 and $42 respectively.
Catalogue numbers lifted to 13,757 head, up 17pc on the week before.
Demand continued to grow with clearance rates increasing 6pc from last week across the commercial sales to average 91pc. Queensland was responsible for the biggest increase in listings this week, accounting for 43pc of the total catalogue. Southern Queensland was the top purchasing region this week, securing 1568 head followed by the NSW Central West and NW Slopes and Plains with 1363 and 1222 head, respectively.
Cows with calves at foot saw a price correction on last week, easing $22 to average back at $2638 with prices ranging from $1550 to $3460. Top price was shared across two lines of two-year-old Angus NSM heifers with CAF offered by Wetjed Investments, Molong, NSW. The Hazeldeen blood heifers averaged 540kg and 493kg and will journey to Wellington and Blayney, NSW, respectively.
Another highlight was a line of eight-year-old PTIC Angus cows averaging 651kg with 7-8-month-old CAF from Mayneline Angus, Whittlesea, VIC which returned $3400. They will journey to Korumburra, VIC.
PTIC cows saw a significant price rise, averaging $258 dearer at $2126 with prices from $1260 to $2440. Top price went to Betrola Pty Ltd for two lots of PTIC EU Angus cows averaging 650kg. The cows were 4-5 five years, PTIC to Yarralee angus sires and will journey to Scone, NSW.
PTIC heifers also saw dearer price trends, averaging $42 more than last week at $2108 with prices ranging from $1310 and $2610. The category achieved a 94pc clearance. Hailing from Armidale, NSW the top priced EU-eligible heifers were PTIC Angus averaging 590kg, offered by Longford Angus, and will journey to Tenterden, NSW.
Young cattle
The steer offering increased to total 4332 head this week, 627 head more than the previous week. Steers less than 200kg sold from 297c to 682c to average 526c, selling 24c dearer than the previous week. Top line consisted of three-month-old Friesian weaned steer calves 87kg from Tatura, VIC offered by Fenton Hall, which will journey to a buyer in Mount Beauty, VIC.
Steers 200-280kg eased 3c on last week to average 510c with prices ranging from 410c to 665c. From Mansfield, VIC Sparcorp Mansfield Pty Ltd achieved top price with a line of Angus steers 7-8-months averaging 261kg. The steers were of Rennylea blood and will journey to Mount Alfred, VIC.
Steers 280-330kg eased 12c to average 457c this week, with prices from 393c to 577c. Also offered by Sparcorp Mansfield Pty Ltd, the top line consisted of 7-8-month-old Angus steers 310kg which will travel interstate to Albury in the NSW Riverina.
Feeder steers 330-400kg eased slightly, back 7c to average 430c with prices from 335c to 478c. Hailing from Flynns Creek, VIC, the top line consisted of 8-9-month-old Hereford steers 356kg. Offered by Sladin p/l, the steers will journey to a buyer at Archies Creek, VIC.
Steers 400kg+ sold from 306c to 434c this week to average 2c dearer at 402c. Top line was split across two offerings consisting of Hereford yearling steers 416kg at 12-13 months from Oakview Past Co, Wantabadgery, NSW. Both lines will head across the Bass Strait to Trowutta, TAS.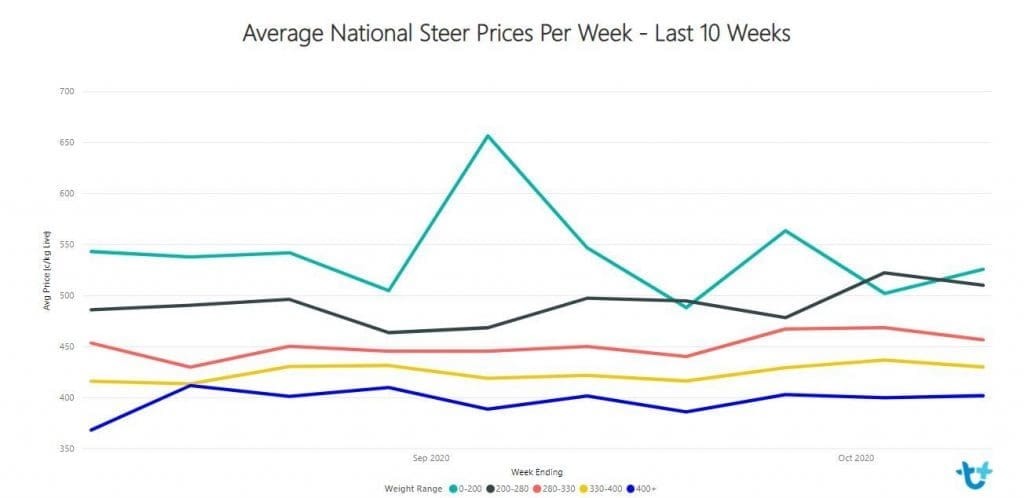 Weaner and yearling heifer listing numbers also saw an increase this week, up 1154 head to total 5854 head. Heifers less than 200kg sold from 413c to 598c to average 44c, back from last week at 470c. Top line consisted of Poll Hereford x Friesian heifer calves five months averaging 166kg from Ballendella, VIC offered by Wokanmel Past Co, which will head to Girgarre, VIC.
Heifers 200-280kg increased by 32c to average 485c with prices from 330c to 579c. Top line hailed from Westmar, QLD and consisted of Angus weaned heifers 6-12 months averaging 224kg. Offered by Fucheng Woodlands, the heifers will journey to Dubbo, NSW with their sisters who returned 577c.
Heifers 280-330kg also trended dearer this week, up 15c to average 464c with prices ranging from 364c to 524c. Hailing from Wagga Wagga, NSW the top line of Angus heifers 12-15-months averaged 309kg. Offered by Ruahine Pastoral Co, the heifers will journey to Brewarrina, NSW.
Feeder heifers 330-400kg sold from 317c to 519c to average 12c dearer at 449c. Hailing from Yass, NSW the top line consisted of 12-13-month-old NSM Angus future breeders averaging 374kg. Offered by A.P Cole, the heifers were Bongongo & Rennylea Angus blood and will journey to Tumut, NSW.
Heifers +400kg sold to a dearer trend, up 28c to average 430c with prices ranging from 370c to 445c. Top line consisted of Angus NSM future breeders aged 12-18-months averaging 420kg, offered by Auchen Dhu Pastoral Co from Walcha, NSW. They will journey to Casino, NSW.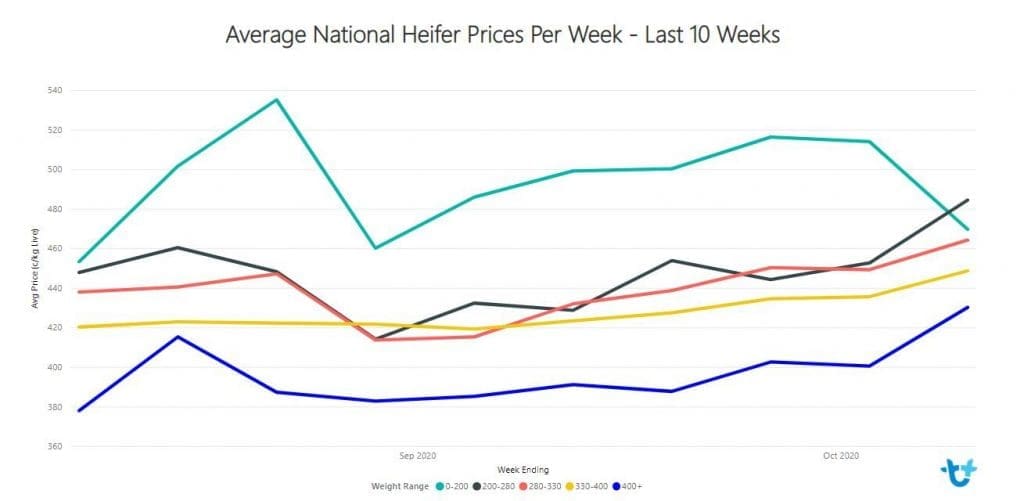 Across the Bass Strait to Tasmania saw a reduced offering of 232 head this week, a decrease of 340 head. Clearance rates remained firm at 98pc. Weaner and yearling heifers sold from 328c to 526c to average 417c. Top line was offered by D & L Padman from Sheffield, TAS with an offering of 6-8-month old Angus unweaned heifers averaging 190kg. The heifers will journey interstate to a buyer in Wodonga, VIC.
Weaner and yearling steers sold from 425c to 489c to average 479c. Top price went to a line of Angus unweaned steers 6-8-months from the same vendors who offered top line of heifers in the same sale. Another highlight included a line of Angus yearling steers 332kg from Mount Direction, TAS which returned $1460 or 448c.
In a breakdown of young cattle sold this week, by weight range:
Less than 200kg: Steers sold from 297-682c to average 526c, while heifers sold from 413-598c to average 470c
200-280kg: Steers sold from 410-665c to average 510c, while heifers sold from 330-579c to average 485c
280-330kg: Steers sold from 393-577c to average 457c, while heifers sold from 364-524c to average 464c
330-400kg: Steers sold from 335-478c to average 430c, while heifers sold from 317-519c to average 449c
+400kg: Steers sold from 306-434c to average 402c, while heifers sold from 370-445c to average 430c
Big lines coming up:
Bettini Beef's De Grey Station near Port Hedland in WA will offer 800 surplus Brahman breeder heifers in next Friday's AuctionsPlus sale, 16 October. Listing details appearing early this week, click here. Short video, click below. Contact: Roger Leeds, Nutrien 0427 775 579.
Fossil Downs via Fitzroy Crossing WA will offer 1368 Droughtmaster steers, No 0's, 170-270kg in next Friday's sale.
Source: AuctionsPlus