Prices trend down in large AuctionsPlus offering
PRICES were down on most stock categories apart from PTIC heifers on AuctionsPlus this week.
After last week's dramatic jump in listings volume, cattle numbers remained steady with a total offering of 16,259 head.
The Weaner & Yearling sale attracted the bulk of listings with 11,845 head listed. New South Wales again offered 65percent of the catalogue, with Queensland contributing 25pc.
PTIC heifers sold from $920 to $1530 to average $1245. Top price went to a line of 19-20 month old Simmental x Angus heifers averaging 480kg, PTIC to Angus bulls, from Orange, NSW. These heifers are heading to Nimmitabel, NSW.
A line of Landfall blood Angus heifers 18-20 months averaging 473kg, PTIC to Angus bulls, from Ross, TAS sold for $1420 to a local Tassie buyer.
PTIC cows sold from $700 to $1450 to average $1025 this week. Proven breeders averaged $1110 and mixed aged lines averaged $913.
Top price went to a line of Hazeldean blood Angus cows from Cooma, NSW. These cows were rising 5 years averaging 556kg and were PTIC to Angus bulls. Another highlight included a line of Te Mania blood Angus cows from Gunning, NSW which sold for $1110. These cows were aged 3-10 years of age averaging 525kg and were PTIC to Angus bulls.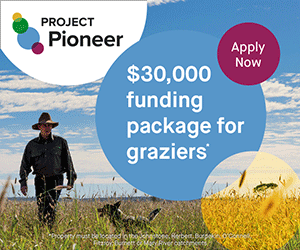 Cow and calf units sold from $510 to $1770 this week, to average $1168. Top price went to a line of Banquet blood Angus cows and calves from Casterton, VIC. These cows were 3-4 years averaging 466kg. From Cooyar, QLD a line of crossbred cows 4-11 years averaging 428kg sold for $950. The Santa and Hereford calves at foot were 1-7 months old and averaged 157kg.
Weaner steers sold from 223c to 342c this week to average 297c, down 10c. Top price went to a line of unweaned Hereford and Hereford cross steers from Bridport, TAS. These steers were aged 8-9 months averaging 272kg and will remain in Tasmania.
Weaner heifers sold from 99c to 275c to average 233c, down 29c. Top price went to a line of Angus heifers 6-8 months averaging 204kg.
Yearling and grown steers sold from 216c to 332c this week to average 285c, down 12c. Top price went to a line of Angus steers from Walcha, NSW, 17-20 months averaging 438kg. Yearling and grown heifers sold from 97c to 300c to average 228c, down 30c. Top price went to a line of Drayton Park blood Red Angus heifers 13-14 months averaging 387kg.
In a breakdown of young cattle sold this week, by weight range:
Steers less than 250kg sold from 224-336c to average 289c; while heifers sold from 97c to 275c to average 221c
Steers 250-300kg sold from 216-342c to average 288c; while heifers sold from 182c to 231c to average 209c
Steers 300-350kg sold from 246-334c to average 298c; while heifers sold from 214c to 261c to average 241c
Steers 350+ kg sold from 319-332c to average 325c; while heifers sold for 300c
Steer Highlights
8 to 9 month old 302kg, Angus steers from WOODSTOCK, NSW sold for 334c/$1010
17 to 20 month old, 438kg, Angus steers from WALCHA, NSW sold for 333c/$1456
8 to 9 month old, 332kg, Angus steers from BINDA, NSW sold for 327c/$1085
5.5 to 8.5 month old, 154kg, Brangus steers from AUGATHELLA, QLD sold for 311c/$480
6 to 8 month old, 301kg, Brangus/Angus/Brangus x steers from GOONDIWINDI, QLD sold for 273c/$820
12 to 15 month old, 294kg, Droughtmaster/Senepol Cross steers from GIN GIN, QLD sold for 271c/$795
7 to 8 month old, 210kg, Angus steers from DRUMBORG, VIC sold for 336c/$705
14 to 15 month old, 349kg, Poll Hereford/Angus steers from WANGARATTA, VIC sold for 293c/$1020
6 to 7 month old, 283kg, Angus steers from BIRREGURRA, VIC sold for 314c/$890
13 to 14 month old, 441kg, Red Angus steers from STRATHALBYN, SA sold for 319c/$1407
8 to 9 month old, 271kg, Poll Hereford steers from BRIDPORT, TAS sold for 343c/$930
7 to 8 month old, 230kg, Red Angus steers from CAMPBELL TOWN, TAS sold for 304c/$700
9 to 10 month old, 317kg, Poll Hereford steers from BRIDPORT, TAS sold for 300c/$950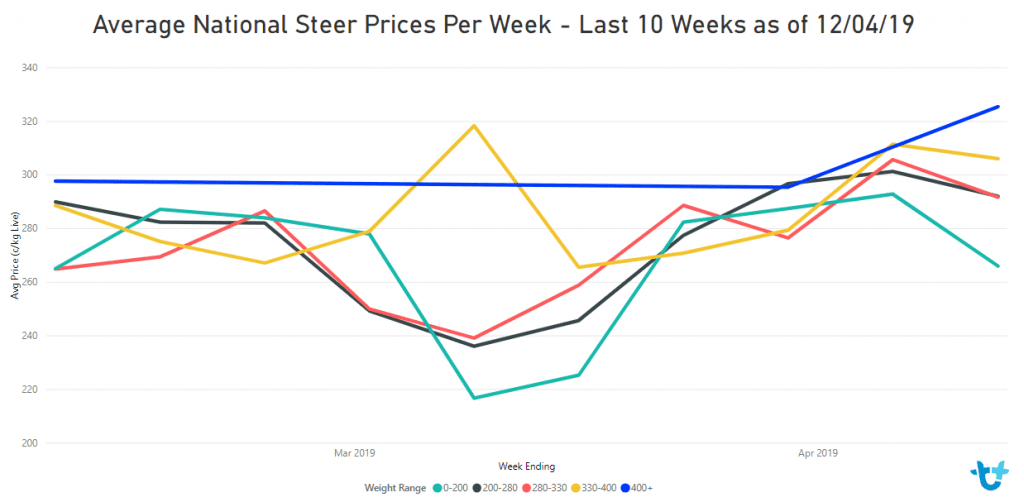 Heifer Highlights
6 to 8 month old, 203kg, Angus heifers from ARMIDALE, NSW sold for 275c/$560
8 to 9 month old, 208kg, Angus heifers from COONABARABRAN, NSW sold for 260c/$542
6.5 to 9 month old, 312kg, Angus heifers from CARGO, NSW sold for 256c/$800
16 to 18 month old, 311kg, Angus heifers from TARA, QLD sold for 249c/$775
4 to 6 month old, 168kg, Santa Gertrudis/Simbrah heifers from MORVEN, QLD sold for 242c/$405
15 to 17 month old, 315kg, Angus/Angus/Brangus heifers from MORVEN, QLD sold for 221c/$695
14 to 15 month old, 328kg, Poll Hereford/Angus heifers from WANGARATTA, VIC sold for 262c/$860
12 to 20 month old, 307kg, Angus/Hereford heifers from YEA, VIC sold for 244c/$750
13 to 14 month old, 387kg, Red Angus heifers from STRATHALBYN, SA sold for 301c/$1163
10 to 13 month old, 338kg, Red Angus heifers from COOMBE, SA sold for 252c/$850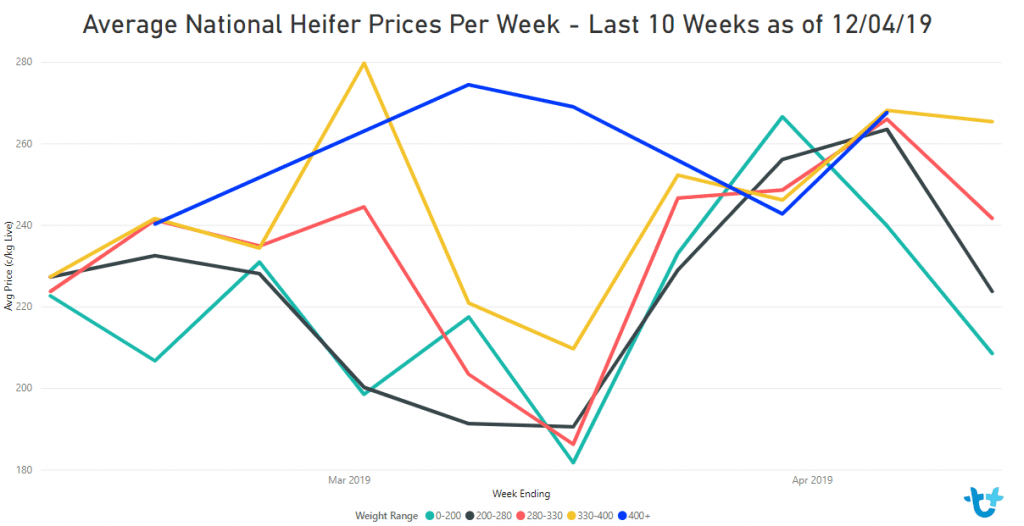 Source AuctionsPlus