WIDESPREAD, but mostly light rainfall across parts of the eastern states, and more rain in prospect may have triggered a 15 percent spike in clearance rates on AuctionsPlus this week, with 70pc of lots finding buyers.
All young steer and heifer weight categories trended higher in price, in some cases by 10-20c/kg.
Numbers offered dropped back this week to total 6781 head, down 12pc on the week before, with the weaner and yearling sale accounting for 62pc of the offering.
Cow & calf units were in high demand with an 88pc clearance recorded for the 1036 head listed, and an average price of $1264, up $56 on last week.
From Everton, VIC, a line of Angus heifers & calves returned the top price of $1810, heading to Berwick, VIC. The heifers are 30-36 months old, with 4-10 week old calves at foot.
Another highlight was a line of 80 heavy Angus cows 4-8 years old and calves from Jugiong, NSW, which made $1550. The line was split into two lots and will be heading to buyers in Dubbo and Blayney, NSW.
Weaned heifers weighing up to 300kg averaged $648 or 250c/kg this week. Top price of 301c went to a line of Angus weaned heifers 12-14 months old averaging 228kg from Goondiwindi, QLD which found a buyer in Bellata, NSW.
Weaned heifers above 300kg were topped by a line of Red Angus from Pipers River, TAS. These heifers were 12-13 months old, averaged 338kg and were bred out of Paringa and Pine Park blood. The heifers found a buyer in Staverton, TAS.
In other parts of the country, Angus yearling heifers 16-18 months averaging 433kg from Albany, WA sold for $1115 or 254c, heading to a buyer near Pemberton, WA. Allendale & Yavenvale blood Poll Hereford yearling heifers 12-13 months averaging 318kg from Wantabadgery, NSW sold for $720 or 236c, and are making their way to Cudal, NSW.
Angus yearling steers 12-14 months averaging 389kg from Drysdale, VIC sold for $1150 or 295c, heading to Beech Forest, VIC. Murray Grey yearling steers 14-15 months averaging 345kg from Scottsdale, TAS sold for $1090 or 316c, finding a buyer in Barrington, TAS.
A line of 120 EU-eligible Shorthorn x Droughtmaster weaned steers 5-10 months averaging 211kg from Barcaldine, QLD sold for $665 or 332c, heading to Taroom, QLD.
Among other larger lines sold this week:
100 Angus NSM future breeders, 12-14 mths at 301 kg, from Inverell NSW made 287c/$865
111 Angus NSM future breeders, 13-15 mths at 320 kg from Henty NSW made 263c/$840; with a line of 118 lighter heifers from the same vendor, 275 kg, made 275c/$755
119 Brahhman cross backgrounder steers, EU, 18-21 mths at 346 kg, from Emerald, central QLD made 269c/$933.
120 Angus weaned heifers, 12-14 mths at 219 kg from Goondiwindi QLD made $660; while 108 Angus weaned heifers, 12-14 mths at 277kg made $760
74 Santa x Droughtmaster weaned steers, 7-10 mths at 290kg from Longreach QLD made $725; while a further 79 lighter siblings 257kg made $650.
In a breakdown of young cattle sold this week, by weight range:
Steers less than 250kg sold from 160c to 332c to average 270c; while heifers sold from 233-314c to average 271c
Steers 250-300kg sold from 250-350c to average 288c; while heifers sold from 217-289c to average 250c
Steers 300-350kg sold from 255-337c to average 298c; while heifers sold from 204-298c to average 257c
Steers +350kg sold from 246-338c to average 308c; while heifers sold from 240-271c to average 258c
Steer Highlights
13 to 14 month old, 275kg, Angus Cross steers from WALCHA, NSW sold for 351c/$965
13 to 14 month old, 360kg, Angus steers from COOTAMUNDRA, NSW sold for 338c/$1215
5 to 10 month old, 200kg, Shorthorn x Droughtmaster steers from BARCALDINE, QLD sold for 333c/$665
12 to 16 month old, 267kg, Angus steers from GLENMORGAN, QLD sold for 280c/$745
12 to 14 month old, 390kg, Angus steers from DRYSDALE, VIC sold for 296c/$1150
11 to 13 month old, 256kg, Angus steers from DARRIMAN, VIC sold for 250c/$640
14 to 15 month old, 345kg, Murray Grey steers from SCOTTSDALE, TAS sold for 317c/$1090
13 to 14 month old, 349kg, Murray Grey/Angus/Hereford steers from SCOTTSDALE, TAS sold for 301c/$1050
24 to 30 month old, 679kg, Angus steers from BALINGUP, WA sold for 246c/$1669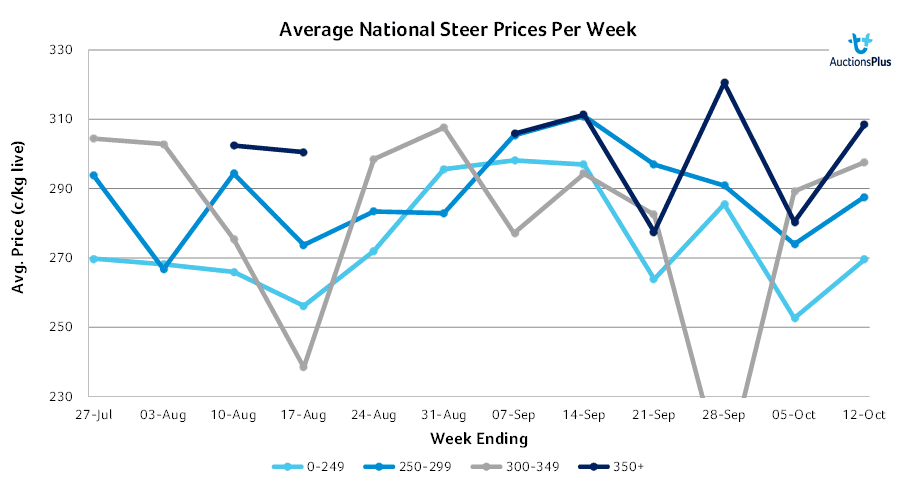 Heifer Highlights
14 to 15 month old, 342kg, Angus heifers from BARRABA, NSW sold for 299c/$1020
22 to 24 month old, 443kg, Angus heifers from GALONG, NSW sold for 271c/$1200
12 to 14 month old, 219kg, Angus heifers from GOONDIWINDI, QLD sold for 302c/$660
12 to 14 month old, 278kg, Angus heifers from GOONDIWINDI, QLD sold for 280c/$775
12 to 13 month old, 337kg, Red Angus heifers from PIPERS RIVER, TAS sold for 286c/$960
24 to 26 month old, 440kg, Angus heifers from SIDMOUTH, TAS sold for 264c/$1300
15 to 16 month old, 392kg, Angus heifers from ALBANY, WA sold for 262c/$1025
16 to 18 month old, 438kg, Angus heifers from ALBANY, WA sold for 255c/$1115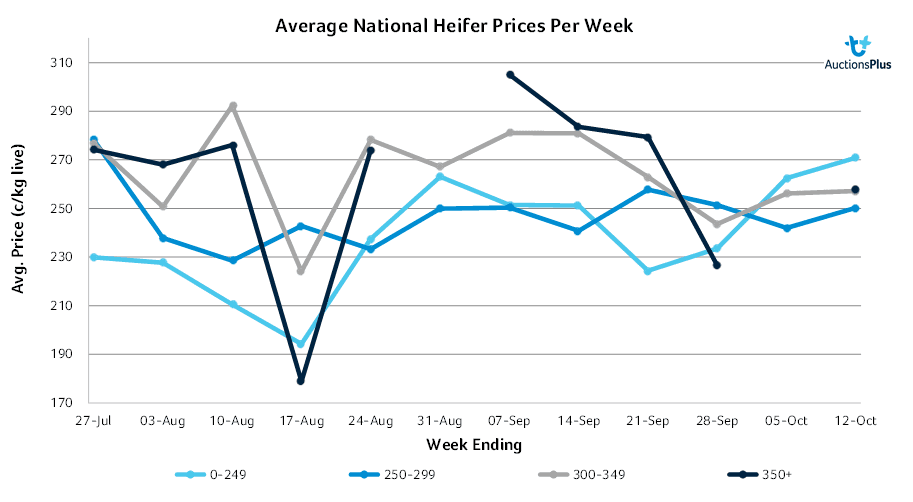 Source: AuctionsPlus