AuctionsPlus's first commercial cattle sales of winter registered a jump in offerings, with the 21,444 head up ten percent on last week – the largest weekly offering since mid-March.
While lighter steer and heifer categories trended higher in price, there were some big falls among mediumweight and heavier categories. The majority of breeding cattle values also declined.
The cold blast hitting the east coast contributed to mixed results across the offering, with the majority of prices losing the gains from previous weeks. While the wet finish to May continues to maintain seasonal confidence, buyers also remain very selective through the key breeding lines.
The increased offering of 200-280kg steers failed to dint prices this week, with the 3588 head offering averaging 23c/kg higher at 748c/kg. While the overall clearance rate was subdued at 58pc, competition for the lighter lines was fierce, especially from southern Queensland producers.
From Breadalbane, North Queensland, a line of 116 weaned Brangus steers 6-9 months averaging 233kg returned $1890 or 811c/kg.
Accounting for 11pc of the steer offering, 280-330kg steers were impacted by cautious buying, ranging from $1100 to $2320, averaging $1928/head – back $234. In c/kg terms, average prices fell 67c/kg.
From Inverell, NSW, a line of Angus steers 8-11 months averaging 312kg returned $2100 or 674c/kg.
The heavy steer offering had the highest clearance rate for the week, with 330-400kg and 400kg+ both clearing 84pc. Steers 330-400kg averaged 591c, back 25c/kg for the week, while the limited 400kg+ offering averaged 534c, back 31c.
From Meningie, Upper Southeast SA, 49 yearling Angus steers 15-16 months averaging 459kg returned the top category price of $2890/head, or 629c/kg.
The heifer offering was impacted by a softer market, with four out of the five categories back on the previous week. With listings up 40pc on last week, 200-280kg heifers averaged 637c/kg, back 118c/kg. From Churchill, Victoria, 13 weaned Speckle Park x Angus heifers 7-10 months averaging 225kg returned $1400 or 623c/kg.
Almost 1600 280-330kg heifers offered produced just a 37pc clearance, averaging 557c/kg, back 166c/kg on last week.
Impacted by a subdued market and limited offerings, 400kg+ heifers achieved the highest clearance rate at 94pc for the 336 head offered. From Tarcutta, NSW, a line of 34 Poll Hereford feeder heifers 14 -20 months averaging 382kg returned $1950 or 510c/kg.
Breeding cattle
The proven breeder category was again dominated by PTIC lines, making up 20pc of the breeding stock offered. Buyer caution remains with prices mixed on last week, while clearance rates highlight demand for the cow categories. With numbers back on last week, the 2740 PTIC heifers sold to a very cautious market, with a 49pc clearance, averaging $31 lower on last week, at $2701/head.
From Hannaford, Southern Queensland, a line of 50 Santa PTIC heifers 20-32 months averaging 411kg returned $2700.
PTIC cows registered a robust clearance at auction, with the 1890 head achieving an 81pc clearance. Prices for the category followed the same trend as PTIC heifers, back $38 on last week, to average $2765/head. From Kingston, Southeast SA, 62 Angus PTIC cows four years averaging 484kg returned $3500.
From Acheron, Central Victoria, a line of 20 NSM Angus cows and calves, returned $3850/head. The cows were from 5-6 years averaging 627kg – while the Banquet Angus sired calves at foot were 1-9 months averaging 90kg.
From Ironpot near Kingaroy in southern Queensland, a run of 150 Brangus heifers sold in five lots, ranging from 16-28 months ranging from 400-450kg mostly made 604-675c/kg for younger lines, and 554c for an older line.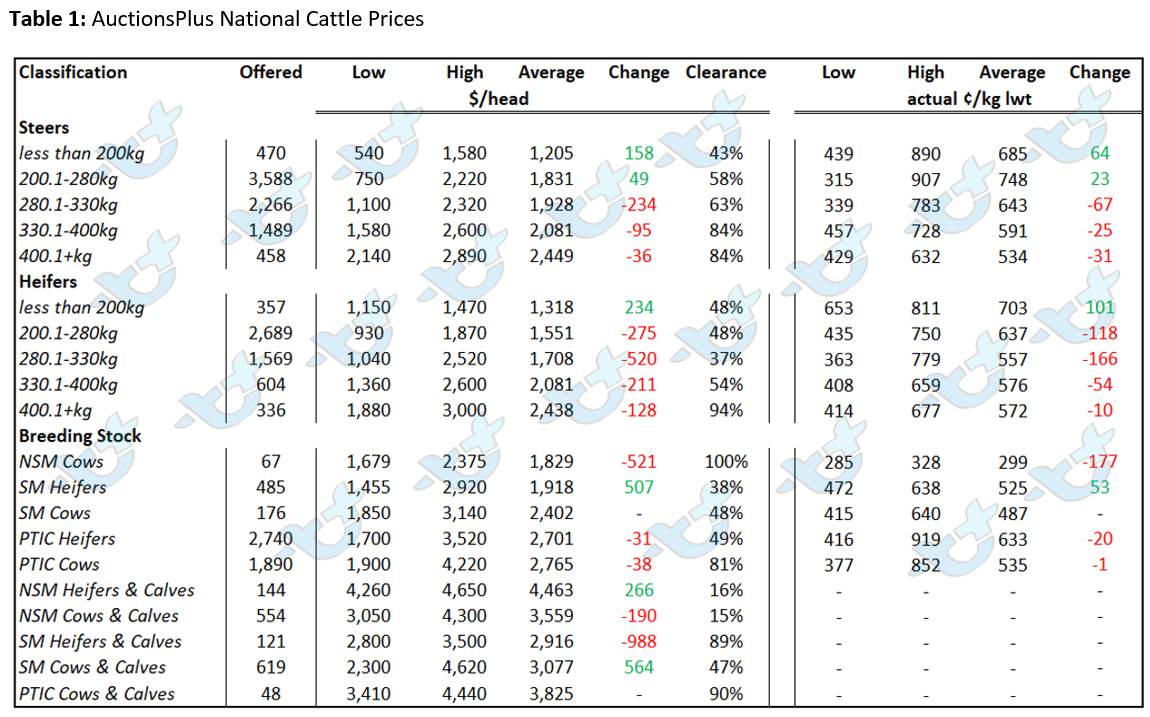 Source: AuctionsPlus