ONLINE commercial cattle offerings hit 21,160 head this week, up 15 percent on the previous week and the highest seen since April 2021.
There was an abundance of mid-weight steers, heifers and PTIC breeders boosting numbers.
With a return to regular sales and larger volumes of cattle hitting the market, the state of the cattle market remains robust across the key medium and heavyweight steer and heifer categories while lighter lines recorded some softening in prices.
Clearance rates increased across all steer categories, while lighter lines saw prices soften and erase the previous few weeks gains to reflect the true value of the cattle market.
Steers in the 200-280kg category sold to a clearance of 82pc with the category averaging 701c/kg – back 29c on the previous week. From Bingara, New South Wales a line of Angus/Ultraback/Droughtmaster unweaned steers 6-9 months averaging 239kg returned 841c/kg or $2010/head.
Steers 280-330kg had a total of 2015 head offered which sold to an 82pc clearance with the category averaging the same as last week at 662c/kg. A line of 91, 9-10-month-old Angus steers from Mount Compass, South Australia averaging 306kg returned 783c/kg or $2400.
Steers in the mid-weight 330-400kg category had the largest offering for young cattle this week with 2630 head offered, which returned an 81pc clearance as prices remained robust to average 625c/kg – back 2c on last week.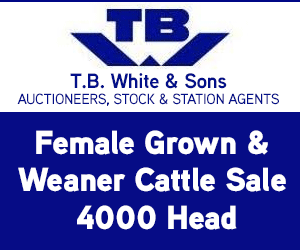 Heifer listings increased week-on-week with 7338 head offered, returning mixed results across the respective categories.
Heifers 200-280kg had a total of 1529 head listed which was met with robust demand and a 95pc clearance. Average prices lifted 52c/kg from the previous week to average 750c/kg.
From Tambo, Queensland a line of 118 backgrounder Droughtmaster/Angus cross heifers 243kg at 5-14 months returned 689c/kg or $1691.
Heifers 280-330kg sold to a 77pc clearance for the 1170 head offered, with the category returning an average of 656c/kg- back 1c on last week.
A line consisting of 110 Angus NSM future breeder heifers from Nundle, NSW, 10-12 months averaging 287kg returned 752c/kg or $2050.
Heifers 330-400kg recorded a significant rise in listings this week with the category almost doubling to 2204 head. Unwavering demand was evident as both clearance and demand remained robust despite the increased volume with the category averaging 608c/kg- easing 1c from last week.
Among larger lines sold this week, 232 Droughtmaster and Brahman cross backgrounder heifers 5-14 months averaging 244kg from Tambo in Central western Queensland made from 655c to 689c/kg, to return from $1610 to $1675.
Breeding cattle
Proven breeding lines saw PTIC heifer and cow categories account for a majority of the offering this week, with 3445 and 1378 head listed, respectively. Following softened prices for PTIC heifers last week, the category bounced back to average $3205/head- up $118 with clearance rates remaining firm at 75pc.
Hailing from Darwin, Northern Territory a run of 112 PTIC Brahman heifers 16-28 months averaging 335kg returned $1750/head, when purchased by a New South Wales buyer. PTIC cow prices recorded a drop in value again this week with the category back a further $86 to average $2837, with clearance for the category remaining strong at 81pc.
Station mated cows and calves had a total of 927 head listed which averaged $3543/unit – back $1 from last week with the category recording a lowered clearance of 59pc. A line of 41 station mated Charolais x Santa cows with calves at foot from Coonamble, NSW 2-4 years averaging 486kg returned $3820/unit.
Prices as at 2pm, Friday 4 February.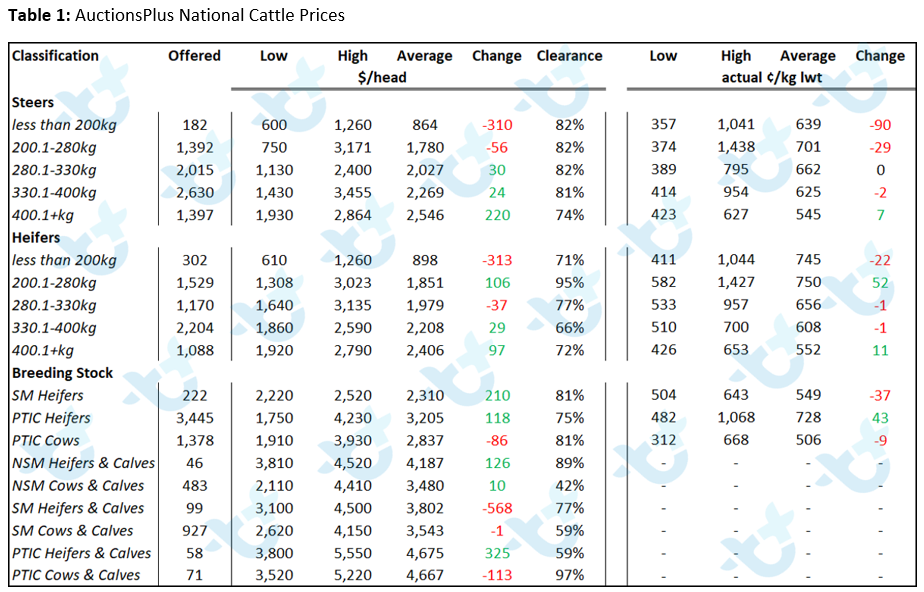 Source: AuctionsPlus