MANY categories struggled to gain traction in a dry-affected AuctionsPlus cattle market again this week.
Cattle numbers were considerably back on the online marketing platform, with 5957 head offered, down about 4400 head from the week before, when big lines out of WA boosted volume.
Clearance rates remained steady at around 53 percent. All states struggled to get lots away except for Tasmania holding strong at an 89pc clearance rate, with parts of the state still looking in good nick as the industry moves through spring. Of note 40pc of stock sold in NSW this week will be crossing the border, heading into QLD, VIC and SA.
Cow and calf units were back this week, averaging $1669, topping out at $2020 for Angus third-calvers with progeny out of Limousin bulls, staying within the Albury/Wodonga area.
Joined females struggled to gain attention due to the dry, restockers continuing to pull back with only three from 19 lots selling, the majority of those being passed in. However a quality small line of black and black baldy heifers from Padthaway, SA, PTIC to low-birthweight Angus bulls from Newry Station fetched an impressive $1920 in a tough market.
Friesian cross heifer calves out of Tasmania made 374c to 389c/kg.
In a breakdown of young cattle sold this week, by weightrange:
Steers less than 250kg sold from 278c to 375c/kg to average 339c (up 9c); while heifers sold from 306-390c to average 357c (up 129c)
Steers 250-300kg sold from 281-352c to average 324c (up 3c); while heifers sold from 256-344c to average 285c (up 14c)
Steers 300-350kg sold from 249-334c to average 297c (up 7c); while heifers sold from 255-335c to average 282c (up 20c)
Steers 350kg + sold from 257-347c to average 285c (up 8c); while heifers sold from 228-292c to average 266c (down 24c)
Steer Highlights
Droughtmaster steers 7-9 mths 236kg from RICHMOND, QLD sold for 358c/$845
Santa Gertrudis steers 11-15 mths 372kg from ST GEORGE, QLD sold for 287c/$1067
Angus and Angus x Santa steers 10-14 mths 313kg from MOONIE, QLD sold for 334c/$1045
Angus steers 5-7 mths 231kg from MERRIWA, NSW sold for 375c/$865
Angus steers 12-13 mths 298kg from DUNEDOO, NSW sold for 341c/$1015
Speckle Park x Angus steers 13-15 mths 404kg from MANILLA, NSW sold for 283c/$1140
Angus steers 11-12 mths 332kg from MORTLAKE, VIC sold for 313c/$1040
Angus steers 8-10 mths 437kg from MELROSE, SA sold for 285c/$1245
Poll Hereford steers 11-12 mths 270kg from HAGLEY, TAS sold for 352c/$951
Poll Hereford x Angus steers 11-13 mths 366kg from NABOWLA, TAS sold for 347c/$1270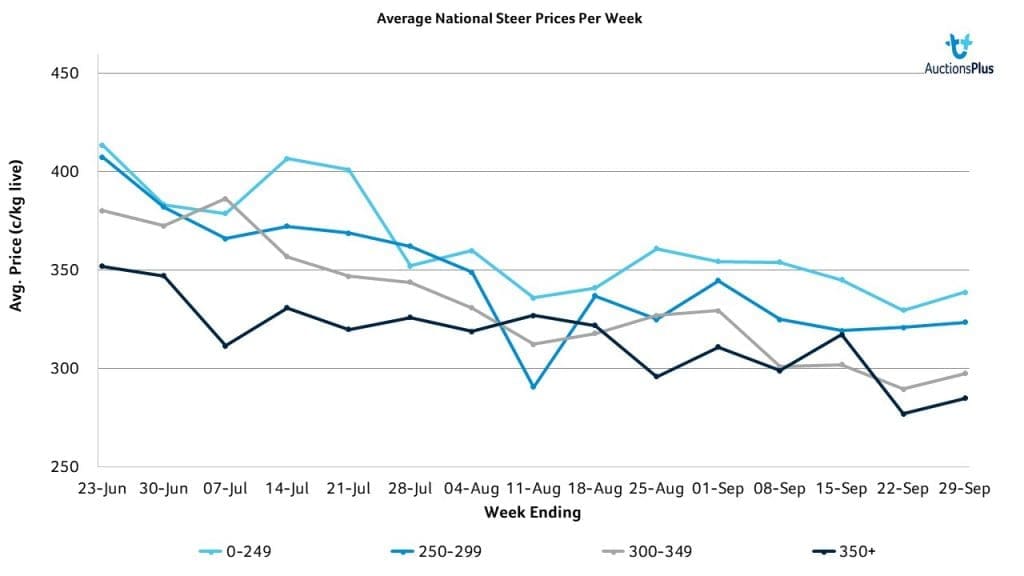 Heifer Highlights
Angus and Angus cross heifers 12-18 mths 419kg from YELARBON, QLD sold for 265c/$1110
Charolais and Charolais cross heifers 10-15 mths 312kg from JUNDAH, QLD sold for 255c/$795
Angus heifers 13-14 mths 342kg from BLAYNEY, NSW sold for 307c/$1050
Angus heifers 5-7 mths 217kg from MERRIWA, NSW sold for 306c/$665
Angus heifers 16-17 mths 462kg from COONAMBLE, NSW sold for 262c/$1210
Angus heifers 17-18 mths 430kg from MANSFIELD, VIC sold for 277c/$1190
Angus heifers 13-14 mths 346kg from DERGHOLM, VIC sold for 269c/$930
Angus heifers 9-11 mths 358kg from GERANIUM, SA sold for 292c/$1044
Hereford x Friesian heifers 5-6 mths 169kg from ELIZABETH TOWN, TAS sold for 390c/$660
Poll Hereford heifers 12-13 mths 317kg from FINGAL, TAS sold for 335c/$1061.