Cattle producer share of the retail dollar declines
Japan FTA aims to deliver benefits for Australia in early 2015
US cattle on feed numbers still down
Thursday daily cattle summary
Cattle market alert
Cattle producer share of the retail dollar falls
30 October 2014
Cattle producers in Australia received 32.6 percent of the retail dollar, on average, during the September quarter. The share was down from 33.5pc in the June quarter.
The figure is calculated by taking the average national saleyard carcase weight trade steer price for the quarter, collected by MLA's NLRS, adjusting for a yield conversion from carcase weight to retail weight (68.7pc), and dividing this by the average retail price, collected by ABARES.
The calculation for the September quarter is as follows:
Trade steers averaged 366¢/kg cwt
Converting to retail weight at a 68.7pc yield takes the price to 533¢/kg rwt
533¢/kg rwt out of 1633¢/kg at retail is 32.6pc.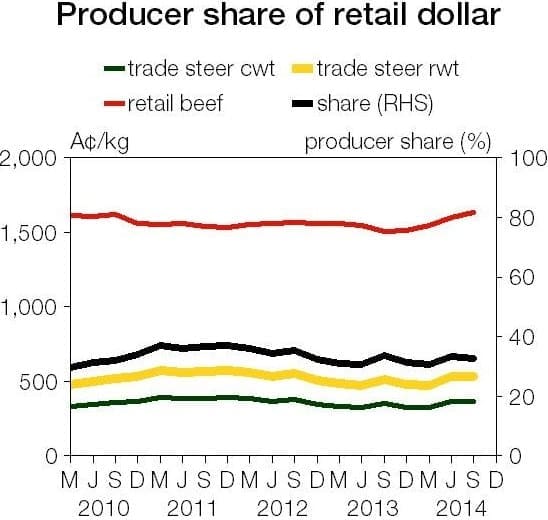 The average saleyard price for trade steers during the September quarter was 366¢/kg cwt, which was 5pc higher than the same time last year, and 1pc below the previous quarter.
At the time of the previous retail beef high, in the 2010 September quarter, trade steers averaged 355¢/kg.
According to ABARES figures, Australian retail prices for beef during the September quarter were the highest on record, with the $16.33/kg average surpassing the previous high of $16.23 in the September 2010 quarter. This was 8pc higher than the same time last year, and 2pc higher than the June quarter.
MLA says the producer share of the retail dollar should be considered in conjunction with a group of indicators that are published by MLA on behalf of the industry. These indicators include production figures, export volumes and value (given around 70pc of production is exported), the A$, consumption and domestic expenditure.
JAEPA aims to deliver benefits for Australia in early 2015
29 October 2014
The Japan Australia Economic Partnership Agreement (JAEPA) is expected to enter into force in early 2015, following the completion of domestic procedures in both countries. This will provide a significant advantage to Australian product over other imported beef suppliers, especially with the possibility that Australian red meat will be advantaged by two tariff cuts next year.
Trade minister Andrew Robb welcomed the Joint Standing Committee on Treaties' (JSCOT) strong endorsement of the landmark bi-lateral trade framework.
"The Committee noted that JAEPA will give Australian industries, particularly agriculture, a major first-mover advantage over our competitors in the Japanese market," Mr Robb said.
If JAEPA entry into force (EIF) is secured during the first quarter of 2015, the first tariff cuts on beef will be delivered (a 6pc cut for chilled beef and 8pc for frozen beef) with a second tariff cut (1pc chilled and 2pc frozen) due on 1 April 2015 (the commencement of the Japanese fiscal year).
In Japan, it has been reported that the government is aiming to have the JAEPA-related bills approved and enacted by the end of the current extraordinary Diet session on 30 November. The agreement should then come into force 30 days after the governments of Japan and Australia secure endorsement of the agreement from their respective parliaments and exchange documents.
US cattle on feed numbers still down
29 October 2014
October was the 26th month in a row that the number of cattle in US feedlots was lower than one year earlier, according to figures from the latest US Department of Agriculture Cattle on Feed report. At the beginning of October, the total number on feed was estimated at 10.058 million head, 1pc below the year-ago level. Placements were 1pc higher than last year, at 2.007 million head, while marketings were close to steady, on 1.683m. The figures were close to what was expected by US analysts, on average, so should have little impact on futures trading.
While the number of cattle in feedlots has been dropping over the last couple of years, this has been partly offset by continuing average weightgains, as feeders have kept cattle on feed  longer, and used cheaper grain to finish their stock. In the last few weeks, average steer carcase weights have been over 400kg, and heifers around 370kg – much higher than Australia's average adult carcase weights of around 280kg.
US CattleFax suggests that supplies of fed cattle will be particularly tight in the next few weeks, and are likely to remain lower than last year for the remainder of 2014. The number of cattle being placed on feed at the moment is likely to support reasonable beef supplies early in 2015, but prices should remain close to current highs throughout the US supply chain.
Thursday daily cattle summary
30 October 2014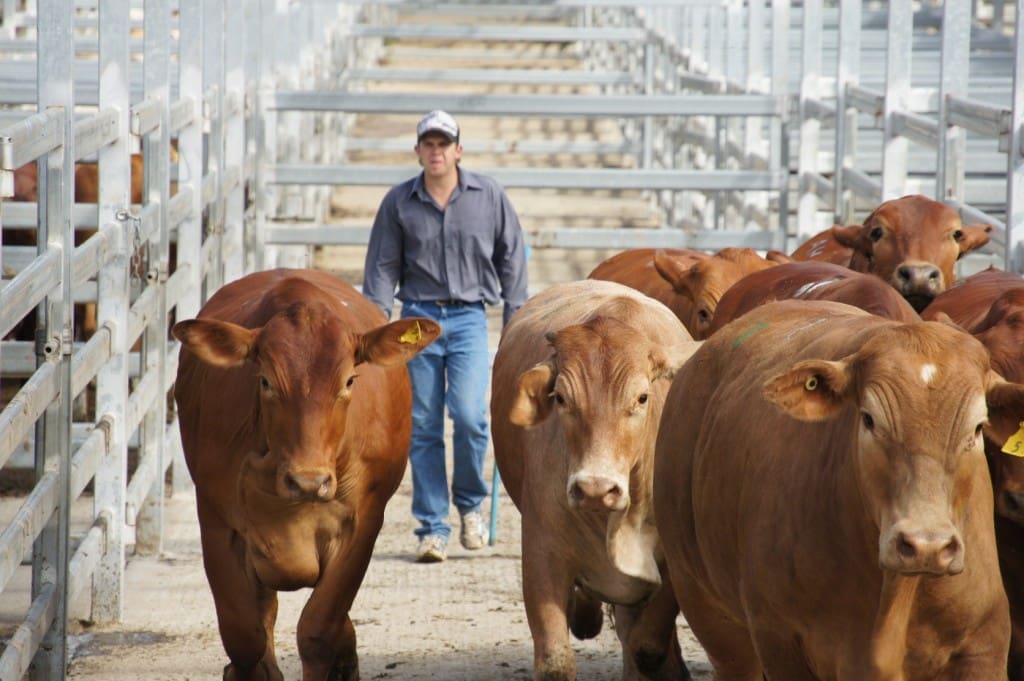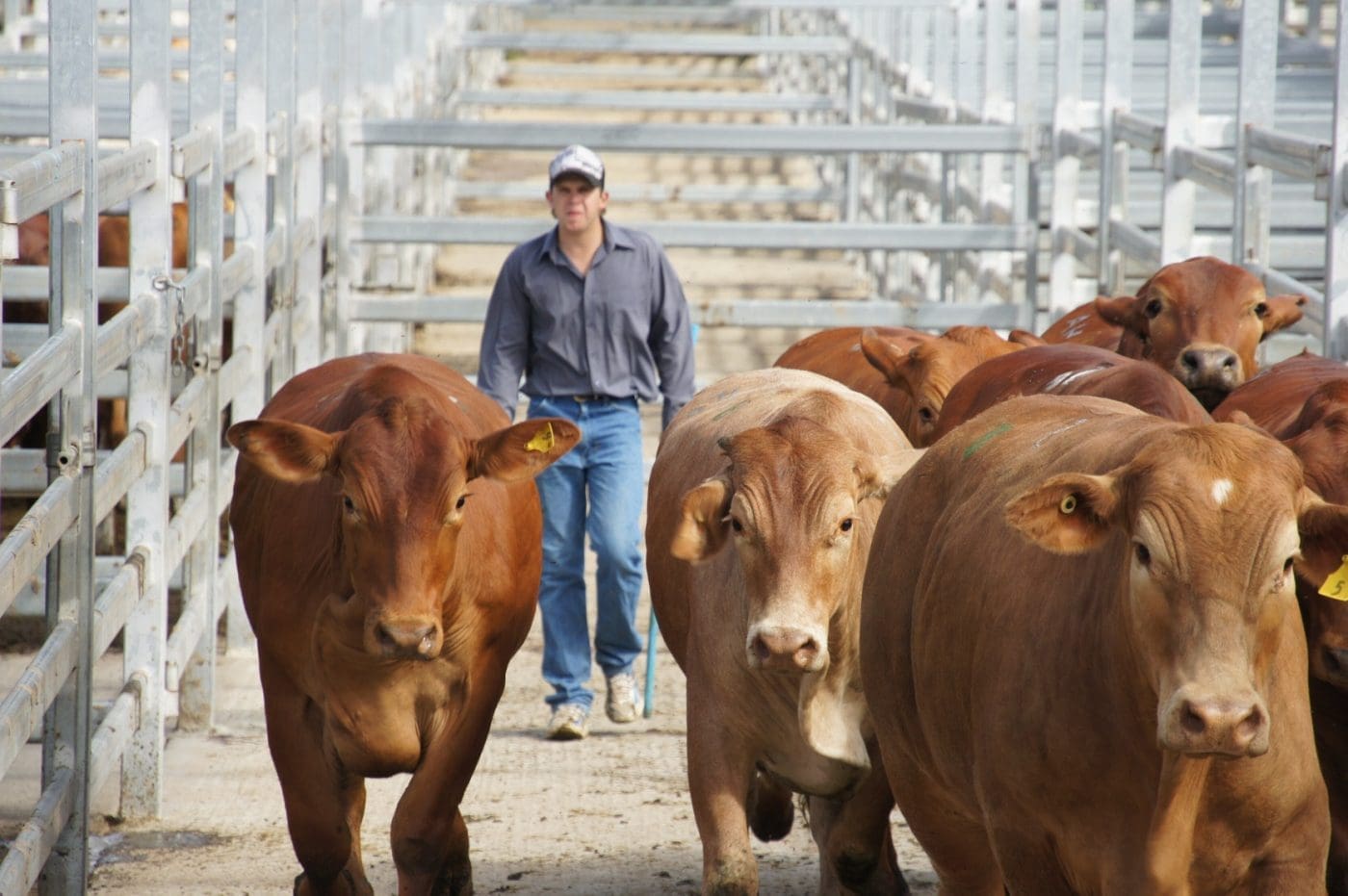 Saleyard numbers at Dalby this week eased 3pc week-on-week, at 5263 head, with all the major export processors, the usual feeder buyers and some restockers in attendance. Lightweight yearlings continued to be of mixed quality, however there were large consignments of well-presented medium and heavyweight yearling heifers which sold to strong demand. After the fall in prices last week, export slaughter cattle rallied, with prices mostly lifting 3¢ to 6¢. Heavy C3 yearling steers to feeders eased 7¢, averaging 199¢, while medium C3 yearling heifers to feeders gained 9¢, averaging 183¢. To slaughter, heavy C4 grown steers averaged 203¢, up 6¢, and heavy D4 cows averaged 166¢, up 3¢.
Casino yarded 1153 head, back 5pc week-on-week, with about 800 head of young cattle offered. The quality of young cattle was fairly plain and sold to a mixed trend. Cows dominated the grown cattle section and prices mostly eased. Medium C2 vealer heifers to slaughter averaged 184¢, up 4¢, while light D2 yearling heifers averaged 130¢, back 20¢. Light E1 cows returning to the paddock averaged 81¢, back 14¢, and sold to a top of 115¢.
Consignments to Warrnambool eased 18pc week-on-week, with the 1148 head yarded attracting the usual following of buyers. Quality continued to be mixed, however prices steadied after recent falls and some lines across all categories rallied. Heavy C3 yearling steers to slaughter eased 4¢, averaging 176¢, and the same heifer portion eased 3¢, averaging 159¢. Heavy C3 grown steers to processors eased 6¢ averaging 168¢, while heavy D3 cows trended 6¢ dearer, averaging 145¢.
Cattle market alert
29 October 2014
Cattle throughput declines: Total national saleyard cattle supply so far this week declined 25pc from last week, at 35,969 head, with most states penning fewer numbers. Consignments in Queensland were back 19pc week-on-week, with 8786 cattle yarded, with Roma yarding similar numbers as the hot and dry weather continues, while NSW throughput reduced 34pc, at 15,005 head, harvest reportedly underway across the state. Cattle supply across Victoria was 25pc lower, at 6572 head, with all reported sales back on last week, except Pakenham, up 19pc to 1876 head, while SA declined 4pc overall, at 2266 head. Numbers in WA increased 6pc, to 3115 head, while total supply across Tasmania was back 31pc week-on-week, at 225 head.
Limited restocker interest across most markets: Across the northern markets, restocker interest was limited at Roma store sale, while reduced feedlot demand assisted buyers being more selective on purchases. Lightweight, poor quality met limited demand from buyers, with good quality yearlings seeing strong competition from feeders and the trade at Toowoomba, while there was still some restocker interest present at Warwick, despite the hot, dry conditions.
Further south, quality remained mixed at Wagga this week as cattle were drawn from a large supply area, while trends were mostly cheaper at Gunnedah, with little pressure on supply for processors and lotfeeders. There was reduced feedlot and restocker competition reported at Tamworth this week, while several local restocking orders met with keen demand for secondary yearling steers and heifers.
Source: MLA