MLA's market intelligence team looks back on market trends in 2018 and to the year ahead
LOOKING back at 2018, the year started off with an element of optimism in the cattle market.
The seasonal outlook appeared to favour restocker buying –  in the short-term –  with the Eastern Young Cattle Indicator (EYCI) opening the year at 562.75¢/kg carcase weight (cwt), following a period of consolidation the year prior. Intentions were for the herd to continue to rebuild and a general expectation that young cattle supplies would remain tight throughout the year.
The EYCI currently sits at 526.50¢/kg cwt (as at 13 December) – having reached a low of 444.5¢/kg cwt in August. Restocker buyers have largely been spectators, as the store market came under pressure from the poor season that eventuated.
In August, NSW was declared 100 percent in drought and many areas across the eastern seaboard suffered from some of the lowest rainfall on record during the winter months. Supplementary feeding become essential for a large proportion of producers, as pasture availability was limited. Unfortunately, a poor harvest unfolded in 2018, which led to rising grain prices and provided no reprieve for the industry.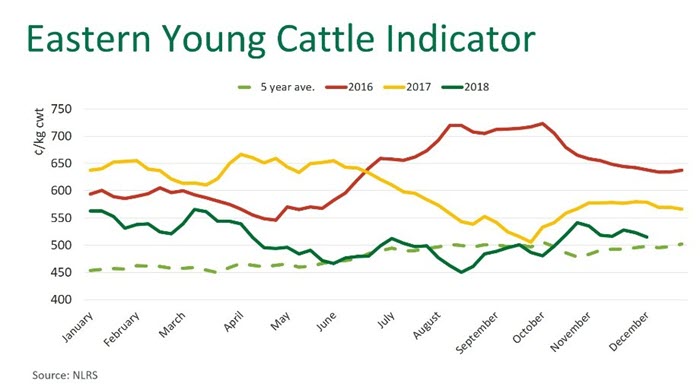 The number of adult cattle processed nationally for the year-to-October (latest available ABS data) lifted 10% year-on-year, to 6.6 million head, with the aforementioned conditions elevating turn-off. Queensland adult cattle slaughter increased 9% compared to the same period last year, while NSW increased 11% year-on-year. Adult cattle slaughter is forecast to finish 2018 close to 7.8 million head, 9% up year-on-year. Female slaughter – 22% higher year-on-year – has been the driver behind elevated slaughter numbers and the herd re-entering a period of contraction, as producers had little choice but to reduce their breeding herd.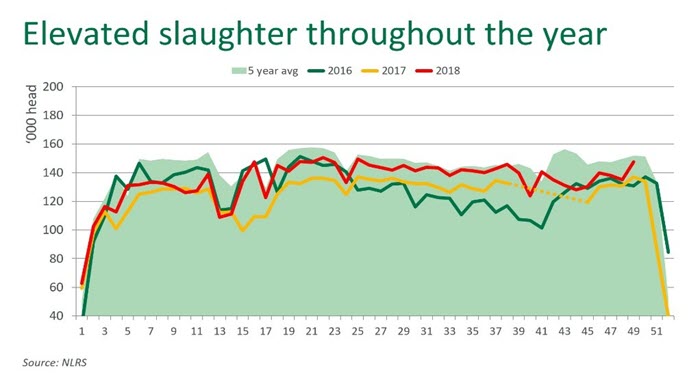 The poor season led to competition for well-conditioned finished cattle intensifying as the year progressed. This was supported by robust overseas demand and a depreciation of Australian dollar creating favourable export trading conditions. Processor competition consequently lifted and as a result, the heavy steer over-the-hook indicator (300–400kg, A-C muscle) inQueensland, NSW and Victoria gained momentum during the year.
December 2018 heavy steer over-the-hook indicator (300–400kg, A-C muscle) average compared to January 2018 average:
Queensland – averaged 551¢ – up 15% or 70¢
NSW – averaged 516¢ – up 8% or 29¢
Victoria – averaged 503¢ – up 3% or 17¢.
Cattle on feed at the end of the September 2018 quarter surpassed the record set in the June quarter, rising to 1.13 million head, with feedlots playing a drought mitigation role and in turn supporting beef production. Feedlot profitability faced some headwinds throughout the year, primarily in the form of rising grain costs, as crop yields were hard hit. Despite record numbers of cattle on feed, it was not enough to offset a decline in average adult carcase weight during the year, as conditions left producers chasing weight. However, the increased turn-off will see beef production in 2018 likely reach close to 2.3 million tonnes carcase weight, its highest total since 2015.
Export markets have benefited from the additional product available, with developing markets, in particular Asia, soaking up beef from all suppliers in 2018. Calendar year-to-date exports to all markets lifted 12%, to 1.04 million tonnes shipped weight (swt) representing the sixth consecutive year of exports exceeding one million tonnes swt.
Beef exports to key international markets for the calendar year-to-November
Japan totalled 290,100 tonnes swt an increase of 8% year-on-year
US reached 215,500 tonnes swt, no change on the year prior
Korea lifted 15%, totalling 154,200 tonnes swt
China totalled 146,700 tonnes swt, increasing 50% year-on-year
Indonesia and the Philippines increased 17% and 14%, to 54,000 tonnes swt and 35,400 tonnes swt, respectively.
Japan
Japan will finish 2018 as Australia's biggest export market for beef, despite ongoing competition from the US throughout the year. Australian beef remains a family favourite among Japanese consumers and has an established presence throughout foodservice and retail channels. The value of trade to Japan looks likely to exceed $2 billion, accounting for the largest year by value since 2005.
US
Robust demand from Asian markets – with importers paying a premium over US end users – has diverted product away from the US market, in particular cuts that would have otherwise been destined for manufacturing beef. However, expanding US beef production has also been a limiting factor in Australian beef shipments to the market.
Korea
Despite intensifying competition from the US, beef exports have continued to benefit from steady consumer demand and Australian product continues to perform well based on its status as a safe and trusted product in the market. The value of trade to Korea is on course for a new record, if achieved it would be the fourth record year out of the last five.
China
The Australian beef industry has been a beneficiary of China's expansion this year, with an increase of low and high value cuts shipped to the market. Australian manufacturing exports to China doubled in the first nine months of 2018, while premium chilled and grainfed shipments increased by a similar magnitude. China is now the single largest export market for beef from Brazil, Argentina and Uruguay, and a major buyer of product from New Zealand (second) and Australia (fourth). The expansion of trade reflects demand from a growing class of urban consumers that can afford beef.  Tighter regulation of the grey channel and the outbreak of African swine fever have also played contributing roles to the lift in volumes exported to China.
Looking ahead
Many producers that have held onto stock throughout 2018 will be desperate for a turn-around in fortunes and more consistent rainfall in 2019. The significant slaughter of females in 2018 has impacted the size of the breeding herd and potential pool of cattle available for slaughter next year. With many feed stockpiles depleted a better than average Northern wet season is needed to avoid another wave of destocking.
Keep an eye out for MLA's 2019 Cattle industry projections in January, which will provide a market outlook, along with insights behind expectations on production, as well as key markets to watch for in the New Year.
Source: Meat & Livestock Australia. This article was first published on the MLA website on December 12 and the EYCI figure has been updated to the closing market price of 526.50 – to view original article, click here