WITH anticipated lack of numbers heading into spring, a number of feedlots were active on AuctionsPlus this week, looking at lighter stock to shore-up feeder supply.
Heifer prices in all weight categories trended down, while most steer categories were slightly stronger in price.
Total catalogue numbers this week reached 8719 head, a 10 percent increase on the previous week.
PTIC heifers sold from $950 to $1285 to average $1095, with the top price paid for a line of Hazeldean blood Angus heifers from Cooma, NSW aged 22-35 months averaging 480kg and PTIC to Angus bulls.
From Skipton, VIC a line of 142 rising two-year-old Angus heifers averaging 373kg and PTIC to Angus bulls sold for $950.
PTIC cows sold from $1140 to $1480 this week to average $1343. From Gilgandra, NSW a line of Charolais x Hereford cows, 4-6 years averaging 609kg and PTIC to Limousin and Charolais bulls, sold for $1400.
Cows and calves this week sold from $1100 to $1610 to average $1383. The top price went to two lines of Maine Anjou cows and calves from Brocklesby, NSW. The first line comprised three-year-olds averaging 531kg, with Angus calves at foot. A second line of four-year olds averaging 630kg with advanced calves at foot made the same money. From the same vendor, Maine Anjou heifers 26-27 months averaging 476kg with calves at foot made $1450.
A line of three-year-old Angus cross cows 442kg and calves at foot and depastured to Angus bulls from Glen Innes, NSW sold for $1330. From Barraba, NSW a line of Angus and Hereford cows 6-10 years with calves sold for $1110. Both lots are travelling interstate to Rolleston, QLD.
Out of Narrabri, NSW, a line of 102 EU-accredited Angus weaned steers 11-12 months averaging 291kg sold for $900, while another 132 Angus weaned steers 10-12 months averaging 286kg, out of Cassilis NSW made $865.
Among larger northern lines this week, a line of 489 Brahman cross bulls, 7-12 months, weighing 187kg out of Yacka Munga station near Broome, WA sold for 180c/kg. From the same vendor, a line of 246 Brahman cross bulls, 8-14 months averaging 257kg sold for 180c/kg. Also from WA, a line of Friesian slaughter cows from Northcliffe, aged 2-7 years estimated to average 243kg dressed sold for 383c/kg.
In a breakdown of young cattle sold this week, by weight range:
Steers less than 250kg sold from 280c to 322c to average 300c/kg; while heifers sold from 192-252c to average 229c
Steers 250-300kg sold from 215-320c to average 284c; while heifers sold from 199-266c to average 242c
Steers 300-350kg sold from 277-318c to average 302c; while heifers sold from 248-257c to average 253c
Steers +350kg sold from 295-327c to average 314c.
Steer Highlights
Angus steers 10 to 11 months 410kg, from COOMA, NSW sold for 320c/$1310
Angus/Brangus steers 11 to 17 months 355kg, from BLACKALL, QLD sold for 296c/$1048.52
Angus steers 9 to 12 months 334kg, from PEMBERTON, WA sold for 278c/$925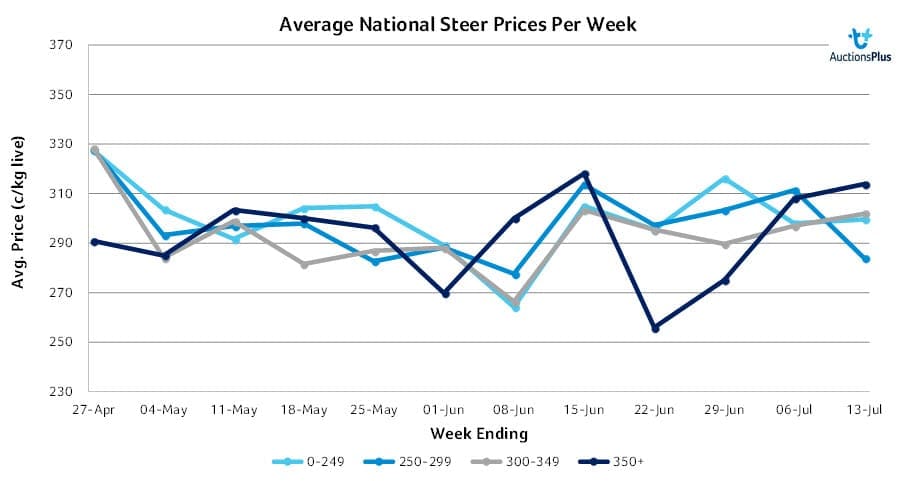 Heifer highlights
SimAngus heifers 13 to 15 months 359kg, from ATTUNGA, NSW sold for 274c/$980
Brahman x Droughtmaster 18-24 months 323kg, heifers from CLERMONT, QLD sold for 257c/$829
Angus heifers 8-10 months 270kg, from PEMBERTON, WA sold for 250c/$675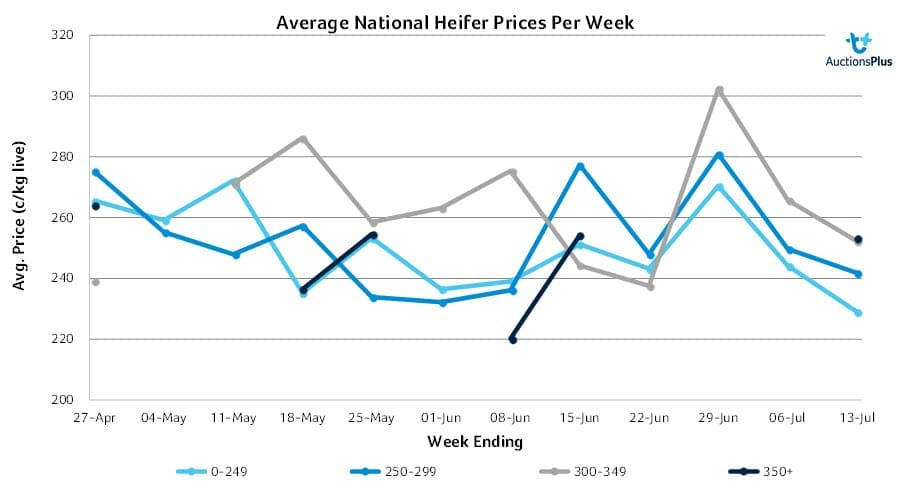 Source: AuctionsPlus