ONLINE offerings dropped five percent to 16,561 head on AuctionsPlus this week, with prices increased for lighter steers, but softer for most young heifer categories, in c/kg terms. Clearance rates through the lighter steer and heifer categories remained high.
With another large offering of lighter steers, the 200-280kg liveweight category gained 13c/kg this week, averaging 648c/kg for the 2355 head offered, with a 98pc clearance for the week.
Offerings were also 8pc higher for the heavier 280-330kg category this week, with the 1660 head selling to an 89pc clearance and averaging 15c/kg higher, at 591c.
A limited supply of +400kg steers, at 559 head, sold to an 80pc clearance, with prices averaging 10c/kg lower, at 504c.

Among feeder lines offered this week, 76 weaned Angus steers out of Junee, NSW, averaging 430kg, sold to 586.7c/kg liveweight.
For the heifer lines, the largest offering this week was through the 200-280kg category, with 1723 head offered, down 30pc on last week. The reduced numbers failed to halt a price decline, with 200-280kg heifers averaging 21c/kg lower on last week, at 601c. Heavier 330-400kg heifers averaged 17c lower on last week, at 560c, while the small offering of 733 head of less than 200kg liveweight heifers sold to a 100pc clearance, averaging 670c, down 12c on last week.
A line of 120 mixed sex backgrounders – F1 Wagyu x Angus and Wagyu x Murray Grey, from Iker Partnership out of Rolleston, Central Queensland – sold for 1031c/kg liveweight, or $1990/head. Averaging 193kg liveweight, the 72 steers and 48 heifers bred from Westholme and Brookston Wagyu bulls ranged from 8-11 months of age. Progeny bred using the same sires by the same vendor, have performed well for Wagyu program lotfeeders, with carcases producing  average marbling scores of 6.4 and carcase weights averaging 405kg.
Also out of Rolleston this week was an offering of 431 Santa weaned steers and heifers, 5-9 months, offered in four lots. The steer portion averaging 229kg made 656.9c/kg or $1505 a head, while the heifers averaging 206kg averaged 682.7c/kg or $1405.
Breeding cattle
Lower numbers failed to halt a $111 decline in the PTIC categories this week, with PTIC cows down 26c/kg on average, to 449c, and PTIC heifers back 10c to 550c/kg. Since the rebuilding emphasis took over the market, the weekly movement in this category has been much closer aligned to the bloodlines and target marketing on a week-to-week basis, as opposed to overall supplies.
A line of 85 Angus NSM cows 538kg at five years of age out of Inverell NSW made 453.5c/kg ort $2440 a head.
Prices as at 2pm Friday, 27 August.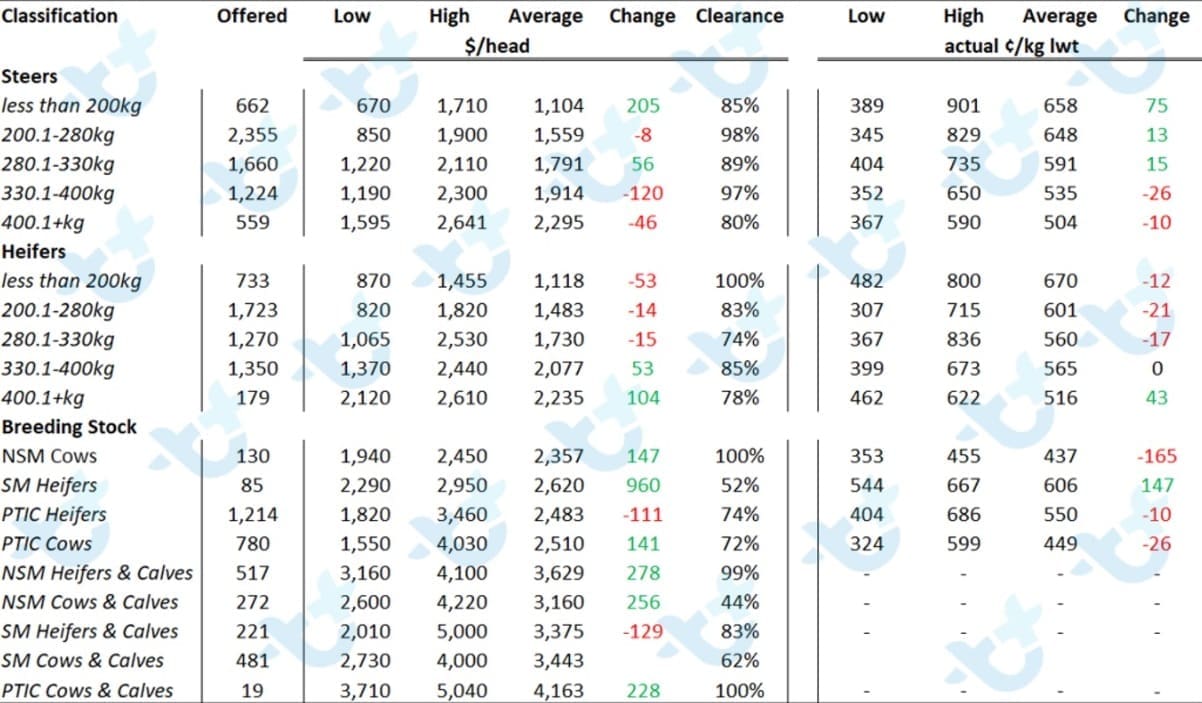 StockLive buyers stock bidding action across Prime and Store sales
STOCKLIVE buyers pounced on quality lines across both Prime Sales and big-ticket Store Sales, during a busy week of online bidding that commenced with more than 70 head secured via the platform at the Inverell Regional Livestock Exchange (IRLX) Prime Sale on Tuesday.
The auction processed 763 head of cattle, which were drawn from Glen Innes, Inverell, Guyra, Warialda, Bingara, Bundarra, and Southern Queensland, and the steer price peaked at 712.2c/kg for a 170kg GJ and PG Doak Angus pen.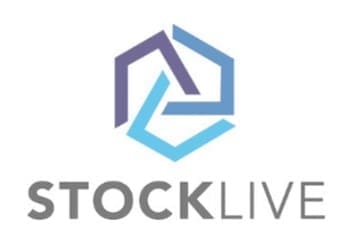 Online sale highlights included a pen of Charolais cross steers, bought for 492c/kg and a Santa Gertrudis line snapped up for 433c/kg.
In the heifer category, a pen of 10 Brahman cross cattle was secured for 466c/kg and the same buyer also purchased an Angus cross line for 430c/kg.
The cow and calf market was firm, and Herford line was knocked down to a StockLive buyer for $1375/unit.
Then later in the week, at the Hunter Regional Livestock Exchange (HRLX) Prime Sale on Wednesday, online purchasers again turned their attention to female lines, with an Angus pen snapped up for 630c/kg.
In total, StockLive buyers at this auction secured more than 11 per cent of pens offered.
On Thursday, the buying action ramped up during the Northern Victorian Livestock Exchange (NVLX) Store Sale, where StockLive bids fueled competition.
During the sale, a feature line of 215 Hereford steers, offered by Reid Trust, Howlong, "Chudleigh", was a sale highlight, with a 418kg pen reaching $2330/head.
Gerard Unthank, Brian Unthank Rural, wasn't surprised by the outstanding sale result, given the reputation for high performance on grass and grain held by Herefords from Reid Trust.
"We knew there would be competition from both restockers and lotfeeders, but on the day the grass market proved stronger and the restockers came out on top," he said.
Mr Unthank said StockLive, which had 73 people watching the simulcast and 19 registered bidders, helped drive overall competition.
Online sale highlights included an RK and JE Washusen pen of 18 Angus cattle bought for $1760/head by L Barclay.
L Barclay also secured a 351kg Angus heifer pen, offered by LC and N Boyes, for $1910/head.
In total, combined NVLX agents yarded 1200 head of mostly locally drawn cattle to the fortnightly Store Sale.
"It was one of those sales where everything aligned and it was strong across the board," Mr Unthank said.
Later in the week, on Friday, online buyers at the monthly South-West Victorian Livestock Exchange Store Sale gravitated to restocking lines, with one buyer securing a European cross cow and calf pen for $3000/unit which made for a clear sale highlight.
The second-calvers, offered by KR and MP Smith, had three to four-month-old calves afoot.
A 135kg Friesian pen was also secured for 510c/kg by an online buyer during the Store auction.
Sources: AuctionsPlus, Stocklive