AUSTRALIAN beef cattle prices have seen the biggest and steepest price rally in the market's history, driven by a good season and turbocharged by expectations of big summer rainfall in Queensland.
NAB's monthly Rural Commodities Wrap released today details what the year ahead might look like for cattle prices after the Eastern Young Cattle Indicator cracked the 800c/kg mark for the first time a month ago, and has consistently remained above that mark since.
NAB Agribusiness Economist, Phin Ziebell, said with cattle numbers so low post-drought, prices have responded very sharply.
"While current prices are great news for people who managed to hold cattle during the drought, those forced to largely destock in the 2018-19 period are now buying into a red-hot market," Mr Ziebell said.
Processors also faced major challenges finding quality stock at profitable prices.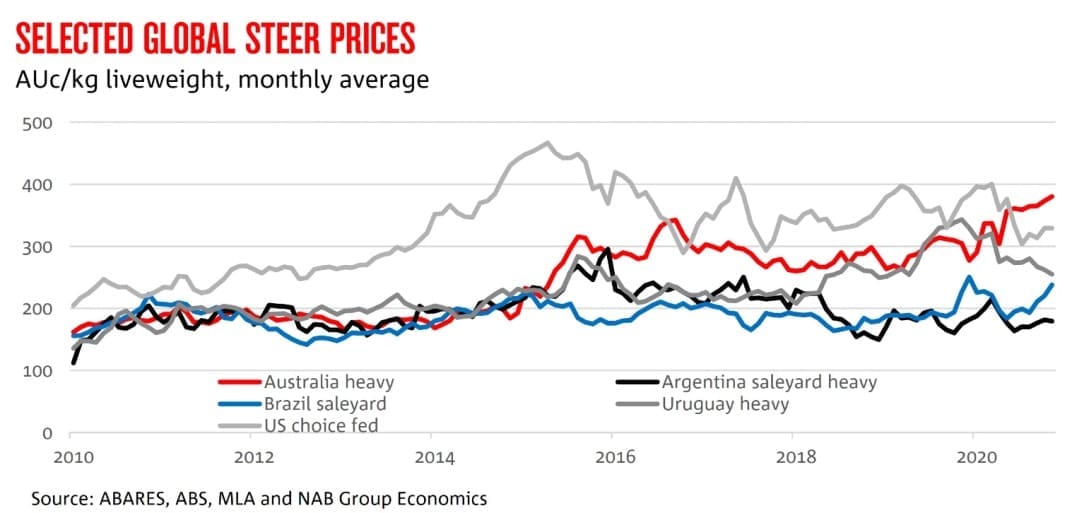 "Looking ahead, while it is entirely possible that the EYCI will reach 1000c/kg in early 2021, it is not our central forecast, and (if achieved) it is likely to be unsustainable," Mr Ziebell said.
"Already expensive compared to our competitors (see graph above), a drier second half of 2021 will likely result in downward trend in Australian cattle prices into the second half of 2021 and into 2022," he said.
NAB Business Bank executive for Central Queensland, Darren Kuhl, said extremely high prices had been driven by lack of supply following massive destocking in 2018-19.
"The high prices also reflect the historically low breeder numbers, resulting from the female portion of total kill rates outweighing the male portion in the last few years," Mr Kuhl said.
"The promise of La Niña has also impacted supply and we're seeing a lot more producers who may have originally reduced stock, hold on as long as they possibly can in anticipation of the La Niña event.
"There have been a lot of producers who would have been buying cattle who have chosen to hold off due to high prices."
Overall, the NAB Rural Commodities Index rose 4.7 percent in October, the best monthly result since March 2020, reflecting Australian agriculture being in the strongest seasonal shape since 2016, but with generally better prices.
NAB's feedgrain price index has continued to trend downwards and is now down around 15pc year-on-year.
"On track for a big season, we may see barley displace other grains in the feed mix if it continues to trade at such a steep discount, as it remains subdued on account of Chinese tariffs," Mr Ziebell said.
Global wheat prices had rallied, presenting upside for Australian producers, yet the unwinding of basis means domestic wheat was cheaper than year-ago levels, he said.
"Lamb prices have moved out of sync with usual seasonal patterns this year and the National Trade Lamb Indicator is now above year-ago levels, pointing to excellent returns for sheep producers. The wool market has recovered somewhat, although prices remain well below 2018 peaks with the Eastern Market Indicator (EMI) sitting at $11.59/kg last week."
On the downside, Australia's trade relationship with China was under increasing strain, with some agricultural sectors (the latest being wine, announced today) now hit by tariffs or non-tariff barriers.
Seasonal conditions have brought Murray-Darling Basin water in storage to 60pc. With a big summer potentially on the way, there is hope that storages can be replenished ahead of next season.
The Bureau of Meteorology's latest outlook for summer is broadly positive, reflecting forecasts for above average rainfall in line with this year's La Niña event.
The A$ is currently sitting around US73c, with NAB forecasting an increase to US74c by the end of 2020, gradually climbing to US80c by mid-2022.
Click here to download NAB's monthly commodity wrap