HEIFER prices trended down, while there was some recovery in lighter steer categories on AuctionsPlus this week.
Cattle numbers remained steady with 13,889 head listed.
Recent adjustments to the Bureau of Meteorology's previously grim autumn rainfall forecast suggests some rain may be on the way for parts of the eastern states in the coming months. Echoing the improved forecast, buyer confidence was stronger, with clearance across all commercial sales up 20pc to average 60pc. This was particularly evident in Queensland listings, where clearance jumped from 30pc to 70pc in the past week.
Numbers were boosted by nearly 3000 head offered as part of the annual Clark & Tait and invited vendors surplus cattle sale. Highlights included 345 Santa cross yearling backgrounder steers, 12-14 months averaging from 243kg to 275kg, offered by Barcaldine Downs Pastoral Co, Alpha, QLD returning the top price of 261c for yearling and grown steers. They will travel to Comet in Central Queensland.
A further 556 Santa cross yearling heifers offered by Enniskillen Pastoral Co, Springsure, QLD achieved a 100pc clearance, and sold from 170c to 178c. The same vendor also offered another 468 Santa cross cows & calves, which sold from $780 to $1110.
Joined females sold from $650 to $1180 this week to average $932, down $34 on last week. The top price was achieved by a line of 31 Angus PTIC cows, aged six years, averaging 623kg from Barraba, NSW, which will go to a buyer at Grenfell, NSW.
Cows with calves at foot sold from $410 to $1100 this week to average $949, up $14 from last week. Top price was achieved by a line of 54 Santa & Droughtmaster cross cows and calves, aged 6-9 years averaging 424kg offered by Enniskillen Pastoral Co, Blackall, QLD, which will move to a new home at Winton, where rain has fallen.
A highlight this week saw a large single offering of 462 composite/Brahman cross station mated cows a/c Clifton Station, Tenterfield, NSW return $578. Averaging 402kg, these light cows were 5-8 years old and will travel to Southern QLD.
The weaner & yearling cattle market continued to gain traction online this week, with a further 2153 steers listed to total 5109 head. The heifer market didn't see the same increase with listings dipping 199 head to total 4028 head. Weaner & yearling clearance rates rose to average 72.
Weaned steers sold from 191c to 340c to average 259c, up 17c from last week. The top price was achieved by a line of 22 Angus weaned steers 7-8 months averaging 367kg from Dysart, TAS, which willl travel to Shearwater, TAS.
Weaned heifers sold from 169c to 269c to average 205c, steady on last week. Top price was achieved by a line of Limousin x Murray Grey weaned heifers 10-11 months averaging 409kg from Sprent, TAS, which will travel to Smithton, TAS.
Yearling & grown steers sold from 178c to 261c to average 244c, up 25c on last week, while yearling & grown heifers sold from 163c to 226c to average 179c, down 11c on last week.
Top price for heifers was achieved by a line of 71 Angus feeder heifers 15-18 months averaging 364kg, from Ulamambri, NSW.
In a breakdown of young cattle sold this week by weightrange:
Steers less than 250kg sold from 191-285c to average 250c; while heifers sold from 163-224c to average 195c
Steers 250-300kg sold from 178-328c to average 253c; while heifers sold from 166-202c to average 178c
Steers 300-350kg sold from 199-312c to average 256c; while heifers sold from 169-213c to average 189c
Steers 350+ kg sold from 201-340c to average 275c; while heifers sold from 226-269c to average 247c.
Steer Highlights
11 to 12 month old, 338kg, Angus steers from BLAYNEY, NSW sold for 305c/$1030
10 to 11 month old, 324kg, Angus steers from BATHURST, NSW sold for 253c/$820
6 to 7.5 month old, 283kg, Angus steers from COOLAC, NSW sold for 279c/$790
5 to 7 month old, 233kg, Angus steers from TOOBEAH, QLD sold for 281c/$655
14 to 20 month old, 373kg, Charbray steers from JAMBIN, QLD sold for 241c/$896.26
15 to 18 month old, 352kg, Droughtmaster steers from SPRINGSURE, QLD sold for 243c/$855
6 to 7 month old, 299kg, Angus steers from KYNETON, VIC sold for 280c/$835
9 to 10 month old, 330kg, Angus steers from LAMEROO, SA sold for 282c/$930
7 to 8 month old, 367kg, Angus steers from DYSART, TAS sold for 341c/$1250
6 to 7 month old, 292kg, Angus steers from WHITEMORE, TAS sold for 329c/$960
7 to 8 month old, 397kg, Angus steers from PONTVILLE, TAS sold for 320c/$1270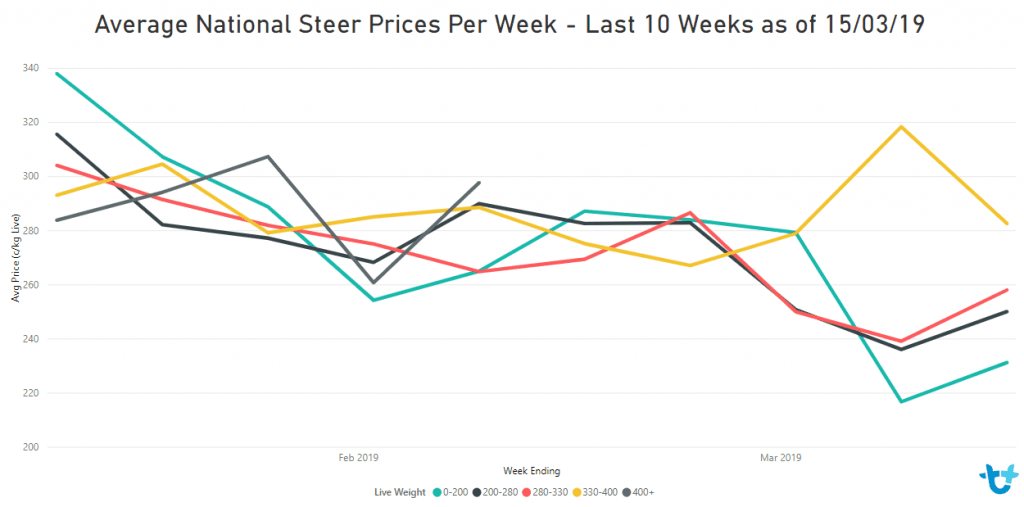 Heifer Highlights
15 to 18 month old, 363kg, Angus heifers from ULAMAMBRI, NSW sold for 226c/$820
6 to 7 month old, 221kg, Angus heifers from COOLAH, NSW sold for 224c/$495
10 to 12 month old, 304kg, Speckle Park/Angus heifers from KELVIN, NSW sold for 214c/$650
15 to 18 month old, 302kg, Droughtmaster heifers from ROMA, QLD sold for 192c/$580
15 to 18 month old, 303kg, Shorthorn/Droughtmaster heifers from ROMA, QLD sold for 192c/$580
16 to 18 month old, 323kg, Charolais/SANTA X CHAROLAIS heifers from EMERALD, QLD sold for 172c/$555
10 to 11 month old, 408kg, Limousin/Murray Grey heifers from SPRENT, TAS sold for 270c/$1100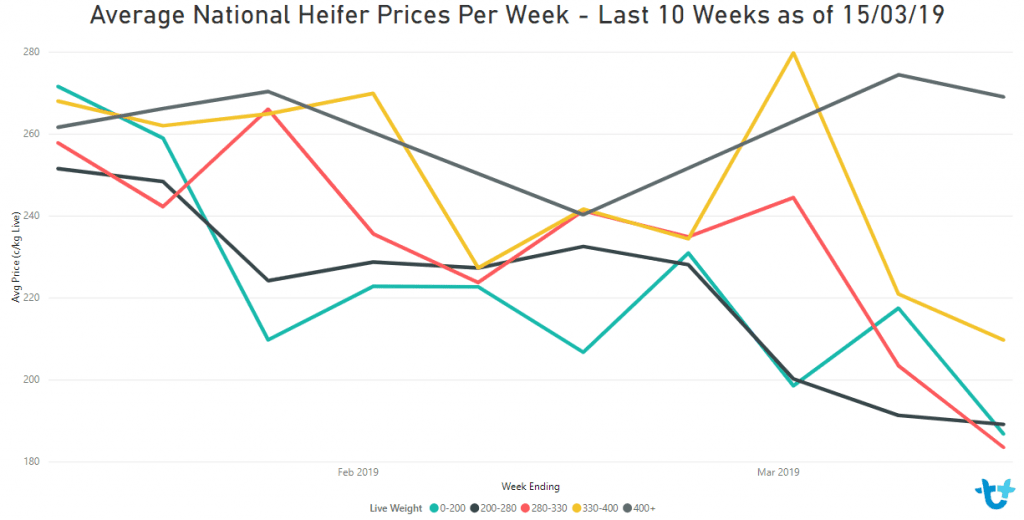 Source: AuctionsPlus